ES Thursday 8-27-15
Good evening to all. I am trying to get the prep done tonight and hopefully will start doing that moving forward. As I wrote in Wednesday's page, we are now in a 3-day balance with each day within the prior day's range as can be seen in the chart below. This is a nice coiling action and should provide a likely explosive move. 1950.75 and 1831 (111.75 points range) are the extremities of this range. On Thursday 1 of 2 scenarios are likely to happen:
1) We look above 1950.75, hit the stops sitting there and explode upwards. The momentum of this move is likely going to be important. It needs to be quick and have a good feel to it for the market to keep moving up and close the
gap
to 1968 and get into Friday's (8/21) range.
2) We look above 1950.75 and fail with no upside continuation. If this happens then usually the destination trade is to the other side of the balance area i.e. 1831 in this case. Once we get to 1831 then either come back into balance or break downwards.
IMO
if we do go back to 1831, that would be fairly bearish because we would have a move down (last Thursday and Friday), consolidation this week so far and then a move downwards.
There is the Jackson Hole summit this Thursday and Friday although Yellen is not attending it. It is very likely that a lot of people are still watching it carefully and are going to hang onto every word said and dissect it to the ground. I personally do not care what is said or not said, but it is important to know that it is happening and could provide a catalyst to the market to move in either direction.
Click image for original size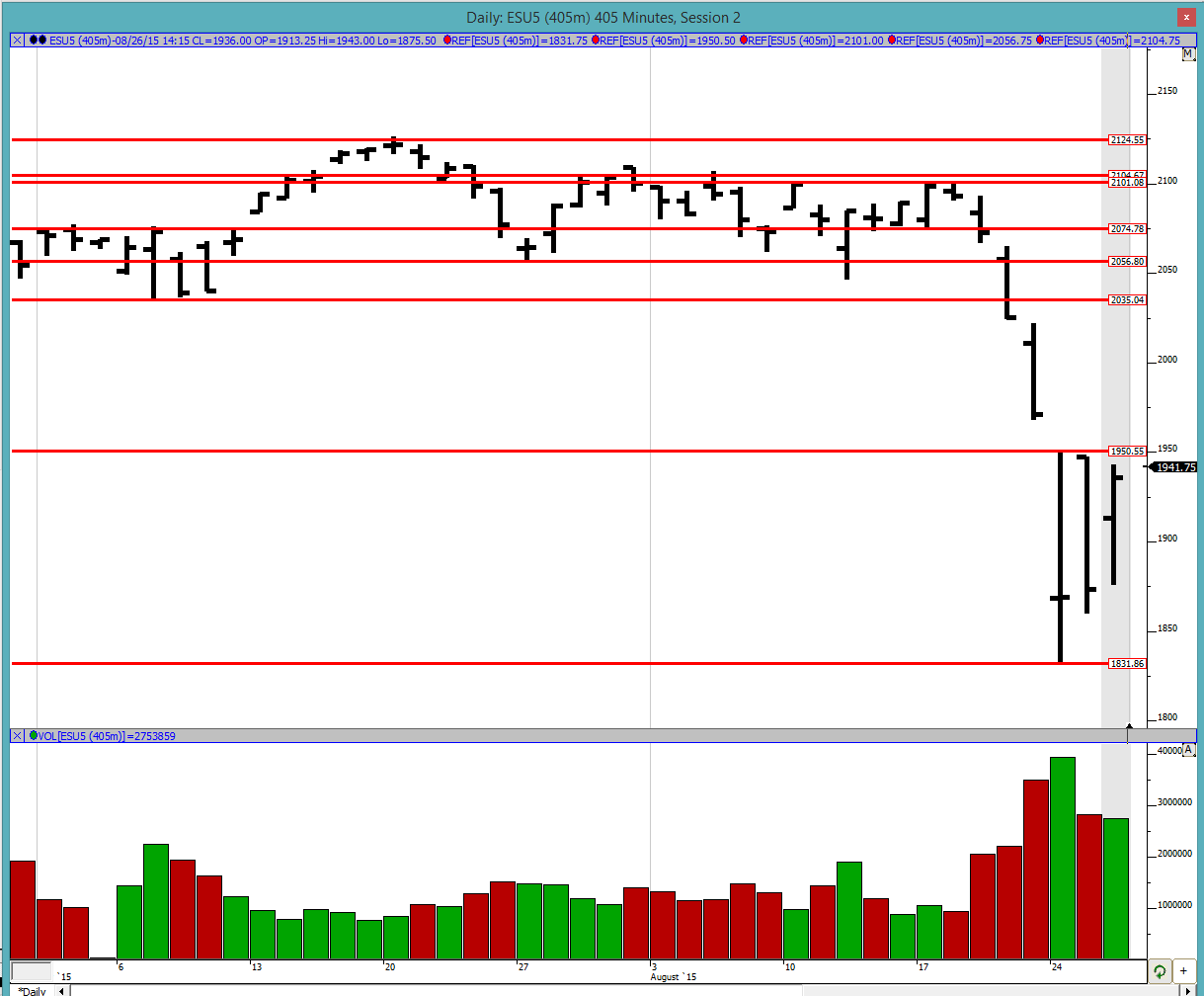 Profile:
We can see in the profile that Wednesday had a
triple
distribution with the close in the top one. Buyers will likely be looking to defend these distributions tomorrow so look out for those
single prints
. Since it is not possible to read it on the chart, the singles extend from 1932.5 to 1934.5 and 1918 to 1923.25. Note how the first set of singles are at a previous greenie/
VPOC
of 1933. Interestingly the
VPOC
on Wednesday was way down at 1894 leaving that as the only untouched greenie for the day. I would have to do some research on what happens when the close is so far from the
VPOC
of the day and what impact it has on the next trading day. Perhaps this would be good homework for someone reading?
As mentioned earlier, today was again an
inside day
and has resulted in coiling action. Look out for the highs of the 3 days being taken out. There is likely to be a triggering of stops and short term traders with deep pockets could be targeting them. Also it is possible that traders have buy stops placed above it to initiate a long position looking to get back to much higher levels. Therefore this is going to be something to be watched very closely and is going to be THE trade.
Click image for original size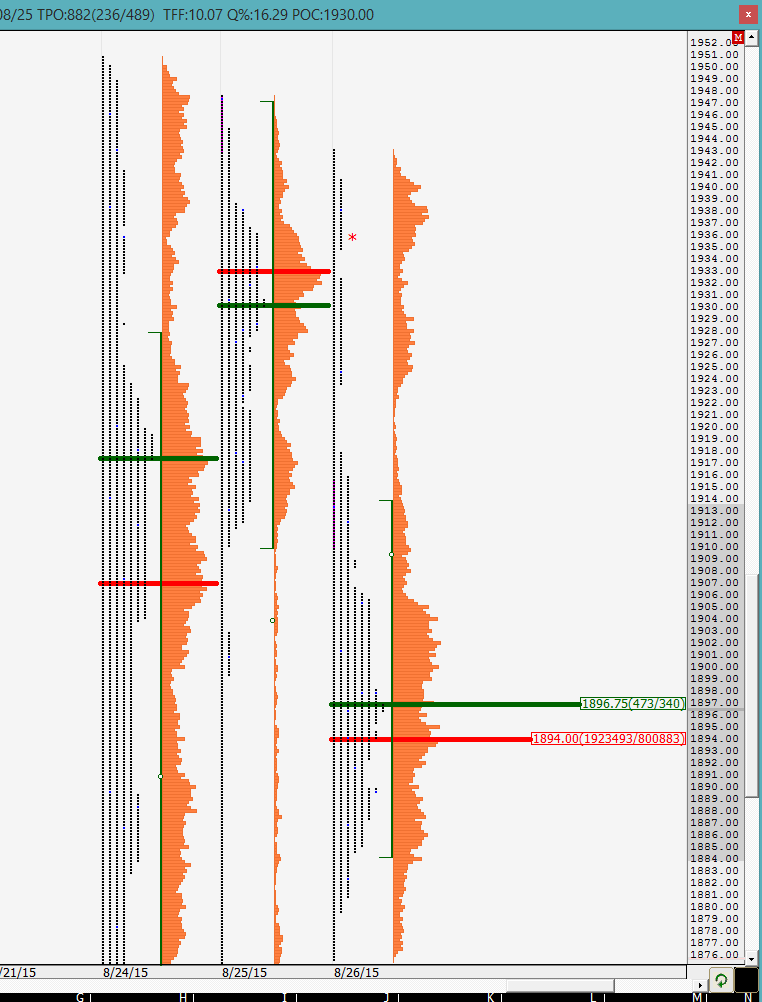 Will be back in the
AM
to look at the
O/N
action.
Good luck to all.
The
O/N
inventory is 100% long and as of right now we would open within the
gap
. We shall see if there are any good places to enter the market after
RTH
open. he balance area high of 1950.75 could be had for a long entry on a pull back (perhaps it could come with inventory adjustment) but depends on where the market opens. The next upside greenie is at 1995 so the market has quite a bit of runway to the upside.
On the downside we could simply fall back into the balance area so be careful on that pull back. The bounce from there should be pretty quick, else we would be back in the balance area.
Good luck to all
the
gap
is now filled. the next question is whether we can stay inside Friday's range and reach 1995 or continue being in the
gap
buyers making another attempt to stay inside of 8/21's trading range and get to 1995
well we have backed off once from that
VAL
. now if we get back into 8/21's
VA
, then the march continues
NewKid,
breakout of a 3 day balancing area pretty strong thing.
I noticed a naked
VPOC
from 8/21/15 at 1995.00 (
IB
DATA through
Sierra Charts
)
and I noticed same day has naked MPOC at 1995.25,
maybe they are calling to the market
trying to short 81.25 sttop 84.25
I should have clarified; Chicago time.
The stops are above the prior bar, don't want a new high.
I like your engulfing
OVB
filter as well. would also like to see the trend establish for 12-15 minutes before a trade too.
Originally posted by duck

the 1:33 1:39 bar the ema are still cross up..1:46 bar ema just cross down..i like to give it some time before shorting..the 2:02 &2:10 ema cross up..the 2:15 outside bar should of been my 2nd try at shorting it..but i didnt..

Mike i do see the trades you point out..as i said to nk there is discretion meaning there lots of ways to using the ema..for me i fine they point out the trend pretty easy..long or short..i seem to enter the trade ok just have hard time with stop placement..

what kind of stop would u use ?

take care
duck