What happened to BruceM ?
What happened to BruceM ?
does anyone know anything about him? DT do you have any news of him?

he was such a good trader and educator...i really miss his morning videos/charts

wherever u r hope u r doing great man
I expect an 85 retest from 79-80 and if lucky they will push it all the way back to 93.....was gonna call it quits but just taking VERY small longs. ( with a signal) .....that is a ton of
single prints
on the upside and if this really is a landslide then I don't want to be caught on the wrong side...so keeping it small...if wrong the next try would be from 72-74.50 but otherwise I'll let the sellers win the rest...
Hi Bruce, do you take into consideration the 5-min airpocket at 1900.50 - 1899.75?
no I don't as I prefer to use the one minute so I have evolved....my air is at 85 , 92 and 1905.....but we need to be careful of all the high time prices near 1885 from last thursday in order to even have a chance to get the 92 and then to go get the 1905 we would have to get back through the high time from yesterday at 1897..,

what makes today interesting is they just blew through that 1885 high time and left low time there on today's profile....so usually those get tested again....

Naturally all bets are off if the market can't slow down a bit and firm up...that is why we always need a signal to get long or short and take multiple stabs in our zones


so obvious we need to get back over our 78 - 80 line for our runners to get that 85 but we may need to test down again....these kinds of trades are harder I think...
here is how my one minute shows...note the low time areas I mentioned.....
Click image for original size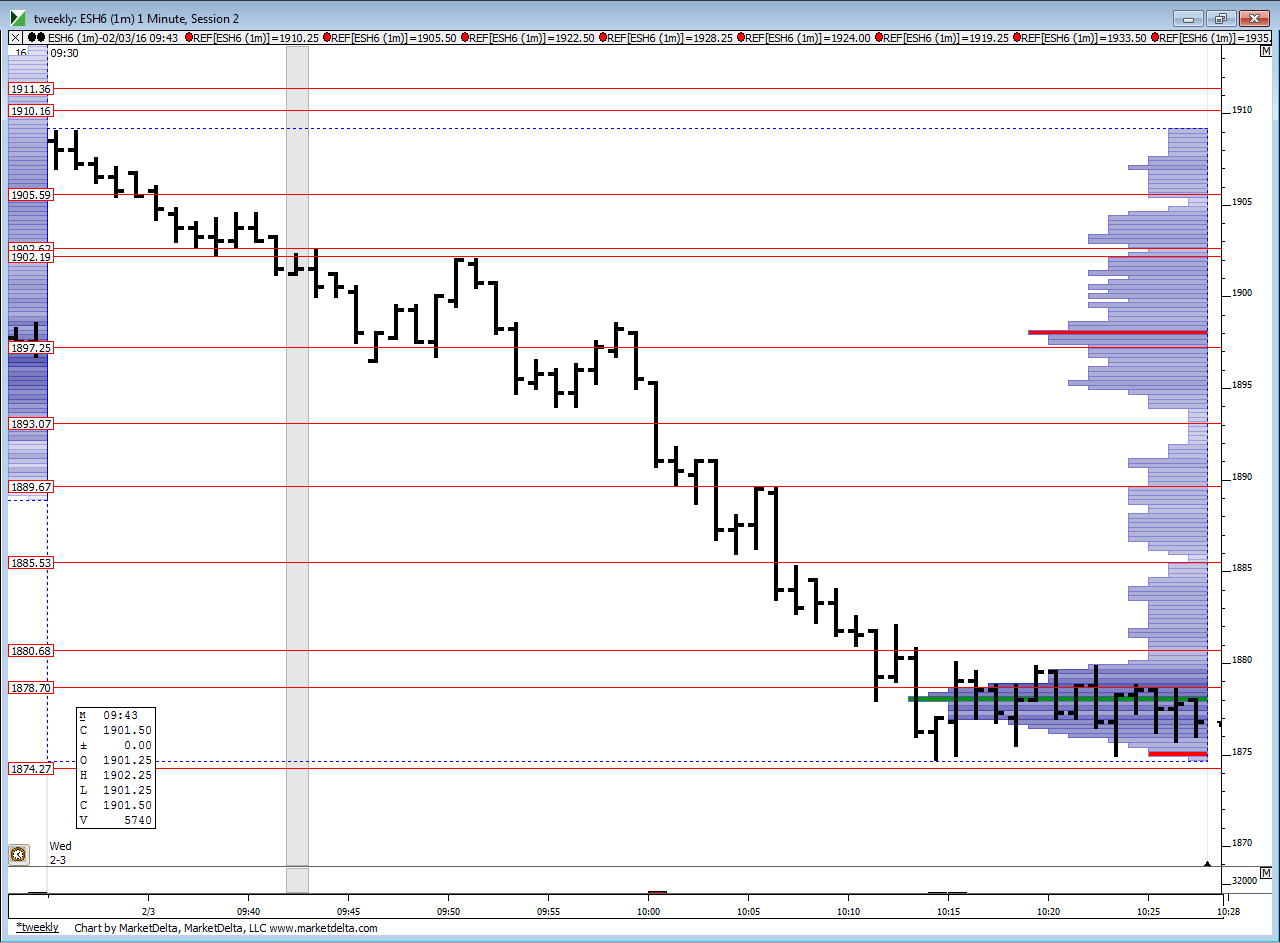 64 - 65 is a weekly low.....a key point...They don't usually leave
single prints
at a weekly
VA low
or high.....so that sits up at 73...so if you don't like taking multipkle stabs you can buy
atm
or 80
delta
call options with short expirations and take it off if and when we return to the 1873....I just don't have statistics as to WHEN this will happen this week.....should be today but who really knows........this is a great day to see how we can fail at our areas on trending days but it doesn't mean we can't make more money......we just need to be nimble and take stabs at our predefined zones
Okay, thanks.
I'm scared of this market...
that last post will probably be lost on most which is too bad because it was the best thing to do so far during this sell off...in other words it was the best buy point so far today...the rest where just crap !!...so now we need to watch how they mess with the 73 number..and if you are holding runners then you would try for next zone up at 78.50 - 80 etc......and then of course the big 1885 number but that may take some doing as they often put in more than just two
TPO
's at weekly
VA lows
......damn...can anybody understand that ?????
78.50 - 80 holds the key for the rest of today .........I'll leave it at that today
high print is 84.75 on this push......that is close enough for anyone....that's 20 points off the low.........back to my cave.....c ya
Thanks Bruce.
I am studying your 1-min chart and I am seeing the low times you mentioned at 1885, 1893 area and 1905.
Am I correct that you only use the
volume profile
to identify the
LVN
's?
Or do you also look at the 1-min bars for additional info?
wow good to see u back Bruce...i will be sure to check the forum tomorrow to catch u live and even share some thoughts (if i have any lol)

cheers