What happened to BruceM ?
What happened to BruceM ?
does anyone know anything about him? DT do you have any news of him?

he was such a good trader and educator...i really miss his morning videos/charts

wherever u r hope u r doing great man
welcome back Bruce. let me know if I can help with any of the youtube videos stuff. i will be happy to help.
Originally posted by BruceM

Thanks for the good words all.....I'm still plugging away at the options ( a long learning curve for me) and still day trading in the morning. My son also wants me to start putting out youtube trading videos to help with a school project.

I also think I have found a way to make those retests to the Overnight midpoint more accurate. My son wants me to use that new found knowledge to attract people to the Youtube videos......that could take a while....anyway for today we should see a retest of 1865 which currently sits under the overnight midpoint but that would be the magnet price....current On price is 1872 as I type.....of course now that I said that it won't happen....ha ! anyway, all sellers will be watching the breakdown point at 1880 and 1886 today..


I hope you are well and all are keeping to the rules and taking good trades off the edges and midpoints of the bell curves !!!

Perhaps I can find a way to tie those youtube videos into the site if it ever comes about......thanks again for asking about me.

Thanks Newkid and Stockster...yesterday had no Overnight midpoint test so I have no choice but to trade in that direction.....and my new magnet price that also failed yesterday comes in at 85.50 - 86.50 so that is under midpoint....as usual will look for trades breaking the low of the high bars as entry....we also have
va lows
down there ...so I'm putting shorts on for 88 and hopefully lower
other key numbers 1890, 94.75******, 1900 and 1903 - 1905 is my critical line the bulls would need to take over and hold above....
I'd like to see one of two things happen now.....1) we start firming up above the magic magnet of 85-50 - 86.50 to get long or else we drop down to 80 - 81 to get long...otherwise there is nothing left here with fed minutes later
good odds we come back to 87.50 again but it would have to be done carefully and I have no good signal yet......it's just the breakdown point but I think it needs retesting;
it is unusual to leave two breakout points early when inside a previous day...we know have low time at 84 area and 87 area.......so getting longs off the 80 - 81 is smart even though many will try to push for the
O/N
low....we can take something off in between
gonna leave you with this today....how I marked my chart based on the time histogram......all horizontal lines are made from yesterdays histogram but I will watch where the peaks and valleys are forming on todays......for targets etc...this chart does nothing more than give you a better picture of
price action
but it's my favorite chart to use...good luck from here
Click image for original size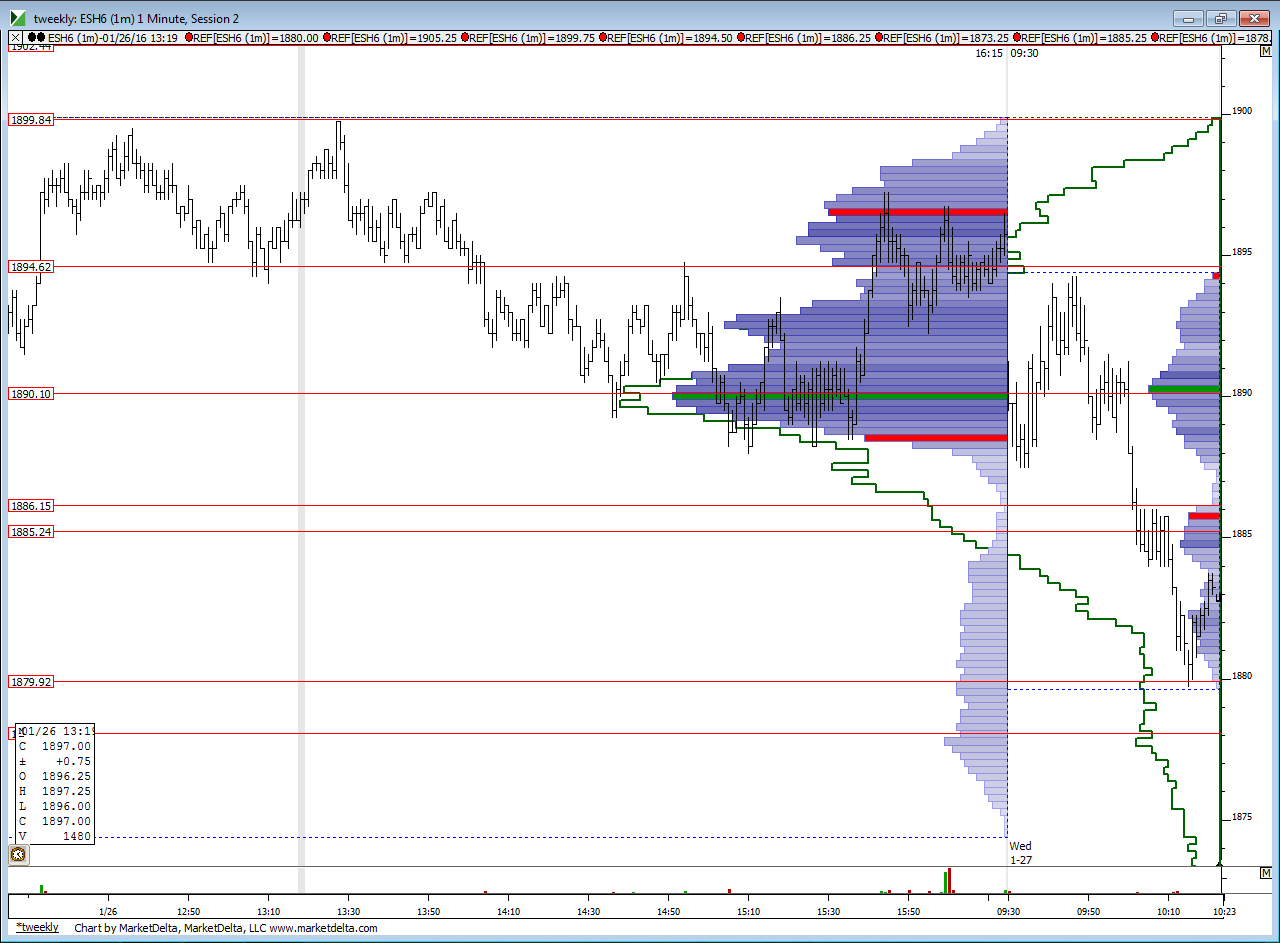 Bruce, is this a weekly time based histogram chart as the title says? or is each histogram a day?
never mind, i see that it is a daily chart now, after comparing to mine
wow good to see u back Bruce...i will be sure to check the forum tomorrow to catch u live and even share some thoughts (if i have any lol)

cheers