What happened to BruceM ?
What happened to BruceM ?
does anyone know anything about him? DT do you have any news of him?

he was such a good trader and educator...i really miss his morning videos/charts

wherever u r hope u r doing great man
there are
single prints
from 1872.5 to 1873.25 from 1/25. so far we have been unable to take out ONL. On the next attempt (if there is one) if ONL is taken out, then YD's low and then those singles come into the picture
the light green line keeps track of the weekly as it unfolds and I can see previous weeks but the blue bars are from just the
RTH
sessions.......I guess I should rename that chart...sorry for the confusion........well, all our areas have been filled in...If I was trading anymore I would be watching that 90 number closely as we have spent a lot of time consolidation under that today and we consolidated under the low time price when we broke out higher yesterday from the
IB
high...so value is trying to build lower and price is trying to accept lower.....I'd be very careful on any long side trade from here near 90 .........I'm just saying and naturally anything can happen and I may be overthinking it....I'm done.....markets are hard to read quite often and that is why I prefer to just trade my lines when they hit or come close the first time
.
Originally posted by NewKid

never mind, i see that it is a daily chart now, after comparing to mine

also YD's action was looking very much like a "P" shaped profile, which was likely a result of the short covering from people getting too short on Monday. Today is a new day and it looks like we will be filling in the stem of the P profile from YD. Like Bruce said, the current
PA
is spending time below 1890, which was YD's
VPOC
.
looks like we are in the pre-fed trance. dont see much happening between now and the announcement.
It seems as if we can keep above that 86 - 88 then they should go for
gap
fill and On high.....seems value is trying to reverse...lots of head fakes today......not trading it and good luck if you are....bulls want price to stay above YD's time
VA low
now
one last thing .. I promise......most times break outs from weekly ranges fail and we don't see only one set of
TPO
's at those extremes....so U can expect another
tpo
print at last weeks high ..the 1902.50....since we are up against our key zone the 03 - 05 it makes sense to look for it to happen from near there and drop back down to it ....it could pop up to as high as the 1911 area before the
rollover
but it should happen today.
No midpoint test on Tuesday....key numbers to try sells at today are 1910 area then 16 and 19.......good odds we test back to 1905 at least.....and if lucky even further...
watch the 1902 area if u caught this short..best to take most off and not be a pig in front of that or at the very least cover all but one or two for midpoint of overnight if we can get sellers to keep selling
here's how I had/ have my lines set up coming into today.....sellers need to keep this under the 05 - 06 now otherwise bulls could regain control....hope not......just small pieces for me and sometimes we get the big score....so now everyone knows what happen to BruceM....same stuff , different day...ON midpoint is 1898 !!
Click image for original size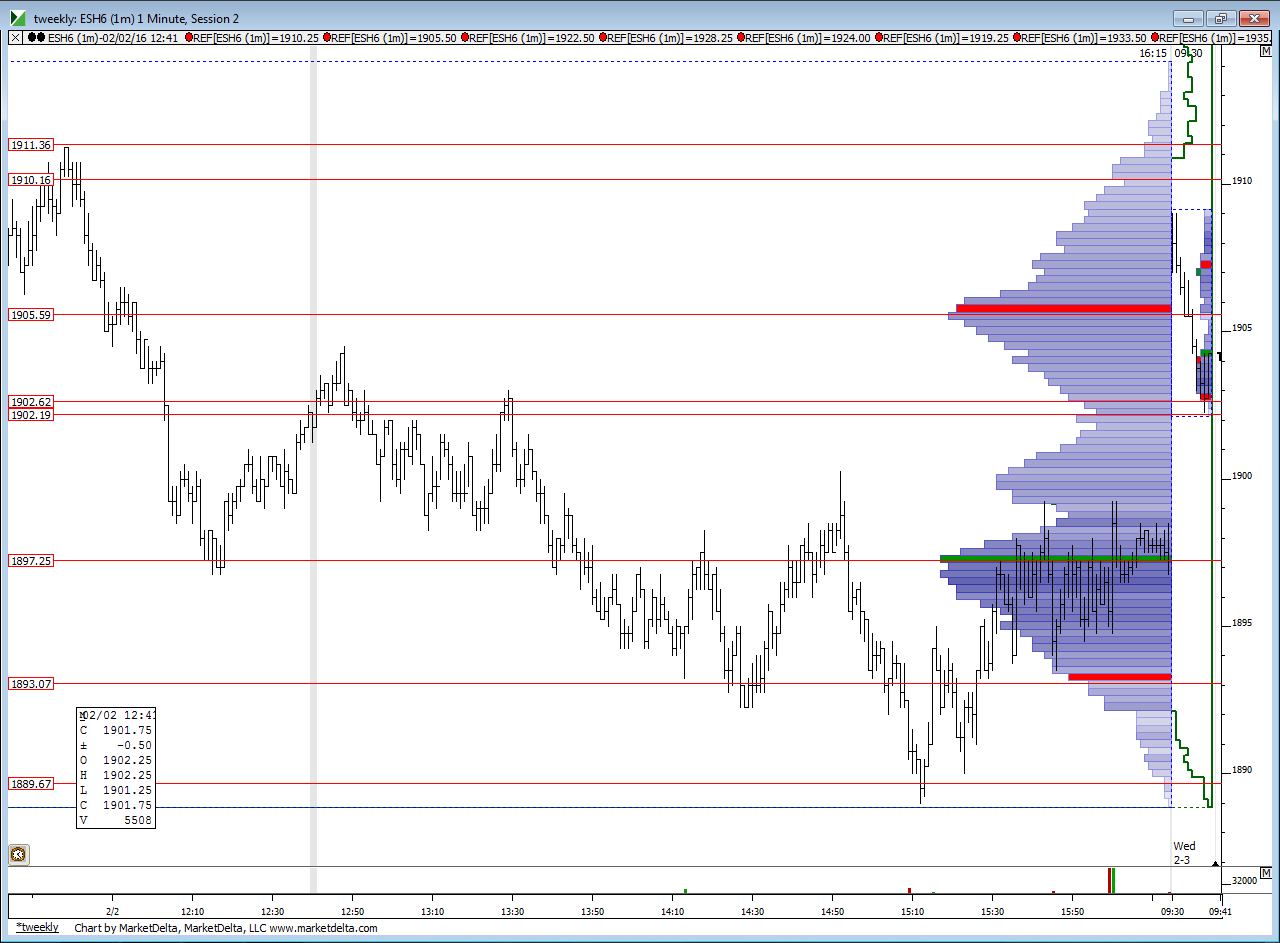 ok...that's the party for me today....I think it really helps to bring in the Overnight once you have your lines snapped from just the day session only...the overnight really helps to
CONFIRM
your areas...and another thing you can look at is the Dax session which starts at 4:30 EST.....so you can look at this chart which shows total Overnight but also look how the 4:30 - 9:30 time frame respected our lines a bit better then the asian session earlier...
Click image for original size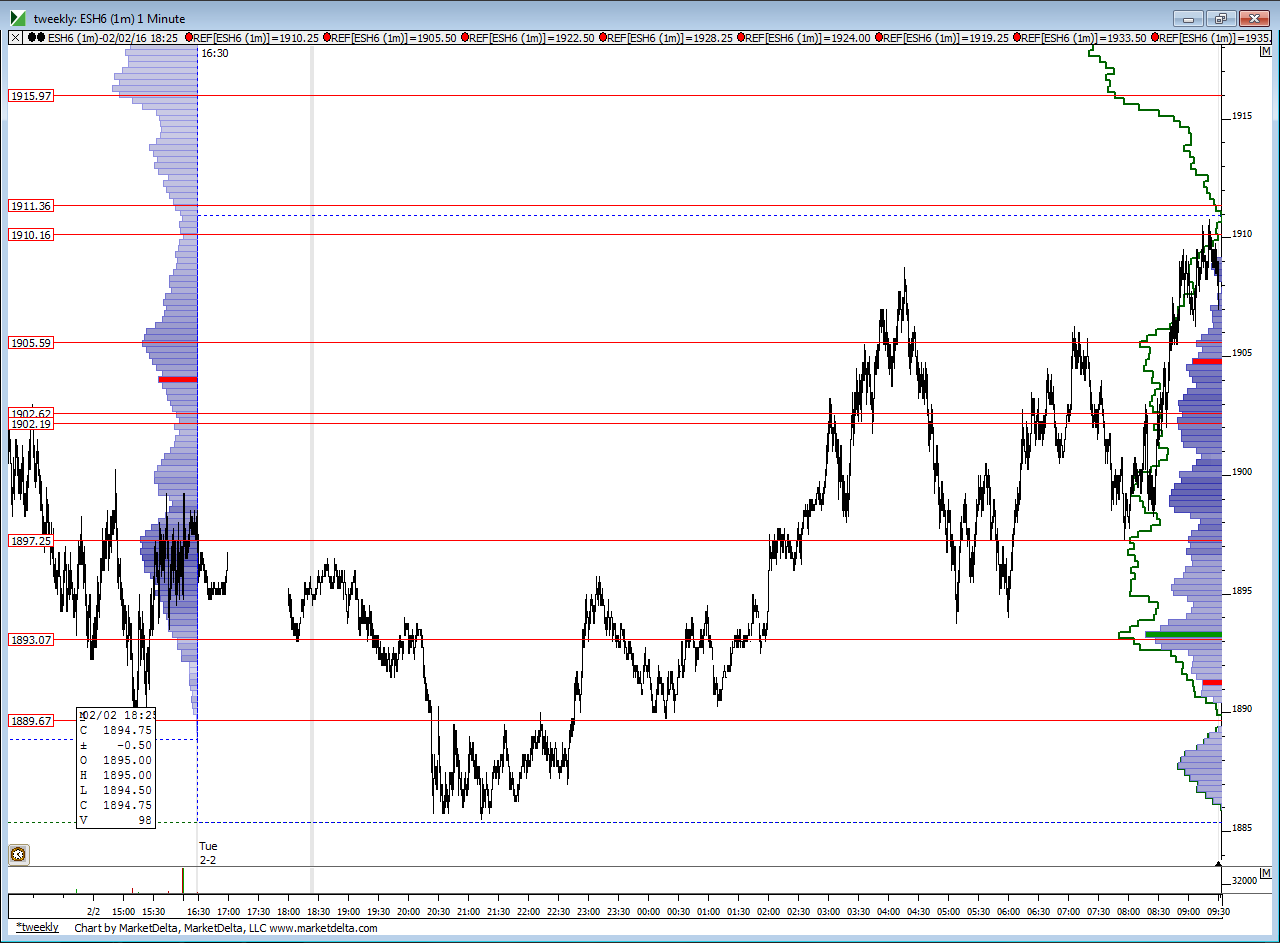 wow good to see u back Bruce...i will be sure to check the forum tomorrow to catch u live and even share some thoughts (if i have any lol)

cheers