ES Tuesday 5-3-16
Here is how I am framing this out today...there is no SITYS daily number today due to the large
gap
and we missed the weekly number by one tic yesterday so we still have 78 and 39.25 as those weekly numbers and one will eventually print this week. Also the Overnight repaired the Weekly
VA low
retest that I was expecting yesterday afternoon but my statistics pertain to just the day session data and I have some conflicts on that idea...a second short video on that will be edited on to this post
some things to keep in mind : Yesterdays
VA low
goes well with the 4 pm close of friday, the 1
SD
band for today ..also the 58 number we talked about yesterday...so 57 - 59 is thee critical zone for me this morning so far....will this be the day the
O/N
midpoint fails ? I don't know but we can expect one failure per week...55 is a
POC
but there are only so many numbers I can trade from so I prefer the 57 - 59 zone...then further down is 51 - 52 and that is also the 1.5 band
keep in mind where your standard pivots are. we have numbers at 52.50 and 63.50....what is the
split
between them.....? 58 - so that is right in our zone !! also monthly pivot is at 64 so that goes well with our target zone and the pivot today...
I will
add
a second quick video in a bit but here is the frame out and other ramblings
conflict video I added on to this post which covers the
VA low
on the weekly concept and why I have some hesitations about that retest now ...
oh yeah ...that would be cool....
Originally posted by NewKid

60 even is the 30-min VPOC so far and I don't see that changing in the next 7 minutes.

air pocket
of time left at
O/N
low may have me blindsided to the long side....we'll see...but that 57.25 I'm hoping will help pull it back even if we have to drop down to S2 First....
adding at 52 now.....don't want to see this too much below 49.75 or else I'll take my lumps....we are extended as per probabilities and deviations but we'll see if they have any weight....it only gives us points where the market shouldn't close beyond...and the close is hours away
revising target to 55 first as per
add
on.....don't want to be a pig or stupid and need to get this back in gear if I can...not feeling great about it
tuff day so far....let see if something can pop for us in the next 45 minutes...53.25 has low time.. so we need to get back up above there and soon or else we are gonna be in trouble on this campaign and won't be able to take anything off
came out heavy at
vwap
and that 55...not planning on initiating any more trades...managing two runners but don't have great stop placement for those....would like one to get a test of that Overnight low but
vwap
may mess up that plan
here's how it currently looks in my worlds....note low time at 57.25 and high time at the 55 hence my exit and
vwap
was there too..
Click image for original size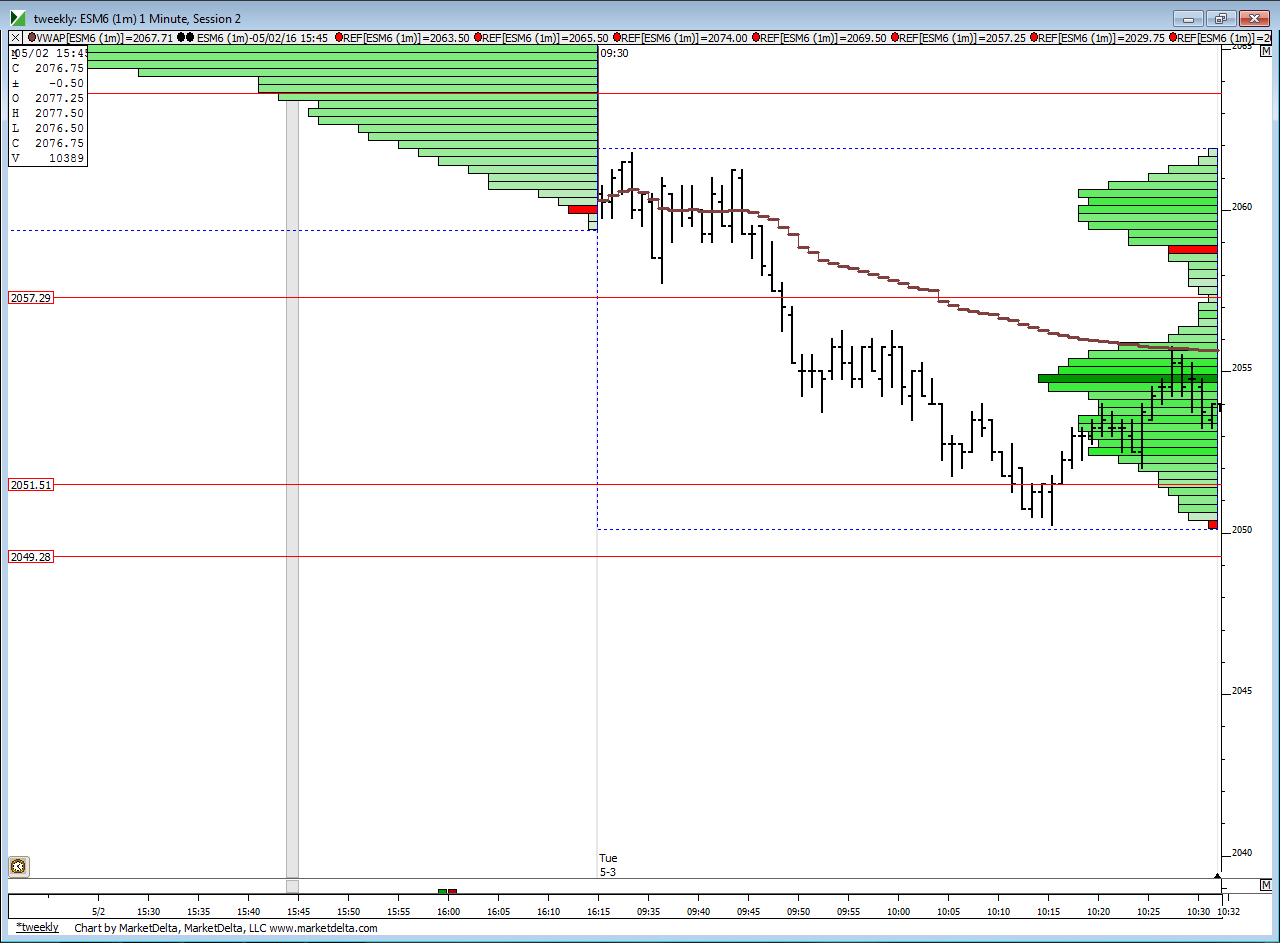 well today didn't work out perfectly but we had some good reactions ( although they didn't go too far ) but still made some money.....you should always be skeptical when you have one minute time histograms showing the bulk of time UNDER an overnight low.... for me that signals to get out quicker than normal...so look at my above chart and note that the time cluster is UNDER the overnight lows...it implies acceptance under those lows.....certainly isn't perfect but what is?
Originally posted by BruceM

wow that was some lift off and even tagged the 30 minute VPOC and came one tic shy of the s1 so far ........cool stuff even if all that happened without me on board...it seems like 57 - 59 will hold the key for any direction now and I would think longs would want that area to hold as support....58.75 is the 4 pm close on Friday to match up with the cash session and obviously the Overnight low is at 57 and now a low time spot....

remember - Dr . Brett..."failure to hold outside the overnight range tires to target the overnight midpoint" - a core principle I try to work from but it doesn't mean we shouldn't try to take pieces off along the way........hey, doesn't he sell books ? Gotta run.......hope u did well if u are still at it.....getting lots of things done on this non rainy day and it feels good....now if only I could make better weekly options earnings trades...learning tons from tasty trade channel.....I like the recaps but can't sit and watch the shows...just too much for me.

Tom and Tony don't really make money on their earnings trades overall. They have admitted as much, they just like the rush. So don't feel too bad that you aren't killing earnings.