ES up at 1275
I guess the bears should have a lot to say tonight and tomorrow..


36 points above the close on a Sunday night premarket !!!


crazy town is open for business....!

Good luck out there....
cj- i use medianlines on all time frames... i am always very interested when lines from different sets converge and price spikes into that convergence. example from today.
Click image for original size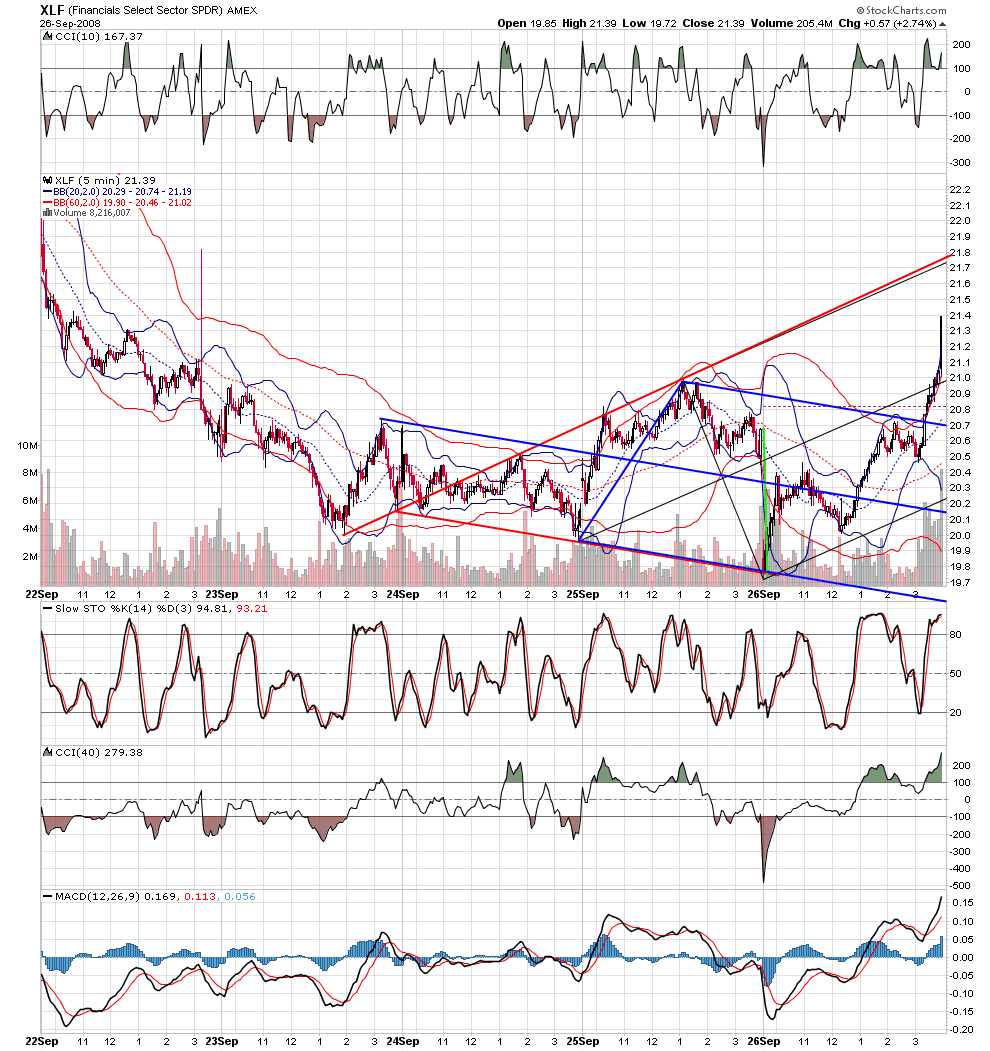 roofer

excellent charts and thank you for sharing

do you expect a pullback tomorrow?

speaking of sharing, would you mine sharing what determines where you anchor the pitchfork. other than significant highs and lows?...clues would be appreciated :)

gio
cj medianline sets are maps.. the basics can be found for free at
www.medianline.com..
here are 5 more... note the setup in both
TSO
and
FXE
i call it the reflected pivot trade.. when price makes a double top and one of the tops is at a line it is usually a VERY important top.. basis the lines i think a very important top is being formed in
MCD
. the dia chart shows where i believe price must hold if the bear is still with us. the
CF
charts shows how the lines give you trades at the extremes. there is much much more but these are the simple basic charts..there is nothing secretive or magical about this work. there are whole trading floors that trade this stuff. if you see the markets in a geometrical way, then this is powerful work. if you see the market in a statistical way, then this is not for you.
one more public post and then i am back to the private world of forum...at the top on the previously posted
TSO
, the talking heads were relentlessly touting
TSO
... today.. what were they touting?hmmm.. the breakout in
HD
and
XHB
.... you decide..if the bear is about to reassert itself, then this is the most probable place for these to turn ... take care.. good trading
Click image for original size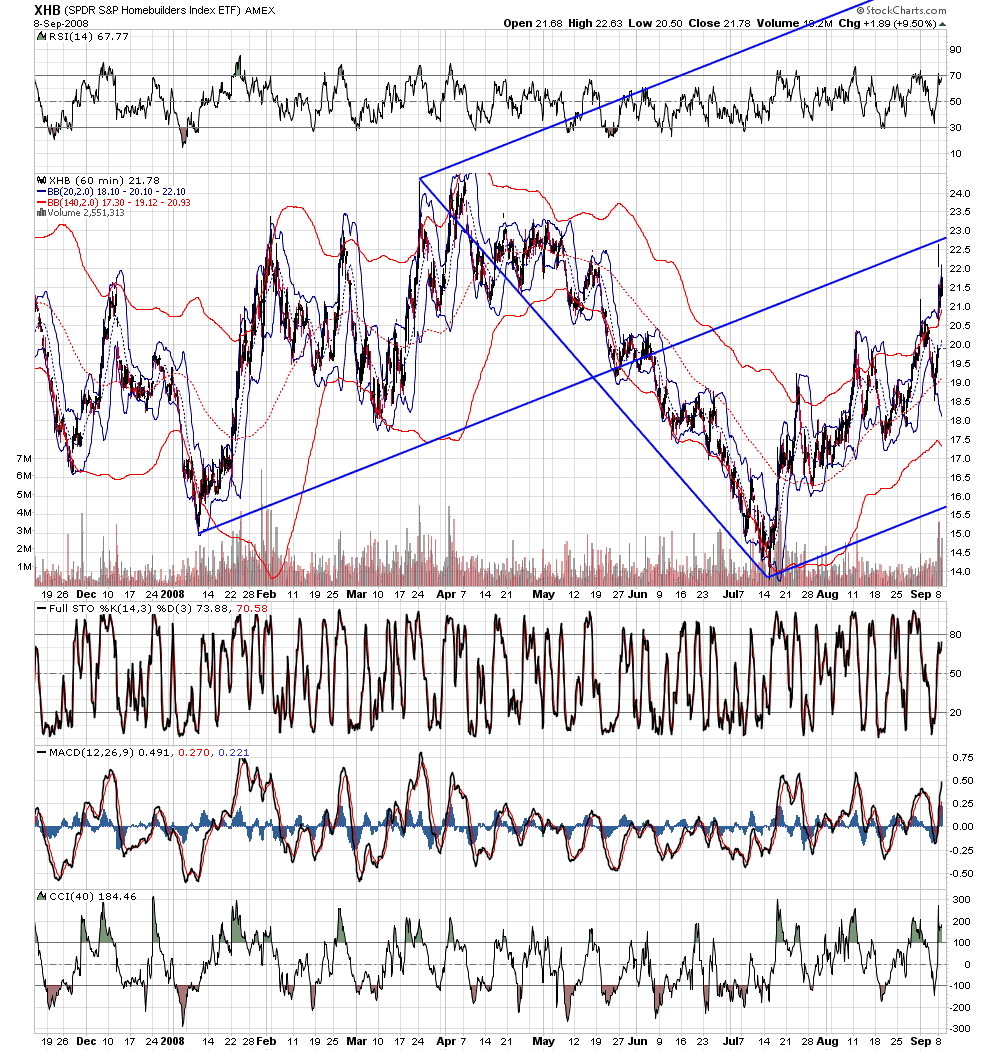 Click image for original size
quote:

---

Originally posted by CharterJoe

I would really like that roofer, how does one join the private Kane room?


---
CharterJoe,
The forum is for full book set buyers, so as roofer likes to say 'that's the price of admission'. Since I'm not here to promote selling anything, I don't talk about the forum much when I post 'out here'. You can see a tiny little bit of my most general work on my public forum here at MyPivots, and you can also look at my free commentary, over 250 of them, at my website. Again, not a promotion, you don't have to buy anything, sign up for anything, just peruse the free archive if you want. My work is a bit different than roofer's, but it will give you some interesting ideas, I think.
Click image for original size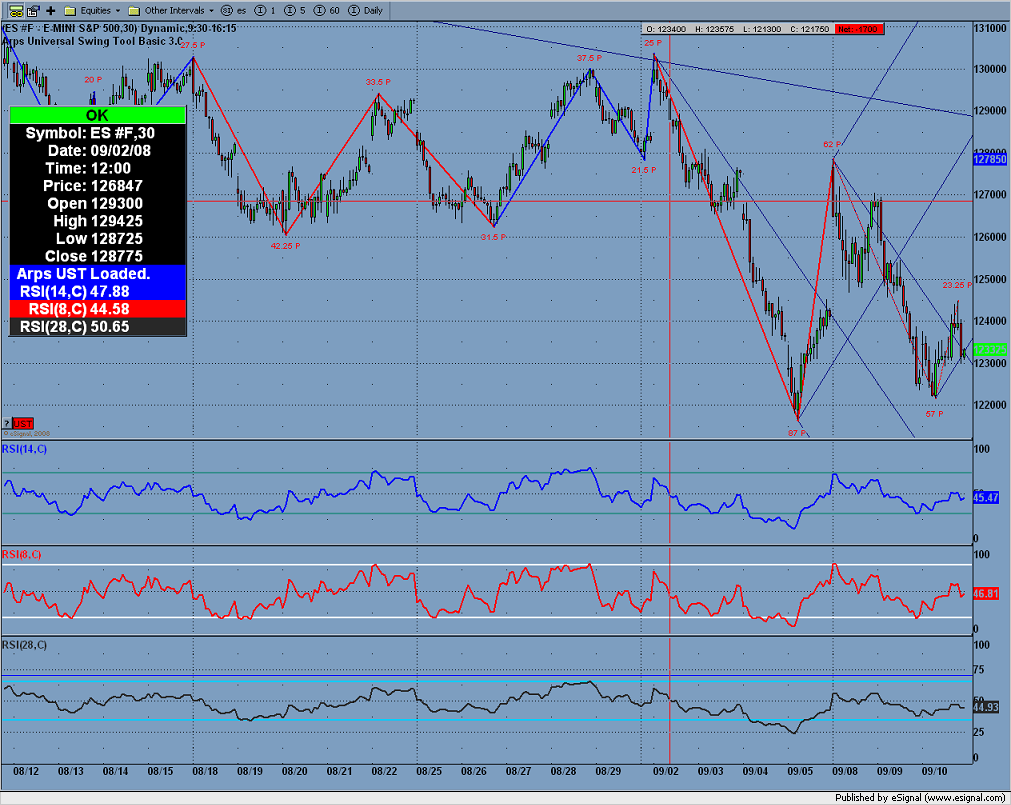 Thanks for the link and the charts
The last high @ 1303.5 on the
ES
was the upper band. This would have been a wonderful trade. And those bounce's off the med line, great stuff.
gio-i am not sure how to take your reply.. if you mean nothing new as in there is nothing new under the sun.. then i agree totally. what i showed in these chart is 100% based on work that is available for free at
www.medianline.com
and is well known by skilled traders of geometry and has nothing to do with the work of jim kane that is specific to him.i have no interest in promoting his work and in fact these charts were redrawn to eliminate any reference that i keep for myself based on his work.if jim chose to reference his work that was his right and his choice alone.nor did i choose to dishonor jim's request for confidentiality . i was asked what i think about the next move i know what i think about the next move based on yesterdays high in
spy
but the number there i have found only in jim's work and he has asked that it not be shown publicly. so i did not respond for that reason...sometimes sitting at a bank of screens day after day is not an end in itself and it feels good to try to help other traders as i was helped years ago.. much of what i have posted on the net for free has been taken and sold.. one of my files came back to me in a mass mailing'' secrets of the millionaire traders''..for the past two years i have been writing about a very specific setup that occurs on the open.. i am sure it will be for sale soon with the author claiming originality.. i just dont care.. the stuff works not because i am so smart but because it is already known to good traders. enough said.
roofer

as i said 'no disrespect'

ive been fooling around with pitchforks for many many years now and ive always used significant highs or lows to anchor

i was hoping you had some different insight new to me

in fact, if you read some of my previous posts i included pitcforks in conjuction with gann work - i even did pitchfork work pre-computer age

thanks for the charts and have a good day

oh, and dont forget 'Venus will form a waning square to Jupiter today' and, 'two days later it conjuncts Mars' :)

gio
if you go to the site i mentioned you will understand the rational between choosing standard set,
gap
set,modified schiff set and always looking for the set where the medianline is a multipivot line vs the most obvious set.