ES-09-11-08
Lots of discussion about
ticks
yesterday.WEEKS ago, i pointed out a relationship that has ocurred with incredible accuracy over the last 5 years. Anytime the closing
ticks
on the
nyse
is above 800 a significant decline ensues within two trading days.last time , i noticed this i posted it i think aug. 15.Two days later we hit 1303.50 on the e- mini and slammed down about 40 points.Yesterday i noticed plus 853 near the close!I wish some one could backtest this as i have no capacity to do so. The accuracy seems incredible, but more study is needed to be sure.Im not even sure what we closed at on the
ticks
, but if it was above 800, look out below!
I'll try posting a BAV view again. The big money action has been consistent buying from the low after the open while small money has been net selling. This was the picture just before the last break upwards.
Click image for original size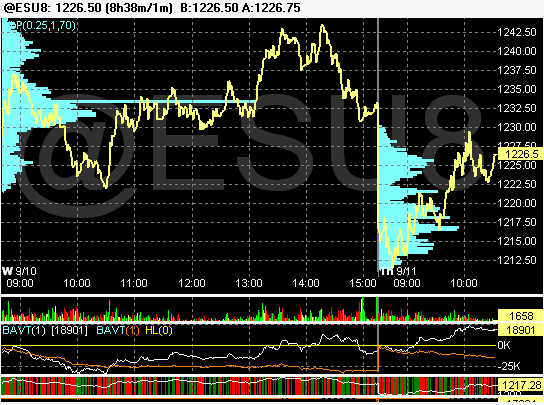 Click image for original size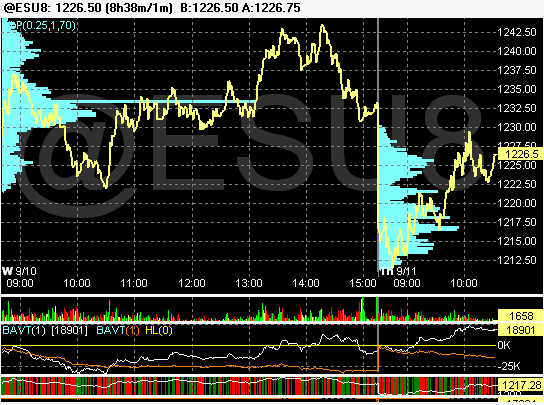 Sorry about the double chart post. I had only told it to attach one. Big money was net +18901 contracts for the day at the time of this snapshot (highlighted number on the right of the BAV study. They are +19895 now with the
ES
at 1231 so they aren't buying as aggressively now (possible slight
divergence
).
Nice charts drive,

I downloaded that soft ware yesterday and could find the BAV, where is it located?
There's was a nice Neg
divergence
in the
TICK
MA
, but I would have liked to see it higher, like in the 500's this one was in the 250's which makes me think this run had more to go.