ES-09-11-08
Lots of discussion about
ticks
yesterday.WEEKS ago, i pointed out a relationship that has ocurred with incredible accuracy over the last 5 years. Anytime the closing
ticks
on the
nyse
is above 800 a significant decline ensues within two trading days.last time , i noticed this i posted it i think aug. 15.Two days later we hit 1303.50 on the e- mini and slammed down about 40 points.Yesterday i noticed plus 853 near the close!I wish some one could backtest this as i have no capacity to do so. The accuracy seems incredible, but more study is needed to be sure.Im not even sure what we closed at on the
ticks
, but if it was above 800, look out below!
ahhh, im gone ... stopped for 3 handles.Inailed the time for the cycle low but not the price. im up 20 today and 41 for the week so im calling it a day! Cya all tomorrow, or maybe on
globex
tonite.
Here is a more current view of big money action on the ESU for today. Big money (white line in the BAV) let the market come in to the 22.0 level from 37.5 with minimal net selling on their part while small money (the brown line) continued to distribute. Consistent with the prior talk about ledges, big money made their second spike in their net buys around 0945 when they broke the market out of the 21-22 level. They tend to defend major buy and sell levels and notice that that's where they let the market come back to in the
PM
before spiking higher again. It is interesting that they can let the market come in so far without significant liquidation on their part but with the market being so thin on the L2 bid and ask they can move it fairly easily.
Right now bigs are +31000.
Click image for original size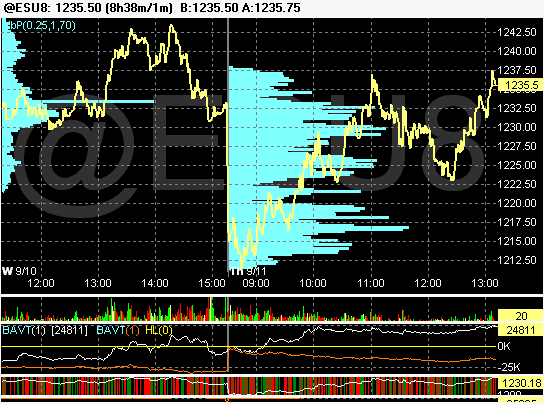 Thanks prestwick, if it's not trouble for you could you please post a larger size of this chart next time? It is hard to see the bav lines you are describing especially on my screen which is a large resolution. Thanks!
Nice call.....22 is close enough...lol..nice projection
quote:

---

Originally posted by koolblue

Hey Joe ... any chance we go all the way back to 1221.50 area (mp ledge) Cause thats what my work is indicating un less new highs are made. Also what is todays poc so far?


---
2:20 2:48 3:05
volume decreased from each one of these lil peaks to the next,, looking toppy
Here is why I had that 24 number in the overnight...it had to be "cleaned"...Notice the
gap
at the high there...December had the
gap
at 1225.....once we opened at the 1216 number then I had the 8 point target number to help out with the trade.......probably no coincidence...
Hey Joe, my wife is due in January with our third.......anyway..congrats on yours....
here is a chart of that
gap
...
Chart not posting correctly. A little help please......
Click image for original size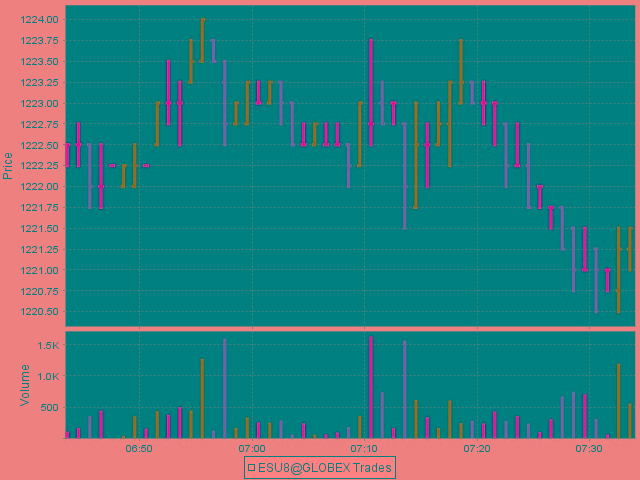 quote:

---

Originally posted by BruceM

that 1224 will need to get "cleaned up"..so I'm going small at 1215.50


---