ES 12-16-08
GM
Traders
Daily
PP
: 873.75
R1: 891.50
S1: 854.75
POC
: 868.25
60m: 903.50 / 848.50
15m: 903.50
overnight
globex
gap
@ 874.25
Gm all.
Vo, when you say be, do you mean that contract was be or the entire trade was be?
flat 81.50...margie once I have banked my first contract i move my stop to entry so be on the second contract
Here is a more current view of what I was referring to regarding big $ action so far today. I have included all of yesterday's action also. The white BAV line is big $. The huge horizontal volume spike near the top yesterday is due to a mkae-up print from DTN-IQ. They drive me nuts with those.
Click image for original size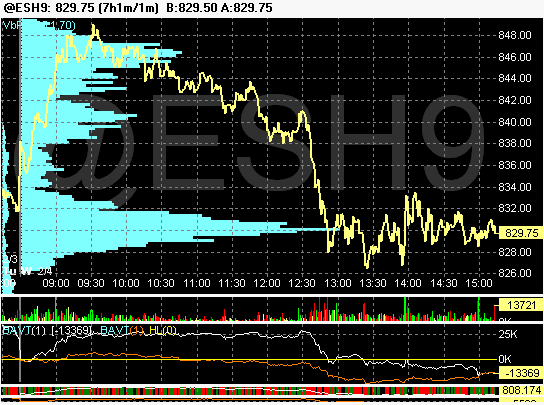 Thanks for all the charts and goodies today folks........I enjoy it all but today I really enjoyed Prestwicks updates on what the "super powers" where up to...cool stuff