Larry Pesavento's Insights on the Markets & Charts
Larry Pesavento's Insights on the Markets & Charts
quote:

---

Originally posted by rfarina187

I asked Larry if he would come on at 9:00 so as not to conflict with the opening.

---
Anybody want to record the conversation and then upload it to the forum? If it can't be uploaded then send it to me in an email and I'll upload it. (I believe that
Audacity
is great software for recording this type of conversation although it's been a long time since I've used it.
Hello everyone... just wanted to let you know that Larry is going to come on wednesday as there are a few posters that use his work that won't be able to be here and I wanted to make sure they could participate. So, 9:00 on Wed. All you have to do is click on the voice chat box and a speaker will come up next to your name and you should be able to hear him speak.
Special Cycle Alert March 4th thru the 8th
There is a new book "The Heretics of Finance" by Dr. Andrew Lo from MIT and one of his associates. Being a big fan of Dr. Lo because of his pioneering work proving that technical analysis is valid, I purchased the book. Interviews were conducted on 10 famous technicians who were members of the Certified Market Technicians Association (CMT). I knew half way through the book that Dr. Lo had very little to do with the publication other than authoring his approval because there were no statistics involved. The interviews consisted of a series of questions to the 10 scholars and their responses. To my amazement one of the questions related to the subject of astrology. It was nearly universal that they all viewed astrology as voodoo economics. However, it was also interesting that each member openly admitted that they had never looked to astrology as a potential market timing tool. This reminded me of the long standing clash between Johannes Kepler (the father of modern physics) and Sir Isaac Newton. These distinquised scholars had a long standing battle on a variety of subjects. At one particular meeting Kepler was denouncing astrology in all forms when Newton took the podium. He addressed Dr. Kepler and said "the only difference between you and I Dr. Keplar when it comes to astrology is that I have studied the material and it is very evident that you have not." It is my opinion the next big breakthru in technical analysis will be the evidence that astro cycles are present and they do have value but this will come from academia, not from somebody like me.
On August 13th thru the 17th 2007, we had a series of astro aspects that are associated with market lows. This series of 6 conjunctions or oppositions happens very infrequently, usually every 8 to 10 years or more. From that low in August 2007, the stock market quickly made a new high into November. The low from August 2007 was broken and then the market rallied back into May 23rd. 2008 to an exact . 618 relationship of the downmove from the high forming a perfect Gartley sell pattern.
Once that low of August 2007 was broken, I became very bearish! This had been the first time that that particular type of low had ever been broken since stocks started trading in 1792. This meant to me that no one alive was about to experience what we were going to go through these next few years. After some research I found the panic of 1837. The relationships between 1837 and present are quite startling. From both a cyclical standpoint and a fundamental standpoint. The panic of 1837 was also a debt repudiation panic.
In October of last year we alerted you to the tremendous increase in volatility that we would see between October 6th through the 13th. This has gone into the history books as one of the most volatile times ever. I still believe that we are in the worst bear market our county has "ever" seen. However, keep in mind that this is my opinion and I am often wrong. From a historical point of view we should take a look at the Great
Depression
of 1929 to 1932. The Dow went from 362 in September of 1929 into the crash to November 1929, a drop of over 50%. Black Friday, October 29th 1929 was not the low. The low was made in the next month, November. Then the market rallied for 4 months to almost 60% of the down move. From April 1930 until July 5th 1932, the Dow lost over 90% of it's value making it's final low at 40 on that fateful day of 1932.
Where are we Now?
March 4th through the 8th has an unusual astro combination that should bring a significant low into the market. Everyone and I mean everyone now knows that something is wrong in our economy. Many people have lost their jobs and many of the formerly finest companies in the world are nearing bankruptcy. Prestigious brokerage firms like Merryl Lynch, Bears Sterns and Lehman Brothers no longer exist. So how could the stock market rally given these negative factors? Fankly I don't know but we must be aware that the market will trick as many people that it possibly can in the shortest period of time. The one thing that would make our prognosis of a severe bear market more valid would be a strong short covering rally. We deal in a world of probabilities and we have to expect being wrong quite often. Safety of capital is of paramount of importance. Secondarily, profit objectives can also be a goal. Currently we are completing major patterns in almost everything. This market was lead down by the banking and financial sector. In a series of charts included with this report are the patterns that I am watching. Of particular interest are the Butterly patterns and Gartley in the S& P 500 and Dow Jones. It is also important to look at
XLF
which is the
ETF
for the fiancial industry. Notice that the high was made at a 1.618 expansion of the weekly range and now we are within a heart beat of the 1.618 expansion to the downside. There is one universal theme going through the market at this time and that is we are in a bear market. However bear market rallies can be quite vicious and profitable if timed correctly.
Presently we are offered this type of opportunity coming into this week. The astro aspects that are there start on March 4th and finish on March the 8th. I am selecting Thursday March 5th as the key date to watch as the potential turn in the market for a rally. This is not going to be "the" bottom. This is going to be "a" bottom in a continuing bear market. There is also the possibliity that we just keep going down and down and down with no rally. I do not beleive that this is the case but if we're making new lows after March 9th I will have to assume that this is the case.
Fortunately we can watch unfold each day and get more information as to whether this analysis is either right or wrong. One way to play this will be to look at some stocks that have been stronger than the market and to buy some cheap call options to try to profit if the rally does occur. You should stay with a 30 to 60 day call and get as close to the money as your budget will allow. Personally I would not spend more than $800.00 on any April or May call. The stocks that I have selected have been holding up better thant he rest of the market. Lets keep in mind the words of Mom's Mabley the famous commediene who was the mentor of Flip Wilson and Redd Foxx. Mom's said "Don't fall in love until you see the purse is open and full of money".
Click image for original size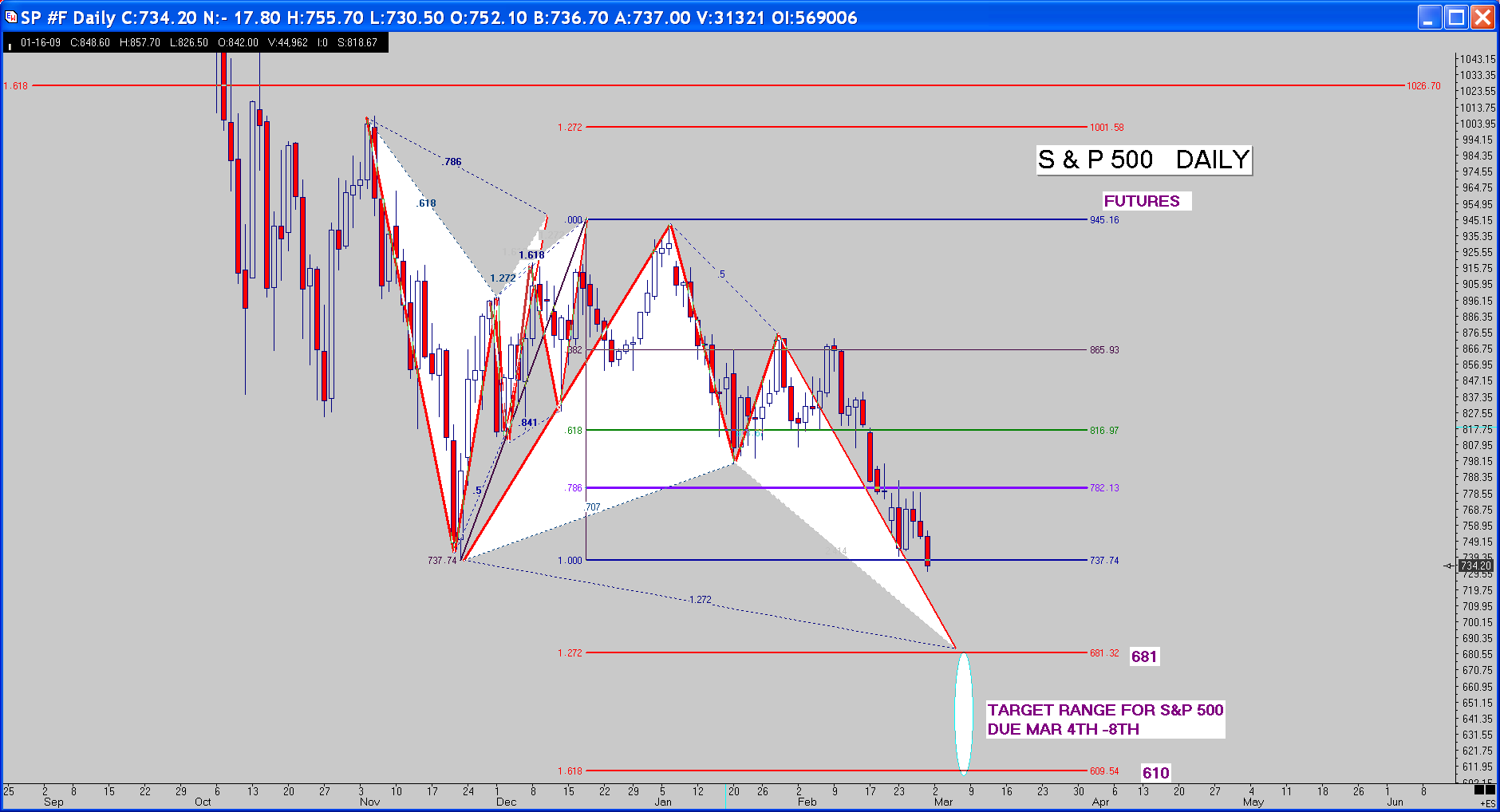 The stock market attempted to make new highs again today. In fact, the
NASDAQ was able to make new highs. This presents a potential problem for the
Bears, or a great opportunity.
Divergence
between similar contracts can be
highly indicative of a major trend change. As you can see from the enclosed
chart, the NASDAQ easily exceeded last week's highs, while at the same time
the
S&P 500
(i.e. Dow Jones also) were unable to do so! The bearish case is
still up for grabs. Any move in the
S&P 500
above 875 would mean that we are
going higher. The figure for the Dow Jones is 8112. This week will be
critical to what happens going into May 18th which is our next Astro
harmonic date( combust ).
This weekend we will present a comprehensive pattern analysis on all the
major markets as we are approaching some completion of very significant
patterns.