ES 30min RSI overbought/oversold
ES 30min RSI overbought/oversold
In a normal trending market it takes 25 about 30min bars to go from overbought to oversold, and visa versa. In a slower market it takes 35 30min bars. We are in the 35 bar rotation now, and 11 bars into it, which tells me we will make a high around 865-870 in about 20 bars or 13:00 time Monday.
Also overbought/oversold is a point of view of the trader. When a market keeps making new highs and trending well by the time you get a
RSI
reading of 30 the move will be done its likely to retrace no more than 45. And the same going up...
quote:

---

Originally posted by CharterJoe

I wonder if there is a way to overlay a MA envelope over the RSI?


---
Not with E-signal, ohh well. I will plot it by hand I guess. I'll post if anything interesting occurs...
You can also a low and high on
RSI
and get the 50% mark which this last move it would be 57.5, the level we have been hovering around since the open. The 50% retrace marked the low of the
gap
down on monday 4/13 at 842 when we ran too 861....
This is how I use 30min
RSI
to aid in all my trades...
Click image for original size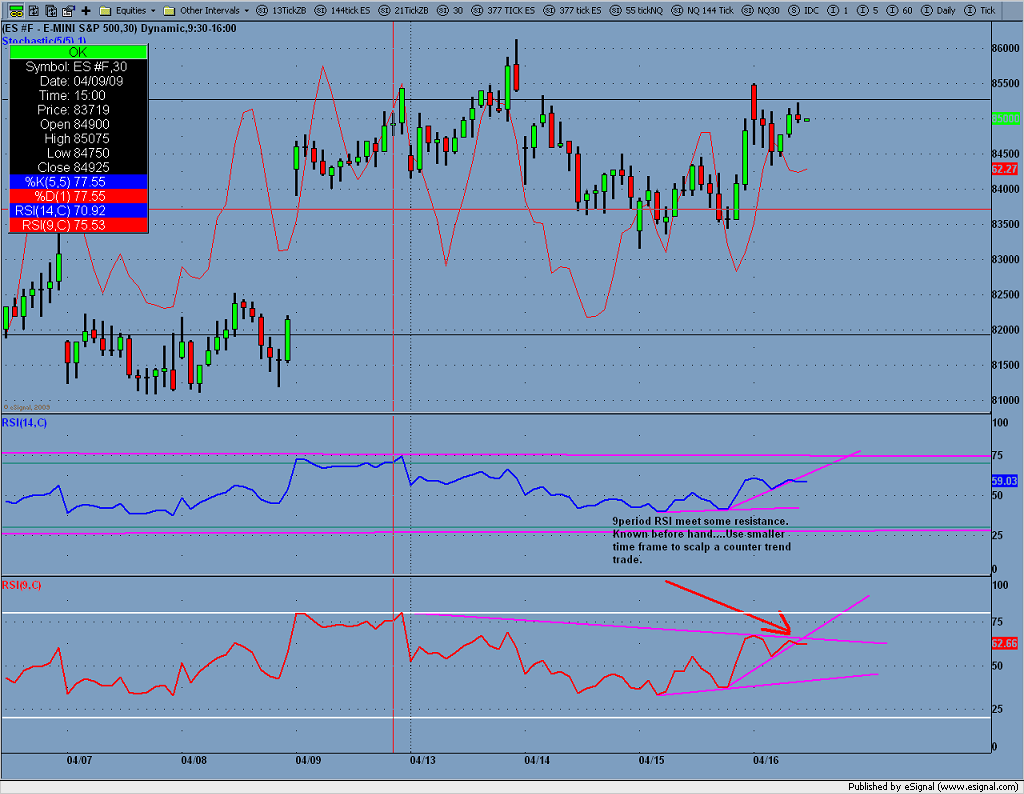 Click image for original size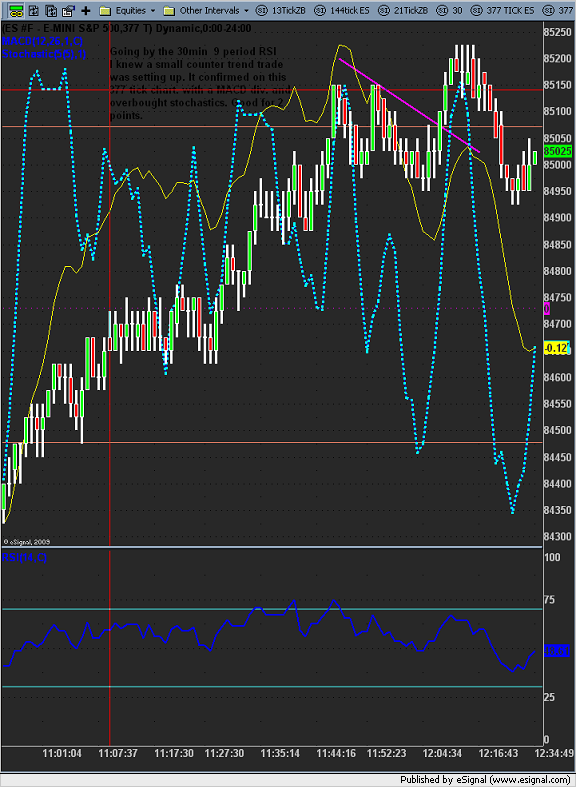 Alright +$1.00 on those calls better than 33%. Markets looking overbought going to pick up some puts near the close hopefully around 871. Should have been +1.50 but error on my part and clicked the wrong options contract.
According to my charts looks like we are going to get a pull back around
RSI
74-75...
Click image for original size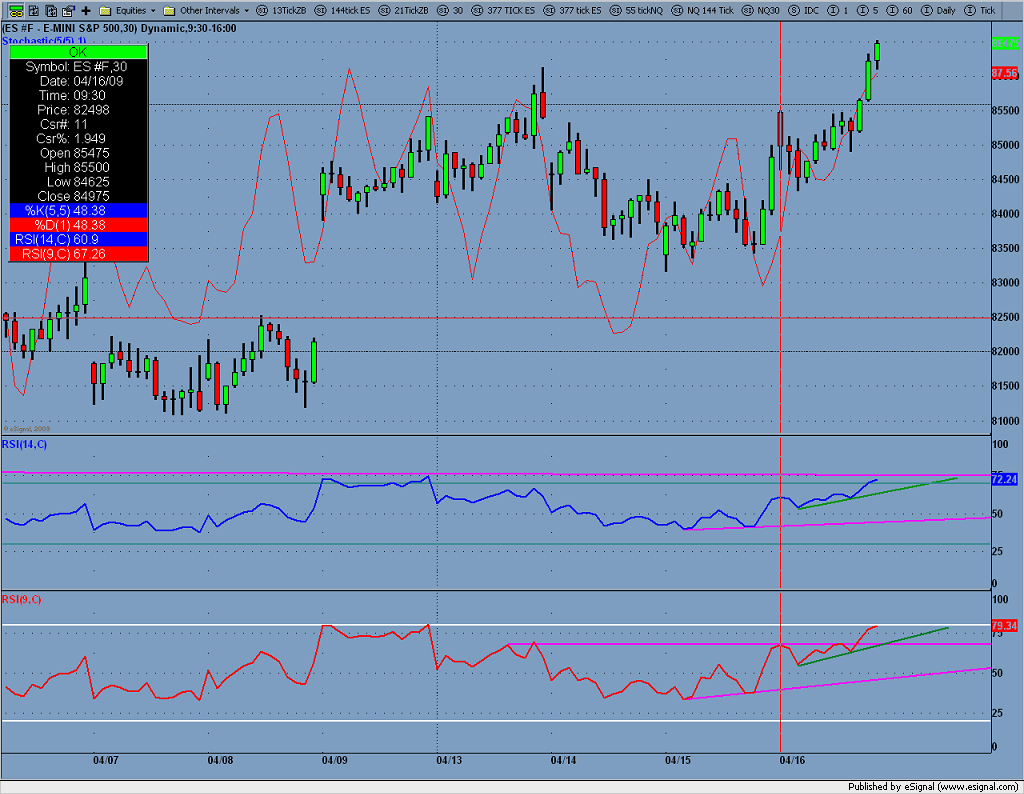 Looks like a good short with both
RSI
arriving at overbought and
RSI
14 ahead of some major resistance looks good for at least -25 points.
Picked up some
SPY
may 86 puts @ 3.25
ES
@ 864
<edit;looking for 1 point on those puts thats
ES
@ 840ish level>
Click image for original size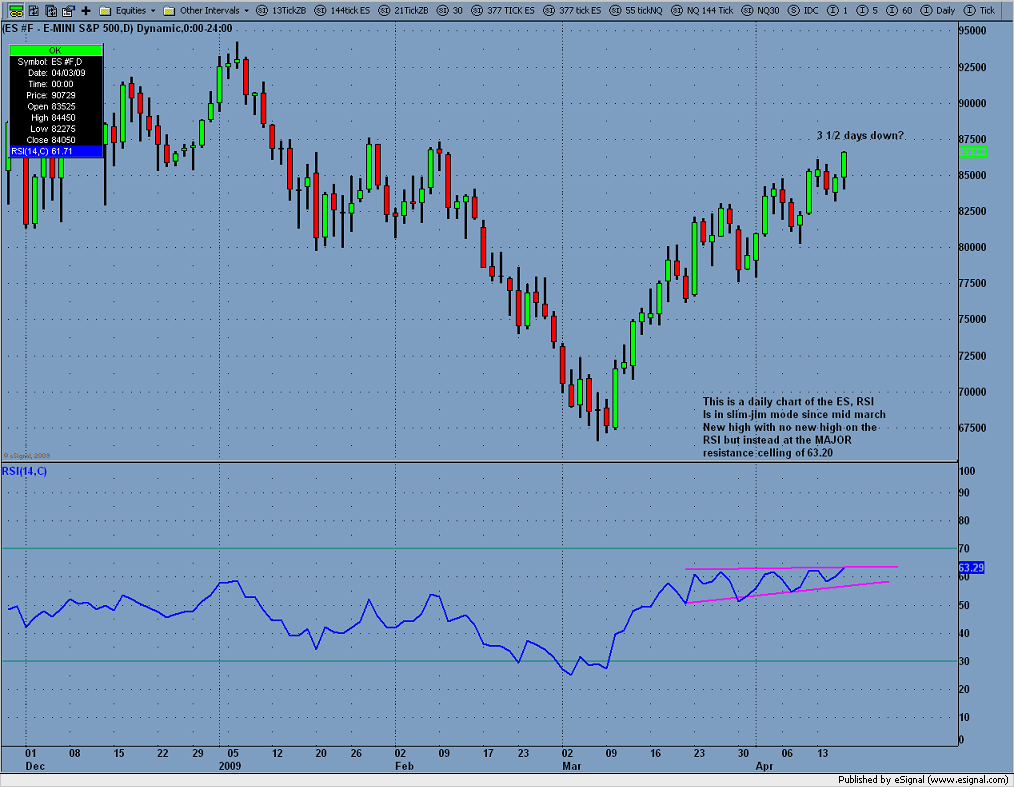 Always makes me a bit nervous going the opposite way of big trends like these puts I have with the
ES
200pts off the lows. But if your trading in your comfort zone your not making anything.