ES 30min RSI overbought/oversold
ES 30min RSI overbought/oversold
Click image for original size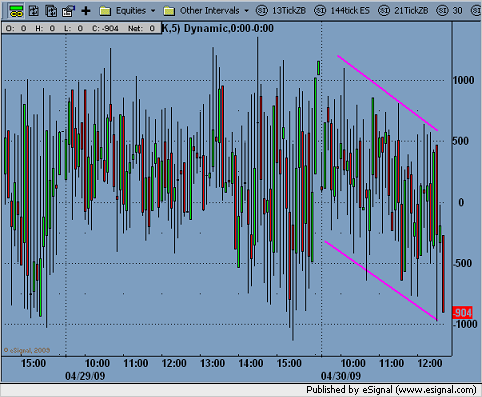 Take a look at the
$tick
5min today, a classic exhaust
gap
on the 30min
ES
, new high-then sell off.
quote:

---

Originally posted by CharterJoe

I am short @ 885, as the 14 period RSI is hooking down now, and 886 is square of nine.


---
good for you guys! sold 884.00 on my first position trade since sept! took half off at 876 cause the proj minimum was 873. stop breakeven and looking for 861ish today or tomorrow
best fill for me is 67.50 as per my merged profile thread......Joe I had that same exact channel on
$Ticks
..cool....well done everyone....minus 20 is at your 861 number Kool...have two measley left but no good stop loss....
Because of yesterdays closing
ticks
signal, 35-40 handles has to be expected...and since the high(at least temporarily ) appears to be in at 887- i belive we'll likely see 850 before all is said and done.
30 min
RSI
@ 70 and going sideways, looks like its going to form a nice
divergence
on this top...This was a quick pop to 896, still looking for 906, only problem is that it got there (896) so quick and I wouldn't want to short until the close.
Joe ;
snap a line @ the mean of the 10am edt 5min. candle 889.50 acting as support
at this point