ES 30min RSI overbought/oversold
ES 30min RSI overbought/oversold
Mkt is awful strong coming into what has been significant resistance in the 872 area. The fed may well blow the market
thru this area up to 880 and even beyond. Obviously not a sure thing ... but the mkt has remained so strong with real buying behind it ... small pullbacks and most
gaps
down are buys. Basically, it's the old buy pullbacks in an uptrend for almost a couple of months now. Price only paused at the levels I'd seen and posted for today for any upside move. Will be interesting!
Whew Covered all aat 875 +39 points on those....I don't really care about market driven news, as I don't watch the news. I wouldn't have known it was a
fed day
until last night when I read the email.
I'll post a chart in a min, going to buy some puts shortly, or just short the
ES
. I'll post the
RSI
in a min.
I have been waiting for one of these setups since I started this thread....The Slim Jim.
What it is;
the 14 period
RSI
is in a Slim Jim (trading box)
The 9 period
RSI
is in a wedge and the 9 period breaks down/up first go in the direction of the 9 period as it often moves first.
Click image for original size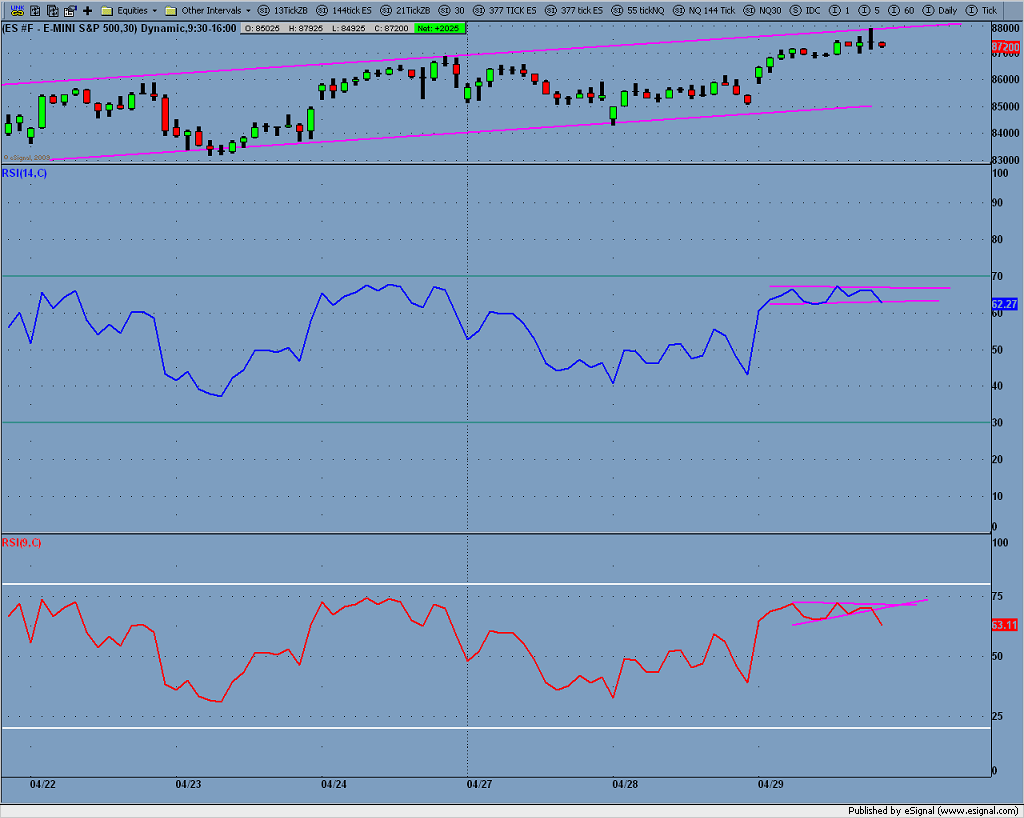 I will reenter when I see a lower high and a lower low on the 30 min. Thats about 870.5...
Reentered short @ 874 LOL....starting with 3 I'll
add
2 sets of 3 @ +2 and +4 or -2 and -4 until nine is on still targeting 855ish. So I'll either be averaged at 876 or 872. I have found this helps with the whipsawing.
Covered +2, I had 8points and a nice profit but was holding out for more, you never know... I didn't like the looks of that one so I am going to wait. I need a break I fell burned out. I am going long and putting a stop of 15 points and going to take a long weekend. Up almost 70points this week and I am going fishing tomorrow. Long @ 872.50 targeting Jan highs, I should have never covered to begin with, I am sure were going higher and quick.

(edit)
I don't think I have EVER been this bullish.

The reason I switched had to do with obvious strength I have no idea where this thing is going, but I don't want to short right now. Has nothing to do with socialism and Obama, its a wonder the stock markets are up off there lows but they are.