Looking to sell ?
a trade back to 94.25 now will take out my stop if the 89 numbers doesn't hit during lunchtime now

Nice short entry Bruce, good area, good rationale with that 1099 area just above ... hey Kool, had noticed you'd not posted on your blog thingy for a while and then on a whim hit your room on this site and there you were ... glad you're back!!
hi kool,

I am glad 2 c u buying. I have been long since last night. & just added some more a few min ago.
quote:

---

Originally posted by BruceM

best fill is 92.25 with one contract left to try and target 1089


---
Did you short 96.25 and close it at 92.25 for 4 pts?
I had 6 working......4 off in the 94.25 area , one at the 92.25 and then stopped at 94.50 as my 1089 didn't hit
quote:

---

If you would, Blue, fill me in on what indicators you're using from the above chart ... and how you use them.

---
Hi
MM
,
Thanks.
The main purpose of my one hour chart, for me, is to see the main trend (
WMA
709 >
SMA
709 trend is up)and where highs and lows were for the last several days. A larger perspective chart, so to speak.
I am new to day trading (1.5 yrs) and a lot is just observation, so sometimes indicators are there just to track. (e.g. the WMA24 happened to be a break out price today - but I'm just noticing that after the fact - it comes as part of the ETB "enevelope trading band"?).
I have attached a chart with notes.
Click image for original size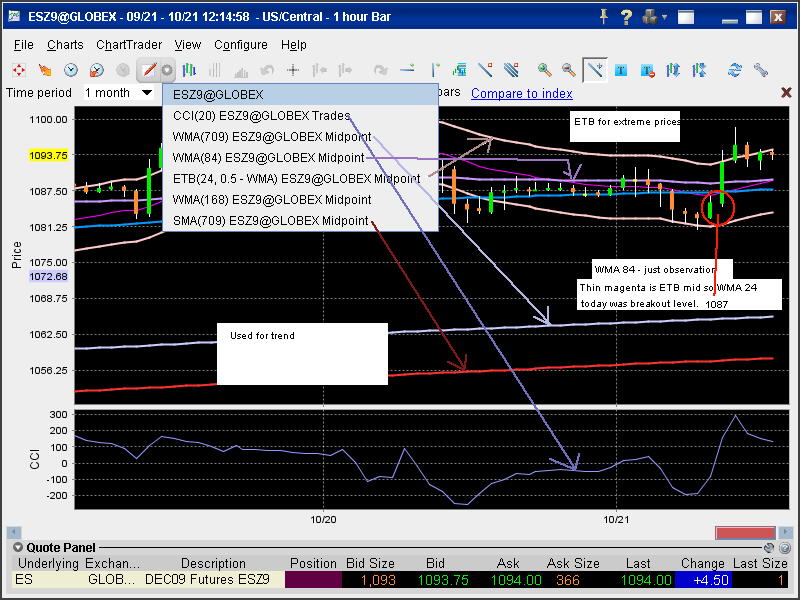 quote:

---

Originally posted by BruceM

I had 6 working......4 off in the 94.25 area , one at the 92.25 and then stopped at 94.50 as my 1089 didn't hit


---
Thanks Bruce.
Good trading!!
Is your target usually about 4 pts?
Blue,

I'm very inconsistent on the amount of contracts I put on and take off but I was looking at my key high volume zone the 92.50 and the 94.....so I started pulling at the 94 on the way down incase it acted as support again...then the same reasoning down at the 92 area....high volume....and lower end of the zone...I thought it might break but was wrong....so far.....I had a good long campaign off the 5 minute range and I only talley it up at days end...keeping track messes up my mind.......my intial stop was above the 99.50 on that short campaign.....I'm not consistent enough on stops too but always teaking and learning...

basic rule for me is the more and longer I trade into the day , the more I lose....I need the probabilities to work their magic......today you could see how they ran out the previous days range, overnight high, the plus 4, the hour high etc.........after those are done I like to work from tests of the magnet prices based on volume...but not a perfect science in those...still like shorts but have nothing going now.

You can easily see how they have tested that 92.50 - 94 zone today and continue to mess with it...much better minds here that can talk intellegentlly ( spelling sucks) to contract size etc.......I'm still working on it after 10 years...
I SAID A DAY GO IF 1033 DOESNT HOLD WE'
LL
LIKELY GET A TEST OF 1018-19.50.. STILL FEEL THAT WAY