Chart of the day
Here is a
gap
and
triples
so up here at 1227 is my sell...look at the
gap
in between the white lines...just couldn't hold long with that looming
Click image for original size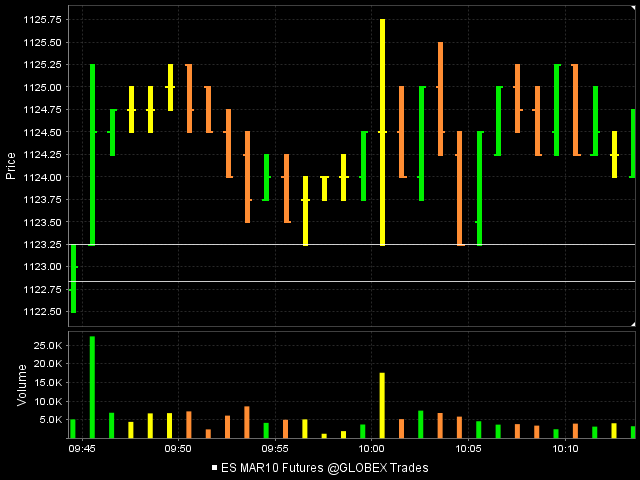 I think as long as new higher volume doesn't come in that is higher then the first 0ne minute bars volume then we should retest that open price again
trying from the 34.50 number...only real challenge is that we are overdue to trend......so not sure if they will trend it infront of tomorrows numbers...
triples
sit below as some comfort on this short but the
low volume
is forming lots of those lately
the 12:35 bar just put in higher volume..now we need to be careful...lets hope it's blow off volume and we need to get under it's low and fast
on the 37.50 after getting stopped out at 35.25......outside my 90 minute window but that was the third good volume surge
got the first set down and then got stopped out....it's almost as if someone hit the sell button by mistake......this volume just sucks...at least we know that someone is keying off that 35 number....if we get a strong high close I'm gonna sell them.....
concidering the dismal ranges we had some good responses at the plus 4 and 8 areas today........late though...tells us that nobody is really here yet.....c'mon, how much vacation do people need ? Where is their passion..?

Key areas now 34 - 35

27.50 and 23 ( which started this thread)........tight....I guess tomorrows report holds the key for the week ...sure wish these ranges would bust out...
I started a small position at 38.25......This is more like a gamble...my ideal short trades will come after the 8:30 report and above yesterdays highs IF we get the push up first.....No longs for me...I'd rather miss this move.....that 23 area is a giant magnet to me and I believe they have a lot of Chart cleanup to do before any real rally could unfold........been saying that all week......so eventually I'll be right...lol....seriously though there are many micro
gaps
on the charts...just look at a 5 minute chart from Thursday and the 31.75 area.....a mini
gap
on the data....
just took two off at 31.75...have two left and no great plan for stops....Ideal next target is 27.75 and then 24....Don't want to see 35 again on any upmove
a pefect hit on the plus 4 as we broke yesterdays
triples
in todays session...if you don't trust the plus and minus numbers yet then you'd be using that inside bar at the high for safety... .the target was the obvious
triples
from todays session....
upper horizontal line is the
triples
from yesterday afternoon that had yet to be filled in.......lower horizontal is the perfect hit on the
gap
I mentioned in yesterdays data....now if they could really tank it from here it would complete my day
Click image for original size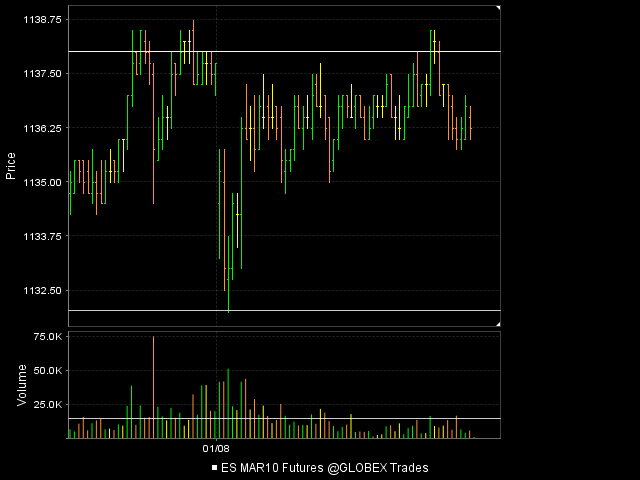 I don't think the volume is an issue but it is just something I have observed. I personally would not look at 1 - 4 minute etc..you'd drive yourself crazy and find too many areas of consolidation. For me it's on the 5 minute or else I don't look for them.
Obviously they are not perfect and you can see 5 (5 minute bars) in a row down near the 988 area that have held.....those folks got rewarded but most times the
triples
give folks the false impression of being rewarded only to get run out later.
There are some who think that the floor or larger traders don't gun for stops.....while they may not gun for my SPECIFIC order I beleive they do know that folks are taught to keep stops just below or above swing points and consolidation areas, like the
triples
. This is why I am a fader and like things like previous highs and lows and volume areas. We just don't trend enough and spend a huge amount of time consolidating...
Bring up a 5 minute chart of the
ES
and see how often we get a trend away from a price without going back to fill in the breakout area later.....look for my thread called "Price bar overlap" soon. The
RTH
session begins for me at 9:30 e.s.t and ends at 4:15 . Everything outside of that time is considered the overnight session for me.
Originally posted by ak1

Thanks Bruce, if the triples are formed inside the days range on high volume will they be considered valid.Like the ones at 1006.5 on Friday. Also if we can't find triples in a 5 min. chart, is it OK to consider the 1 min chart then or do we go loking for them from 4min to 3min to 2min and then 1 min.i.e scale down.