Chart of the day
Here is a
gap
and
triples
so up here at 1227 is my sell...look at the
gap
in between the white lines...just couldn't hold long with that looming
Click image for original size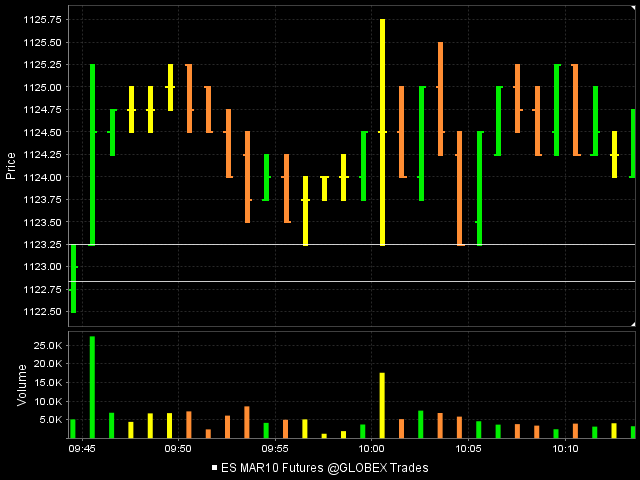 glad they helped....sometimes they line up with cool things....like the key 00,25,50,75...folks key off those...like today...not perfect but they help
I favor a rally up into the close...all markets neutral as per
MP
....and holding above high volume areas...
neutral days will close at an extreme or near the center...now that they ran out the
triples
anything can happen....keep it tight on longs
there's a
low volume
are at 65.50 that I'm trading for...good volume pulling through there too on the horizontal scale...just don't trust this rally now
hey Bruce, Do you take a poke at these
triples
@74? or not because they are at the high of the day?
no I didn't for the reason you mentioned and also because that was where the highest Vertical volume from yesterdays trade came in at so it is natural resistance...for those who don't follow the volume work(look at todays volume spike into that area too) they should be watching the key numbers.....in this case the 1075....
What I find interesting that you guy's keep at it all day. For me it is always one trade and thats it.
08:36:06 BUY_LIMIT 1063.00
09:31:03 SELL_LIMIT 1067.00
It's just the love of trading and watching how everyones mind works....Isn't that all the charts really measure? Peoples levels of fear and greed...and of course we don't always get the first trade right AK1....but glad that works out for you....
The 66 - 68.50 is like a giant freaking magnet......what we need to start monitoring for is a push away from that with good volume that holds....I thought they achieve just that yesterday but todays
gap
lower open told me that yesterday was a smoke screen...lets see how they close today
I'm glad you're here asking questions...if you're not already a good trader you will be!!! It's when we stop wondering and accept that we have the market all figured out that we need to be careful.
Originally posted by jyonkeeod

Yes I seen that big volume spike yesterday @ 75, thanks for the reply

I don't think the volume is an issue but it is just something I have observed. I personally would not look at 1 - 4 minute etc..you'd drive yourself crazy and find too many areas of consolidation. For me it's on the 5 minute or else I don't look for them.
Obviously they are not perfect and you can see 5 (5 minute bars) in a row down near the 988 area that have held.....those folks got rewarded but most times the
triples
give folks the false impression of being rewarded only to get run out later.
There are some who think that the floor or larger traders don't gun for stops.....while they may not gun for my SPECIFIC order I beleive they do know that folks are taught to keep stops just below or above swing points and consolidation areas, like the
triples
. This is why I am a fader and like things like previous highs and lows and volume areas. We just don't trend enough and spend a huge amount of time consolidating...
Bring up a 5 minute chart of the
ES
and see how often we get a trend away from a price without going back to fill in the breakout area later.....look for my thread called "Price bar overlap" soon. The
RTH
session begins for me at 9:30 e.s.t and ends at 4:15 . Everything outside of that time is considered the overnight session for me.
Originally posted by ak1

Thanks Bruce, if the triples are formed inside the days range on high volume will they be considered valid.Like the ones at 1006.5 on Friday. Also if we can't find triples in a 5 min. chart, is it OK to consider the 1 min chart then or do we go loking for them from 4min to 3min to 2min and then 1 min.i.e scale down.