ES short term trading 4-23-10
ES short term trading 4-23-10
Good morning. still looking for that E wave to 1196 (or even lower3-4 handles!). Heck, i still want to see slightly higher to be sure D is complete. I also have 1212.25 as a possibility on the upside if we just continue higher. (wave 4 could also have completed at 1186.25 making a flat.). Monday the 26th looms just ahead. It certainly looks like Thurs. gave us a great low for the late Friday run up into bullish Monday. heres a short term look...
Click image for original size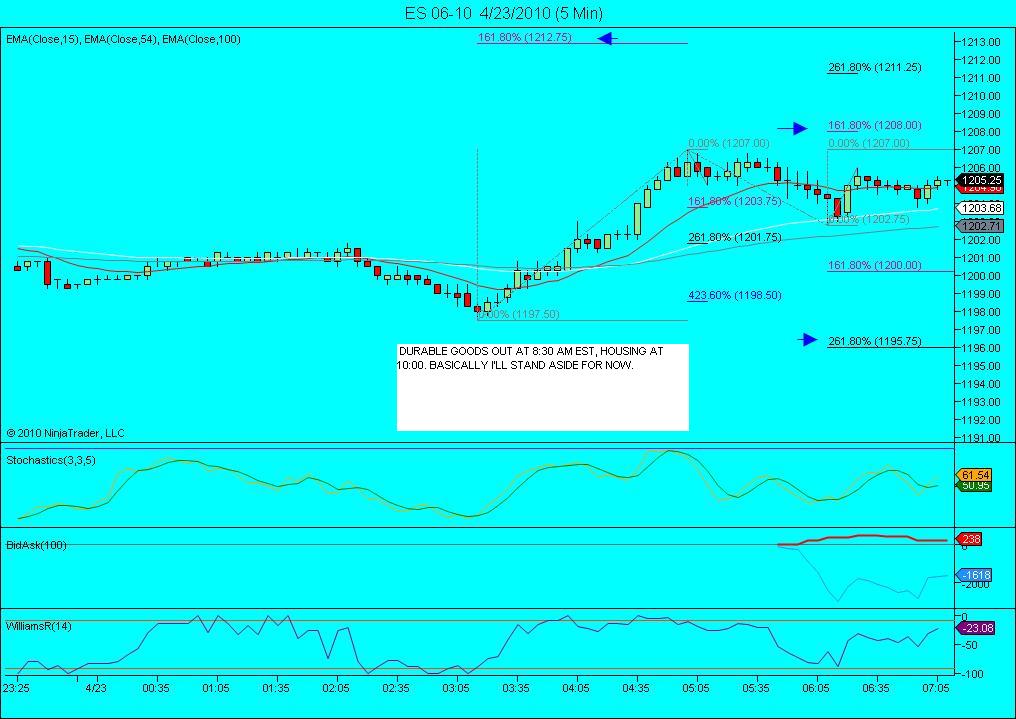 we had an
air pocket
and high
ticks
and I had a key zone that started at 1209 so the short was the way..
Originally posted by BruceM

s 09.75 and keeping it small..they already came back and tested ON

So if I'm reading you correctly then there is no need to explain a setup ? What is the point of posting unless it is to stroke our ego ? We all need the "strokes" sometimes but I want to be able to share concepts and learn from others. I don't need to waste my eyes on reading who is long or short or a trade blotter unless there is an explanation of the trade.
I function off of three basic principles :
1) There is nothing new under the sun meaning all this trading stuff gets rehashed in different formats
2) You could tell someone EXACTLY how to trade and they could still screw it up because of the driving forces of fear and greed.
3) There are so many forums, blogs and paltalk rooms that to think that the ideas we post here are unique and sacred is a bit egotistical.
My suggestion is that if we aren't willing to expand and answer anyone's questions then leave the trade in our accounts and don't type it into the forum...In other words...there is no point in the forum members seeing it.
This isn't specifically directed at you Hunter...just using your post to launch into those thoughts
Originally posted by i1hunter



[quote]
I'm with you. The reality is, you have no idea who is reading the posts. Many candle nights to give it away for nothing......Protect your self my friend.



Post was for Ak1

Cool , I could use some Nitrous Oxide right now......perhaps my kids have almost finished off the Redi - whip.....WHIP-ITS anyone??
Originally posted by redsixspeed

Bruce

I just noticed; what you call air I call Ozone..

Will you answer my questions if I ask them AK1 or is this the goose that lays the Golden eggs for you..? I don't want to waste my time or space on the forum.
Originally posted by ak1

Today we have a diversion that Dow has tested the Pr. Close and SP failed. So Pr. Close of SP is a target. 8:30 OPEN is straight down, so needs to be tested as will not be exceptable. 1198 (PP and Pr. open) possible targets as we will open within Pr. day range so today open needs to be tested. If we fail then no negative voting on me OK...LOL

Originally posted by redsixspeed

using the move from yesterday I have a measured move to 1218.25
this is my highest projection

====================================================================
Yesterday in the above quote would be refering to Thursday.
The projection of 1218.25 is still on the radar as we have not had a pull back yet that would cancel that projection..imo