ES short term trading 4-23-10
ES short term trading 4-23-10
Good morning. still looking for that E wave to 1196 (or even lower3-4 handles!). Heck, i still want to see slightly higher to be sure D is complete. I also have 1212.25 as a possibility on the upside if we just continue higher. (wave 4 could also have completed at 1186.25 making a flat.). Monday the 26th looms just ahead. It certainly looks like Thurs. gave us a great low for the late Friday run up into bullish Monday. heres a short term look...
Click image for original size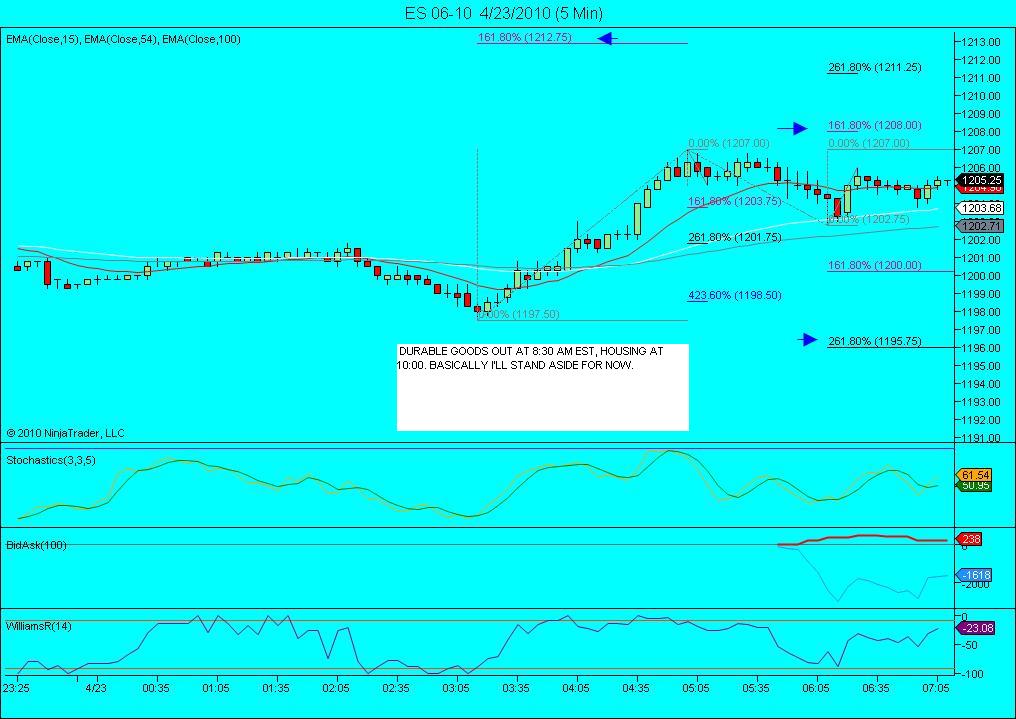 Today we have a diversion that Dow has tested the Pr. Close and
SP
failed. So Pr. Close of
SP
is a target. 8:30
OPEN
is straight down, so needs to be tested as will not be exceptable. 1198 (
PP
and Pr. open) possible targets as we will open within Pr. day range so today open needs to be tested. If we fail then no negative voting on me OK...LOL
this could be a great day to
fade
those plus 800
tick
reading on highs and minus 700 on lows..just an FYI after somewhat of a trend day YD...ok lets trade!!
Also on a 5 min chart look for a golden candle that is atleast one
tick
away from the open or close of the first 5 min candle to enter short or long
Originally posted by redsixspeed

using the move from yesterday I have a measured move to 1218.25
this is my highest projection

====================================================================
Yesterday in the above quote would be refering to Thursday.
The projection of 1218.25 is still on the radar as we have not had a pull back yet that would cancel that projection..imo