ES short term trading 4-23-10
ES short term trading 4-23-10
Good morning. still looking for that E wave to 1196 (or even lower3-4 handles!). Heck, i still want to see slightly higher to be sure D is complete. I also have 1212.25 as a possibility on the upside if we just continue higher. (wave 4 could also have completed at 1186.25 making a flat.). Monday the 26th looms just ahead. It certainly looks like Thurs. gave us a great low for the late Friday run up into bullish Monday. heres a short term look...
Click image for original size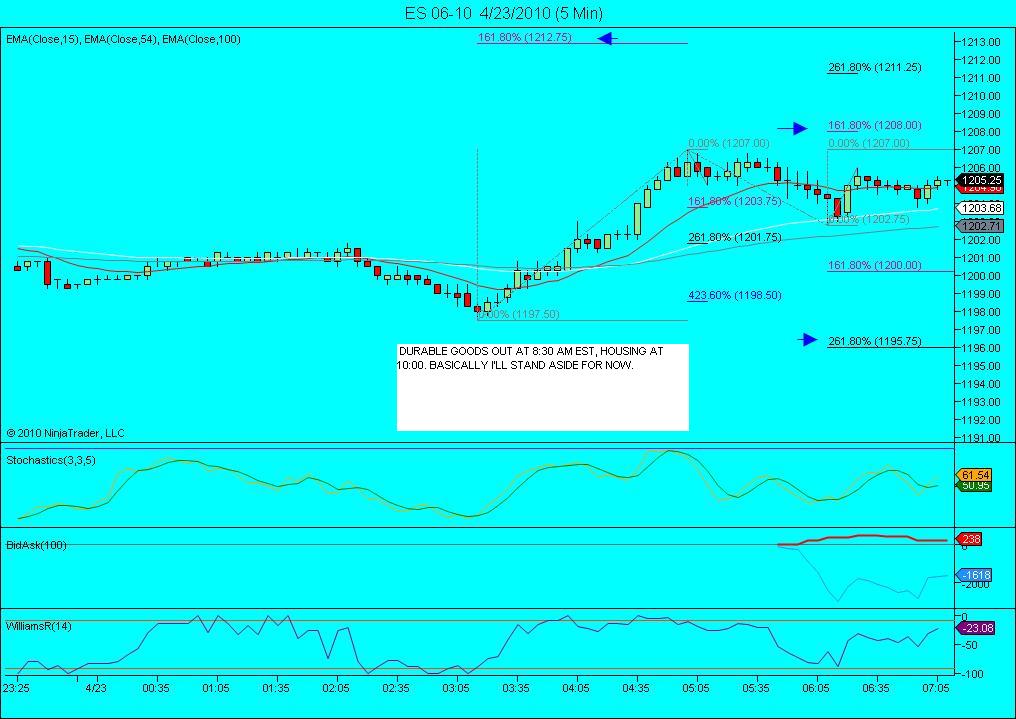 I'm with you. The reality is, you have no idea who is reading the posts. Many candle nights to give it away for nothing......Protect your self my friend.
Post was for Ak1
And then when the trade goes against you how to pull it together again. Like the one short I posted has missed my exit with a
tick
. You want my money back from the market, Right. Lots of candle night spent.
Whoaaa ... just hopped back in here from running errands and feels like I've stumbled into the Twilight Zone. Some posts and interactions are either highly confusing or consist of truncated phrases with strange verbiage that leave me scratching my head.

Think like a wise man but communicate in the language of the people.
-Yeats
Another strong concept that I have found useful is that what do all traders see irrespective of the different time scale we use that motivates our entry??? The answer is price and reaction to it. That is why indicators in different time scale give different results.
For me the profile is pointing to a retest of the 1205 area again and we are stuck inside the hour range and still the selling tail but I'm still not convinced......my style is much better in the morning, the ability to trend happens more in the afternoon....long winded way of saying I'm flat and staying that way for now....a rockin day today..!
Stochastics in the 2, 5, 10, in overbought, but I can not get my self to sell lol staying on the side
Originally posted by ak1

everythings points up and I am short 1208.5

Just looking to clean this up and make it useable.....From the first page I was expecting the
O/N
high and yesterdays highs to break today and we had high
$ticks
...
When there is a buying tail and
single prints
and
range extension
the day before then the odds increase that they will break the PD high
Originally posted by BruceM

flat last two at 1207.50 and looking to short

Originally posted by redsixspeed

using the move from yesterday I have a measured move to 1218.25
this is my highest projection

====================================================================
Yesterday in the above quote would be refering to Thursday.
The projection of 1218.25 is still on the radar as we have not had a pull back yet that would cancel that projection..imo