ES short term trading 5-28-10
ES short term trading 5-28-10
for some crazy reason Ijust bought 87.50..targeting 92.25...ultimately...the other
triples
above then new highs.....LOL
all i wanted was 89.50 to tighten that and I couldn't even get two points...stopped at 86.75....will try again
lots of targets up there....this gonna close up well above that spike and hopefully above the 92
triples
.
Originally posted by BruceM

lots of targets up there....this gonna close up well above that spike and hopefully above the 92 triples.

So if I understand
triples
correctly, if they usually get surpassed, it doesn't necessarily mean it will happen right away (i.e., within the next few bars)? There are
triples
at 98 too.
correct ...they become targets with a good entry...not perfect but what is.....
amazing
$tick
and volume
divergence
on those lows..keep pushing it up gang....this is america..for most and we need a good close for Memorial day...make a statement
I don't usually say crap like this but I think the low is in for today...here is my merged porofile..look atthe cluster at 80 - 82
Click image for original size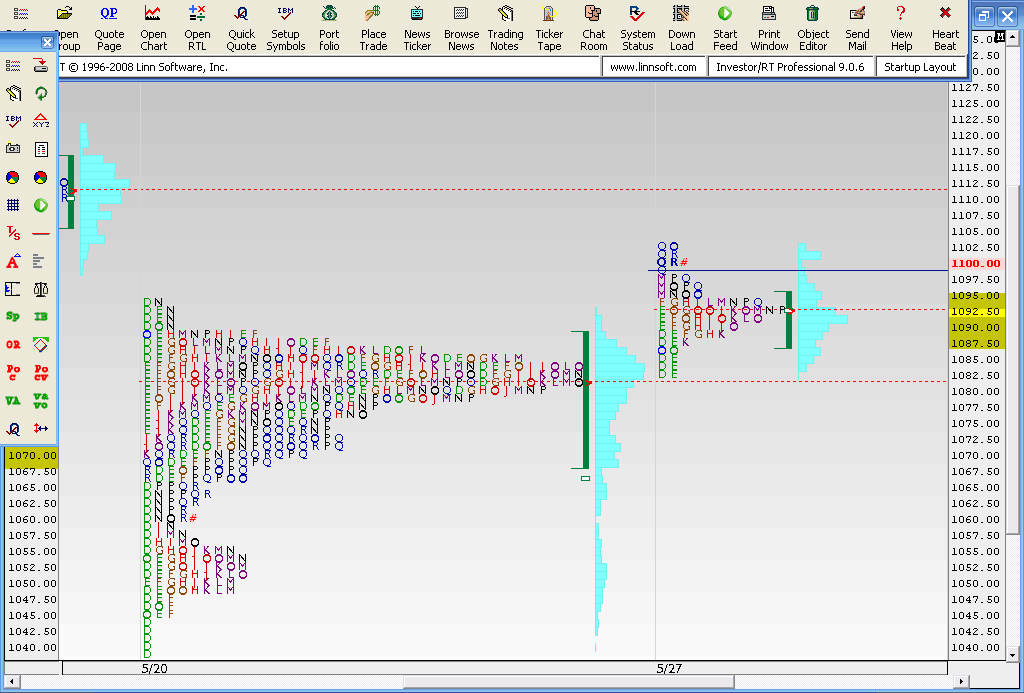 I12:47:22 BUY_LIMIT 1087.50
13:35:32 SELL_LIMIT 1089.75
Did the same as you Bruce only thing I held on.
Anyone position long right now. I shorted at 1100 on Friday with my stop at 1110. Could use a looser stop. This could push into 1125. The trend to me is still down and feel the upside if this trades back down to 1040 again is very big. The break of that support could send the market into a free fall. 950,875,800. These levels will be next to be tested if that happens. The jobs numbers seem to be pretty important in terms of what the bulls are doing. I'm short two contracts. No price target looking to use two stops. Bring one to entry and the other as a trailing stop if I get onside.
Also if anyone has money kicking around
CME
in my opinion is a decent long. Nice on the charts Daily and Weekly.
CME
Group was heavily involved in the package to Europe. Trading at $316. Stop at $290. This thing was up near $700. It will see $450 again on the conservative side. 8-9 percent risk for 50 to 100 percent return. This is a longer time frame trade. 1 year or more.