Dom's notes
Despite having been hammered for posting my sincere feedback re. ATW in the appropriate thread (or may-be, because of ...) I am starting this thread for the benefit of all waanabee traders.
I have no intent of sharing my exact trade setups, however I will share as much as I can - the good, the bad & the ugly, and if someone learn something from this then it won't have been a waste of my time.
I have been a student of the market for over 4 years now. I actually started my education with Investools PhD program (which was a lot of money for not much outcome in my case), trading stocks then options, then started to focus on the SPX (directional Calls/Puts then credit spreads), at some point I discovered the futures /
ES
in particular and that was a "revelation" ... 1/4pt spread vs 2pt spread for the SPX options, I was sold in no-time.
I purchased Todd Mitchell's system (TradingConcepts), which was a lot less money than Investools but no more outcome in my case, at least it triggered my interest in Fibs (back then, retracements only) and I did a lot of research / backtesting using Fibs - but at the end of the day, the real challenge resides in figuring out which fib level will "hold", and to this day I have to admit I have not solved it.
Anyway, I then spent a lot of time in a couple of "free" trading rooms
learning pure
price action
, the person that was offering his time teaching
PA
free for several months later offered a paying program, which I took, but I still couldn't make money live. I took another mentor, recommended on a free forum, and despite he being a nice guy (and why wouldn't he be when students are paying), this also was a failure.
I was about to throw the towel when I found ATW, started with the 101A education, added 3 weeks later the mentorship education, and have been studying / backtesting a lot for now a full year. I reached a point where I can "consistently" make fake-money on sim, however the transition to live trading is a real challenge for me, because of fear I pass on many trade setups and I deviate from my trade management rules.
So, that's the background. I trade
CL
(Crude Oil "big" contract) which is very liquid, has 1
tick
spread throughout the European & US session, and is nicely volatile (day range is on average 250-350
ticks
, some days even more - like today : 450
ticks
). I find
CL
to have a lot of momentum, it shows very repetitive "patterns" (at least, for the fib user that I am).
I don't use any indicator, I trade
price action
using a lot of price projection techniques (best book
IMO
on this topic is Robert C. Miner "Dynamic Trading").
If I have one advice for new traders, it is look for another way of making a living ... but if you are truly in love with the markets, then I believe it is a must to 1) find an excellent education (this is way more than just reading books, and frankly, there is probably no one-stop education shop) and 2) find a mentor to accelerate your learning curve.
Now that this is out of the way, a brief summary of my week :
Tuesday - tried 1 trade early morning, entry hit no fill, that made me mentally sick for the rest of the day, I passed on 2 setups (both wins), the last setup I tried but my entry wasn't even close to be hit.
Wednesday - 2 setups no-fill, then 1 small winner (got out at 1/2 of my target for pseudo-good reasons - really, lack of discipline), and I passed on the last one (another wouldabe winner :( )
Thursday - passed on 5 setups (4 wins / 1 loss), took 1 small winner (1/2 target again, same lack of discipline), and missed the best setup of the day by being away for 5min
Friday - passed on 1 setup (win), no fill on next 2 setups, then I couldn't focus & called it a day.
Bottom-line - only 2 trades this week, I made ~10% of what I should have made if I had the discipline to follow my plan.
Day's summary
CL
new system : no trade
Only 1 short-setup this morning, which didn't qualify for the model I am trading (nor did it qualify for the "any-2 filters" model). Too bad, as it is a full winner in the basic system (no filters)
Click image for original size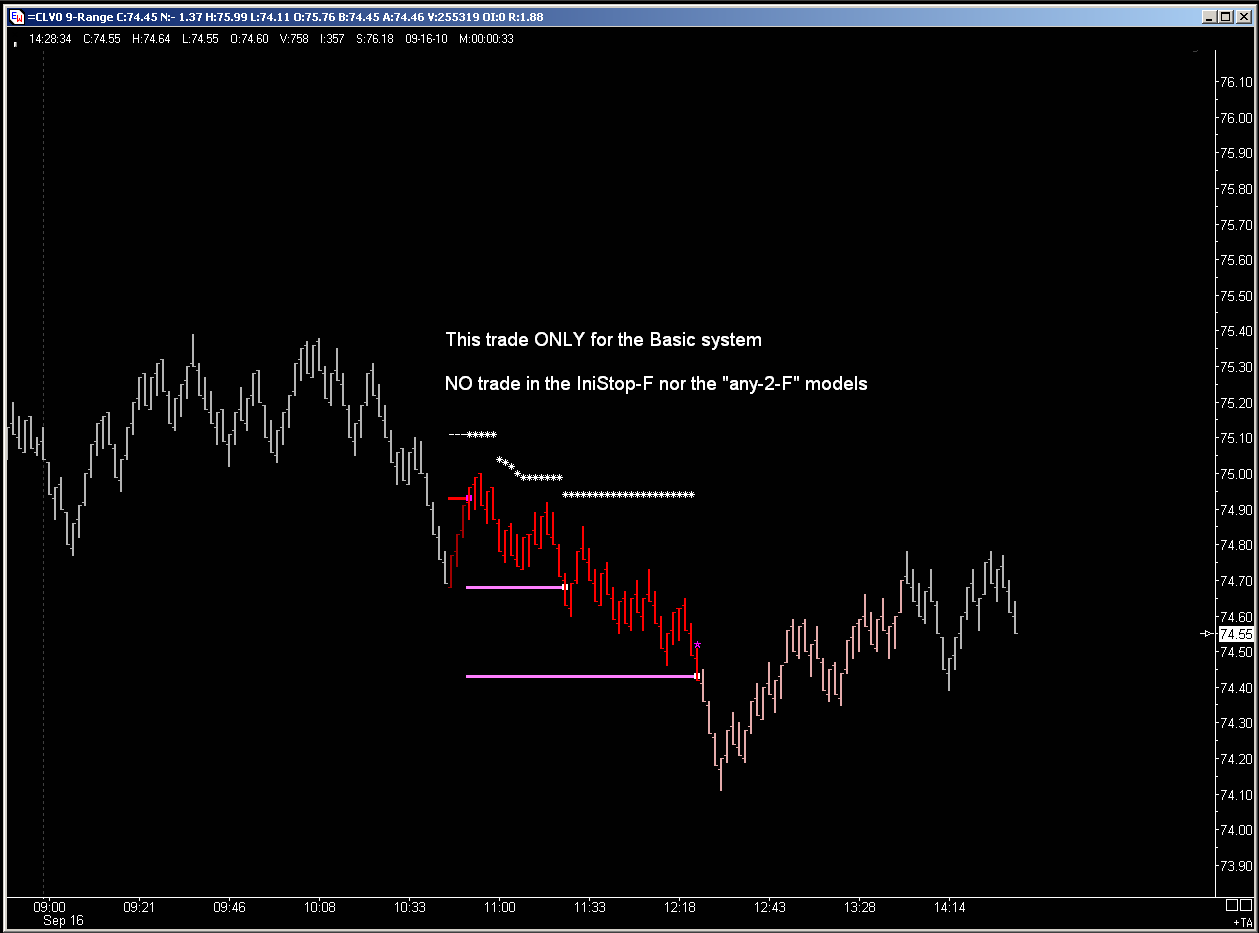 Day's summary
CL
new system : 1 win (+20-t)
I got lucky on this trade (for a change ?!) ... filled on extreme
tick
of the pullback. This makes this win an un-official one for my system (un-official because it won't show-up in backtesting results), but still a real win in my account :)
Click image for original size
I feel no need to post official trade records on a regular basis here, but in the case of this trade I think it is good posting practice
Click image for original size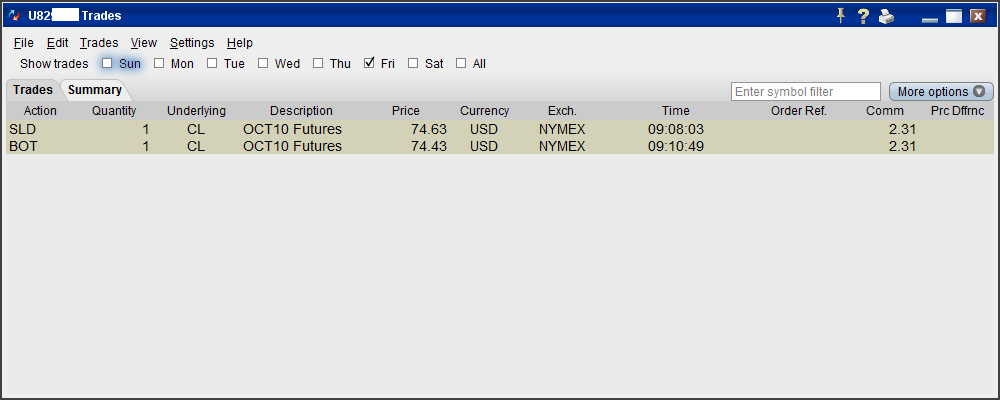 Day's summary
CL
new system : 1 win (+32-t)
I'll post the chart later as my
PC
is busy backtesting a bug fix on the system (luckily, I noticed that bug way before the trade, and it actually did not came into play during it).
Only 1-
tick
heat on this one ... I was actually filled on the 1st touch (price didn't get through), and missed the early 20-t exit by 1-
tick
:( Oh well, can't have these "free trades" all the time !
Day's summary
CL
new system : No trade today.
There was 1 short setup missed 3 times by a few
ticks
... I decided to void that setup manually around 1pm EST, the system canceled it automatically about 1/2h later.
Click image for original size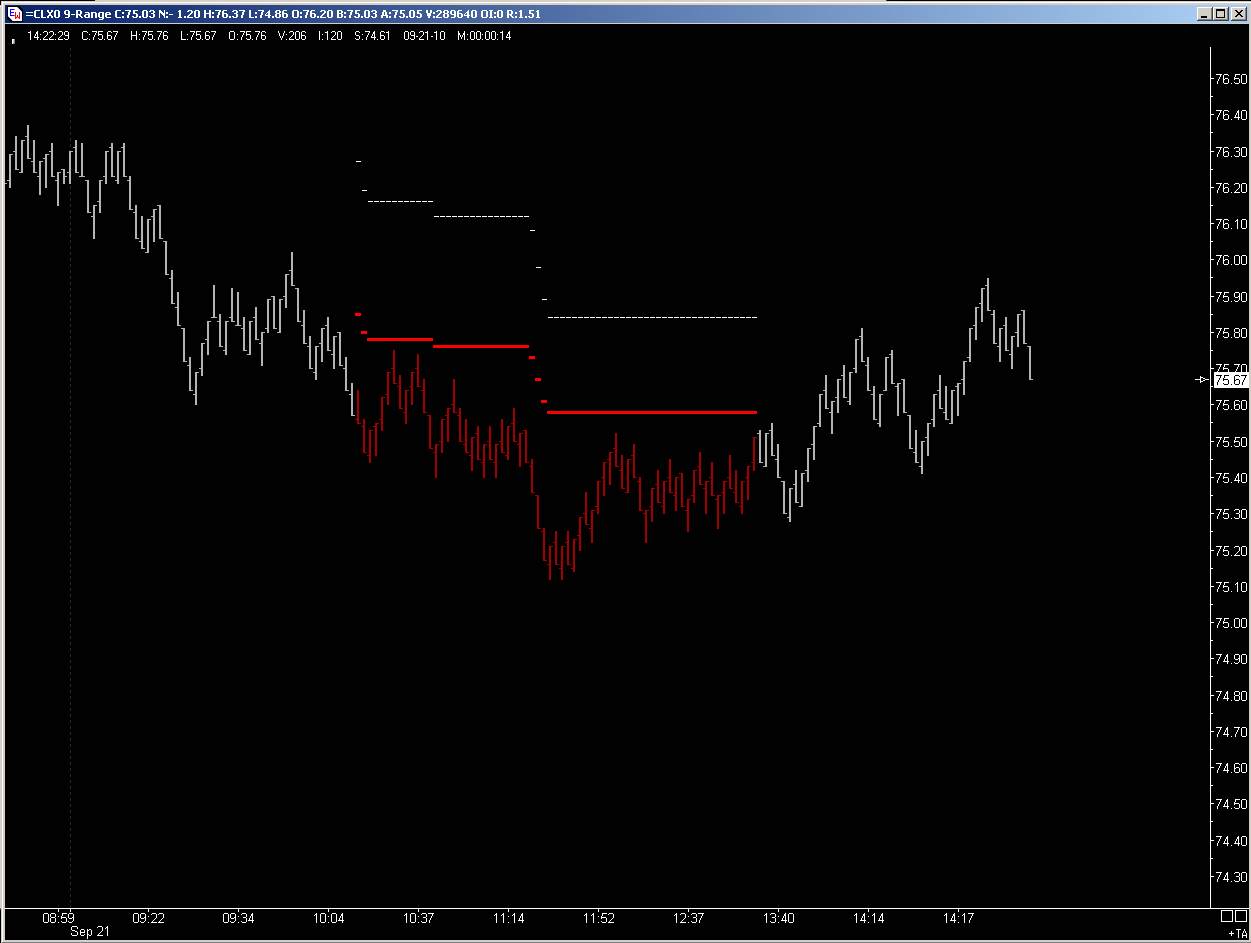 Day's summary
CL
new system : 2 win / 1 be (total: +36-
ticks
)
That's really 3 winning trades, since the BE one went beyond the target-1 mark ... but I only trade 1 contract at this time, using only target-2.
BTW, this last trade is the 10th winning trade in a row ... that makes it at this point the 3rd (from top) winning streak of the system (1st: 16 winners, 2nd: 11 winners).
Click image for original size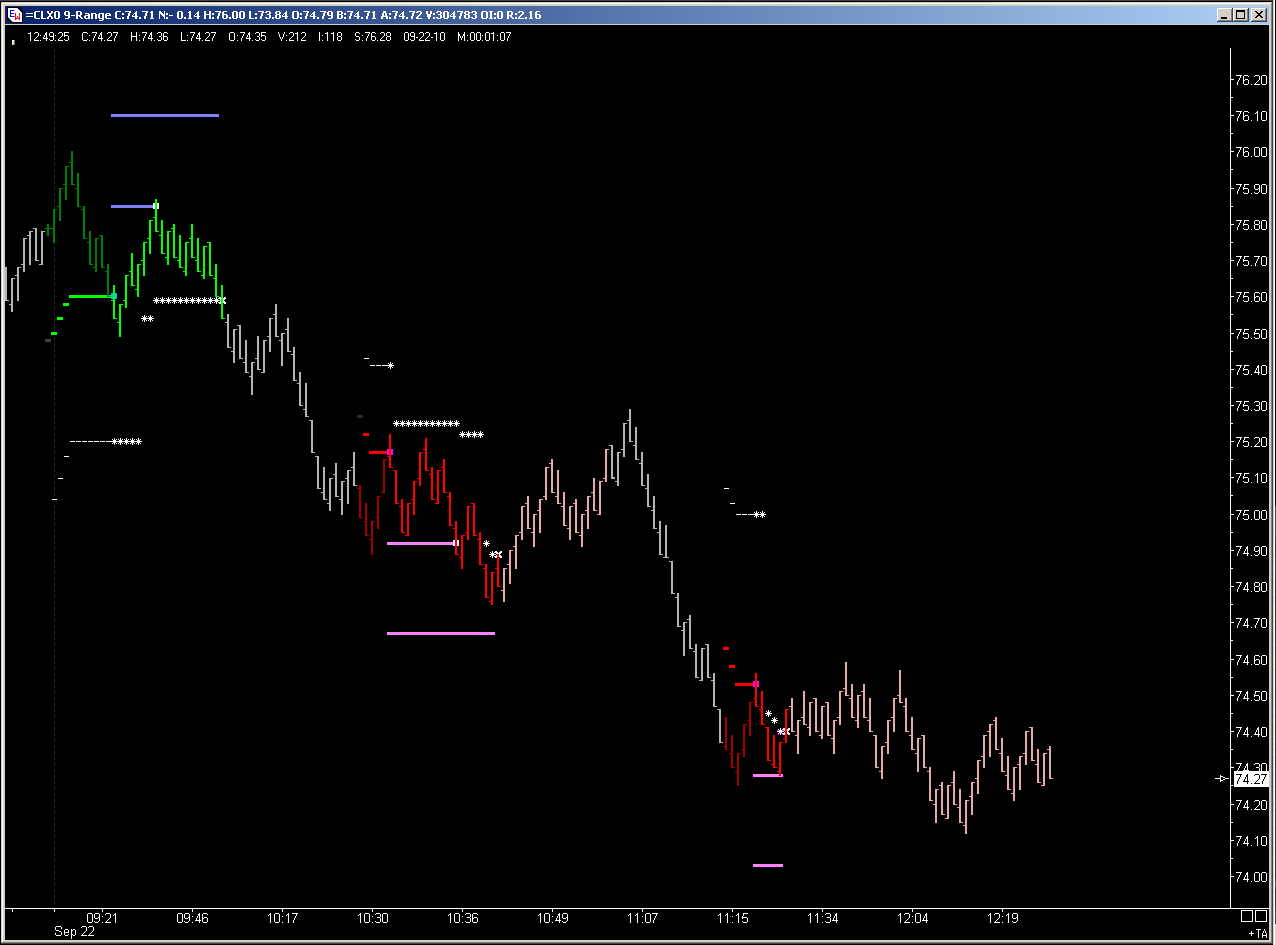 Dom - you're often referring to the "new system" and I get the impression that you are continuously refining or overhauling your trading system.

Perhaps to help us keep track of the systems you could number them or version them in some way so that we can see when you have switched to a different system?

Thanks.
Hi DT,

The "new system" is as opposed to my prior system (5th wave system).

It has been actually very stable since I started to trade it live on Aug 9, I replaced the v1 with a v2 as of Aug 23, and I have essentially made no change to it since then.

To avoid any confusion, I will name it "Impulse system" moving foward.

Cheers
Dominique
To complete my last post, I have a few variants of the system that I am looking forward to trade (different filters combination) - but I will trade these in addition to the current version, not as replacement.
Dom that equity curve looks too good to be true so I'd be scared but hope it trades like that in real time....what became of your trading contest...? how did Chuck Huges do ? He wants me to spend almost 4 k on options recomendations