Dom's notes
Despite having been hammered for posting my sincere feedback re. ATW in the appropriate thread (or may-be, because of ...) I am starting this thread for the benefit of all waanabee traders.
I have no intent of sharing my exact trade setups, however I will share as much as I can - the good, the bad & the ugly, and if someone learn something from this then it won't have been a waste of my time.
I have been a student of the market for over 4 years now. I actually started my education with Investools PhD program (which was a lot of money for not much outcome in my case), trading stocks then options, then started to focus on the SPX (directional Calls/Puts then credit spreads), at some point I discovered the futures /
ES
in particular and that was a "revelation" ... 1/4pt spread vs 2pt spread for the SPX options, I was sold in no-time.
I purchased Todd Mitchell's system (TradingConcepts), which was a lot less money than Investools but no more outcome in my case, at least it triggered my interest in Fibs (back then, retracements only) and I did a lot of research / backtesting using Fibs - but at the end of the day, the real challenge resides in figuring out which fib level will "hold", and to this day I have to admit I have not solved it.
Anyway, I then spent a lot of time in a couple of "free" trading rooms
learning pure
price action
, the person that was offering his time teaching
PA
free for several months later offered a paying program, which I took, but I still couldn't make money live. I took another mentor, recommended on a free forum, and despite he being a nice guy (and why wouldn't he be when students are paying), this also was a failure.
I was about to throw the towel when I found ATW, started with the 101A education, added 3 weeks later the mentorship education, and have been studying / backtesting a lot for now a full year. I reached a point where I can "consistently" make fake-money on sim, however the transition to live trading is a real challenge for me, because of fear I pass on many trade setups and I deviate from my trade management rules.
So, that's the background. I trade
CL
(Crude Oil "big" contract) which is very liquid, has 1
tick
spread throughout the European & US session, and is nicely volatile (day range is on average 250-350
ticks
, some days even more - like today : 450
ticks
). I find
CL
to have a lot of momentum, it shows very repetitive "patterns" (at least, for the fib user that I am).
I don't use any indicator, I trade
price action
using a lot of price projection techniques (best book
IMO
on this topic is Robert C. Miner "Dynamic Trading").
If I have one advice for new traders, it is look for another way of making a living ... but if you are truly in love with the markets, then I believe it is a must to 1) find an excellent education (this is way more than just reading books, and frankly, there is probably no one-stop education shop) and 2) find a mentor to accelerate your learning curve.
Now that this is out of the way, a brief summary of my week :
Tuesday - tried 1 trade early morning, entry hit no fill, that made me mentally sick for the rest of the day, I passed on 2 setups (both wins), the last setup I tried but my entry wasn't even close to be hit.
Wednesday - 2 setups no-fill, then 1 small winner (got out at 1/2 of my target for pseudo-good reasons - really, lack of discipline), and I passed on the last one (another wouldabe winner :( )
Thursday - passed on 5 setups (4 wins / 1 loss), took 1 small winner (1/2 target again, same lack of discipline), and missed the best setup of the day by being away for 5min
Friday - passed on 1 setup (win), no fill on next 2 setups, then I couldn't focus & called it a day.
Bottom-line - only 2 trades this week, I made ~10% of what I should have made if I had the discipline to follow my plan.
Day's summary
CL
Impulse system : 2 setups / no-fill
All in all a poor week for the system. I did find and fix 3 bugs though, of which 1 did cost me a full win.
I took 1 discretionary trade in
CL
today, Short 82.05 at 10:20 EST for a meager +13-t (I could not even wait for my 16-t target to be reached :( )
MattZ: timeframe is indicated on every single chart I post ... 9-
ticks
Range chart.
Yesterday's summary
CL
Impulse system : no trade.
Day's summary
CL
Impulse system : 2 loss (-16-t / -6-t)
Second trade stopped "to the
tick
" ... That's part of trading, however not the fun part of it :(
Click image for original size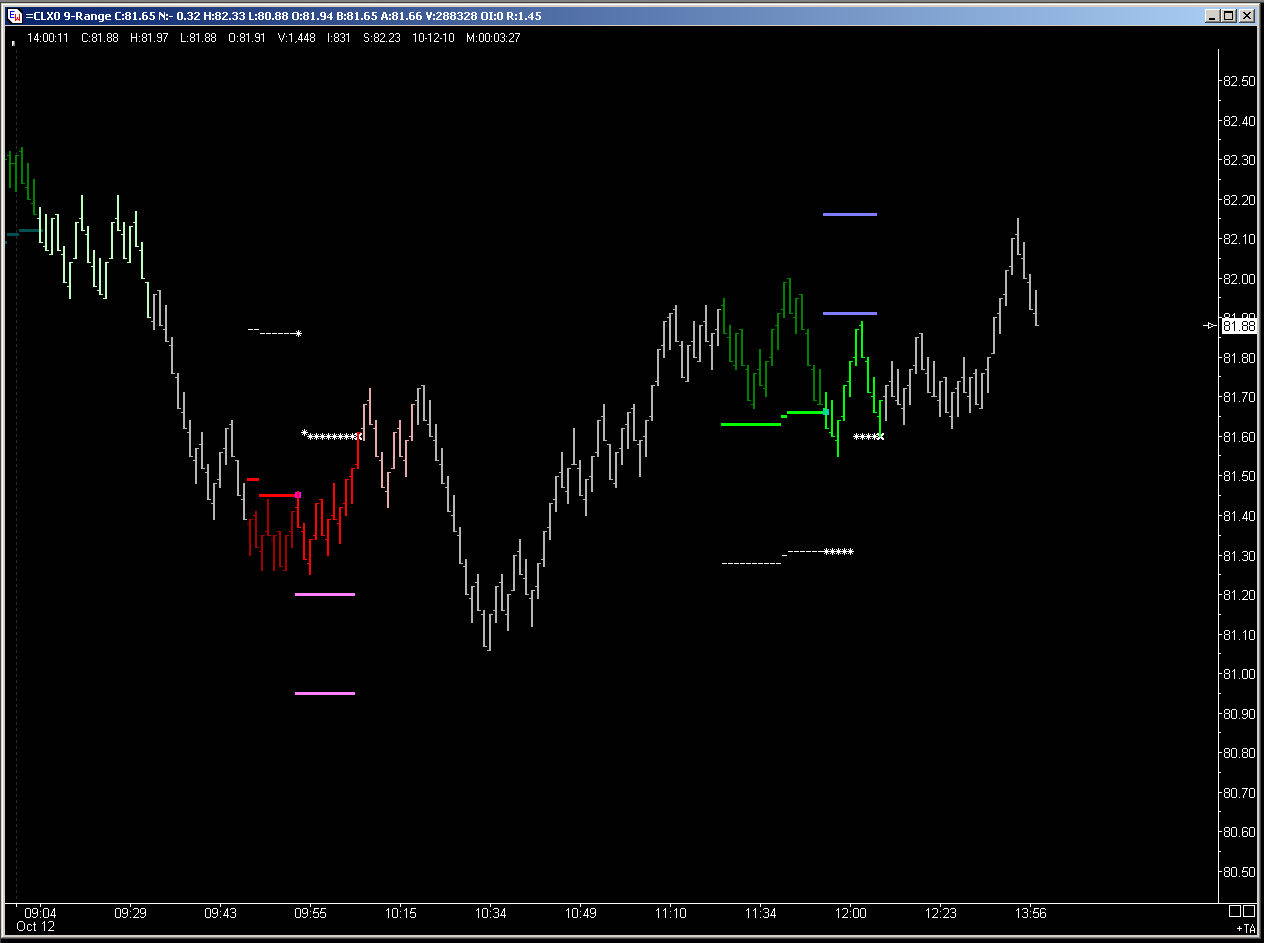 Day's summary
CL
Impulse system : 2 loss (-38-t / -13-t)
Really a poor streak for the system in the last 2 weeks ... 1st trade today (short) came 1-t short of triggering its reduced stop, 2nd trade came 1-t from target-1 & BE stop, 3rd setup was filtered on the variant that I trade, and would have been the only win for the day :(
1 small win (13-t) discretionary trading, Short 83.25 in the 11:35am EST pullback. Again I couldn't hold for my 16-t target :(
Click image for original size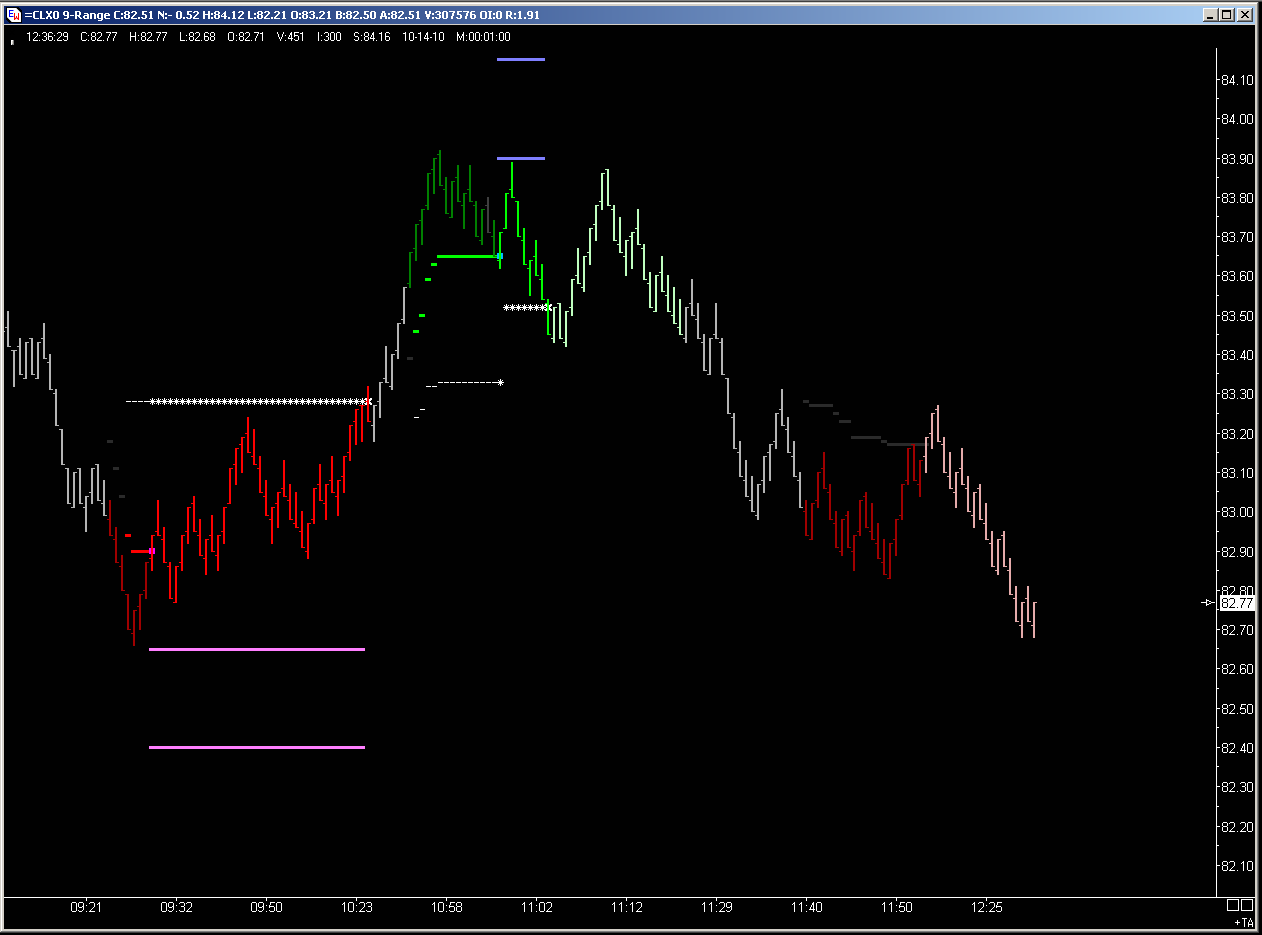 Friday's summary
CL
Impulse system : 1 tiny win (+4-t)
There was actually another setup for the "any-2" variant, which gave a reasonable win, but I am only switching to that variant as of Tuesday, Oct 19 (1st day of trading CLZ0 for me).
Today's summary
CL
Impulse system : 1 win (+18-t) / 1 be
Even though this is better than losing trades, I did find both trades quite scary (the entry level for the 2nd one was mis-calculated by the software, I knew that going into the trade but my plan at this time is to let the system do 100% of the trading - next stage will be, for those trades that I find mis-calculated by the system, to take them at the manually calculated level ***
in addition to the system trade
***).
Tonight I am switching to the CLZ0 contract, and to the "any-2" variant.
Click image for original size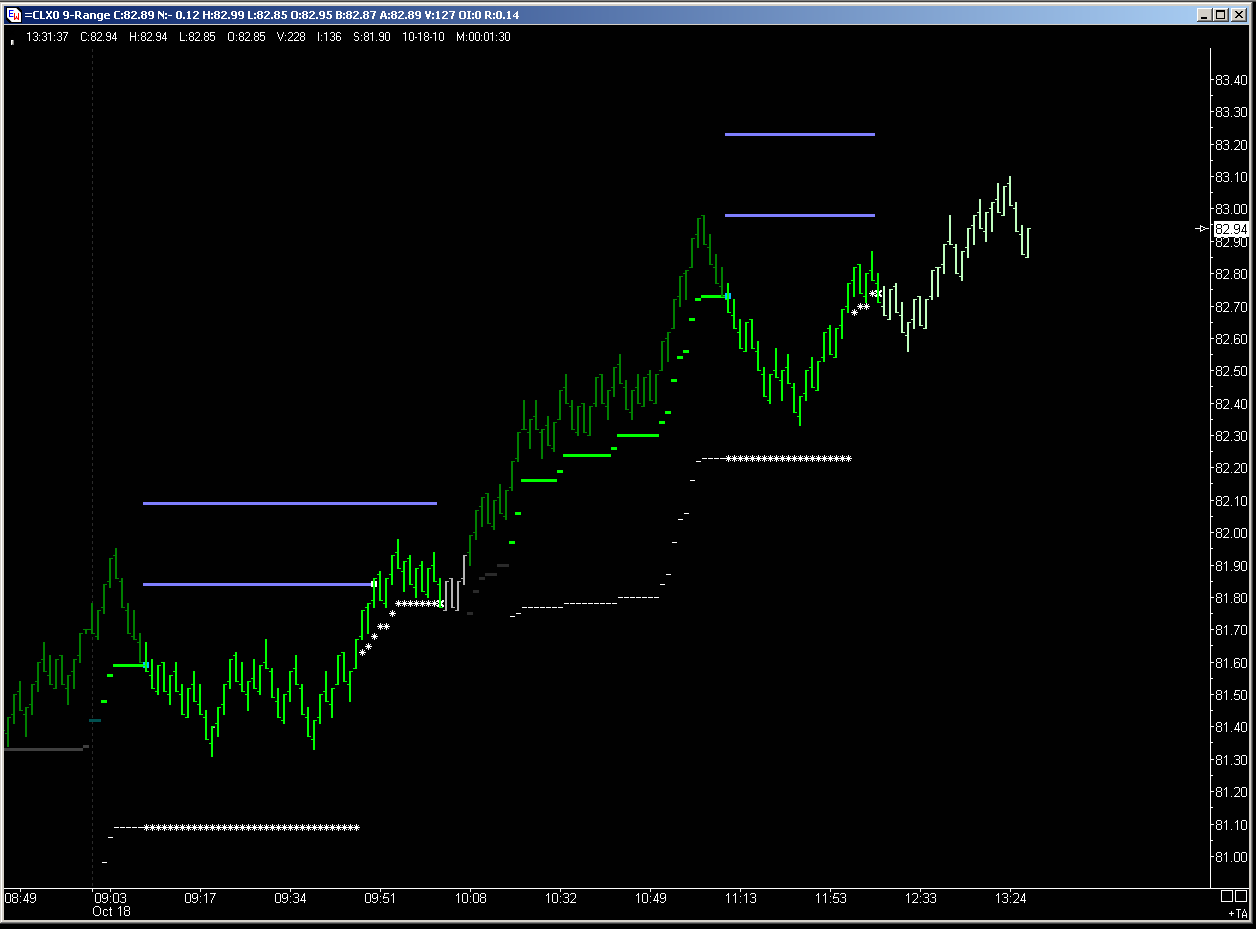 Day's summary
CL
Impulse system ("any-2" filters variant) : 1 win (+50-t) / 1 loss (-35t)
The losing one actually came first, I knew from the start the initial stop was in the wrong place (right on the 78.6% ret. of the move down, and 3-
ticks
under the
VWAP
), however I refrained from moving it a few
ticks
beyond the
VWAP
... which would have saved it from being stopped on the extreme
tick
of the pull-back. (even though I lost $350 + potential gain of at least $200, I reached my daily goal of being disciplined, ie. letting my system trade 100% by itself).
The second trade got a better outcome than displayed on the chart, I was filled on 1st touch of the target price.
Click image for original size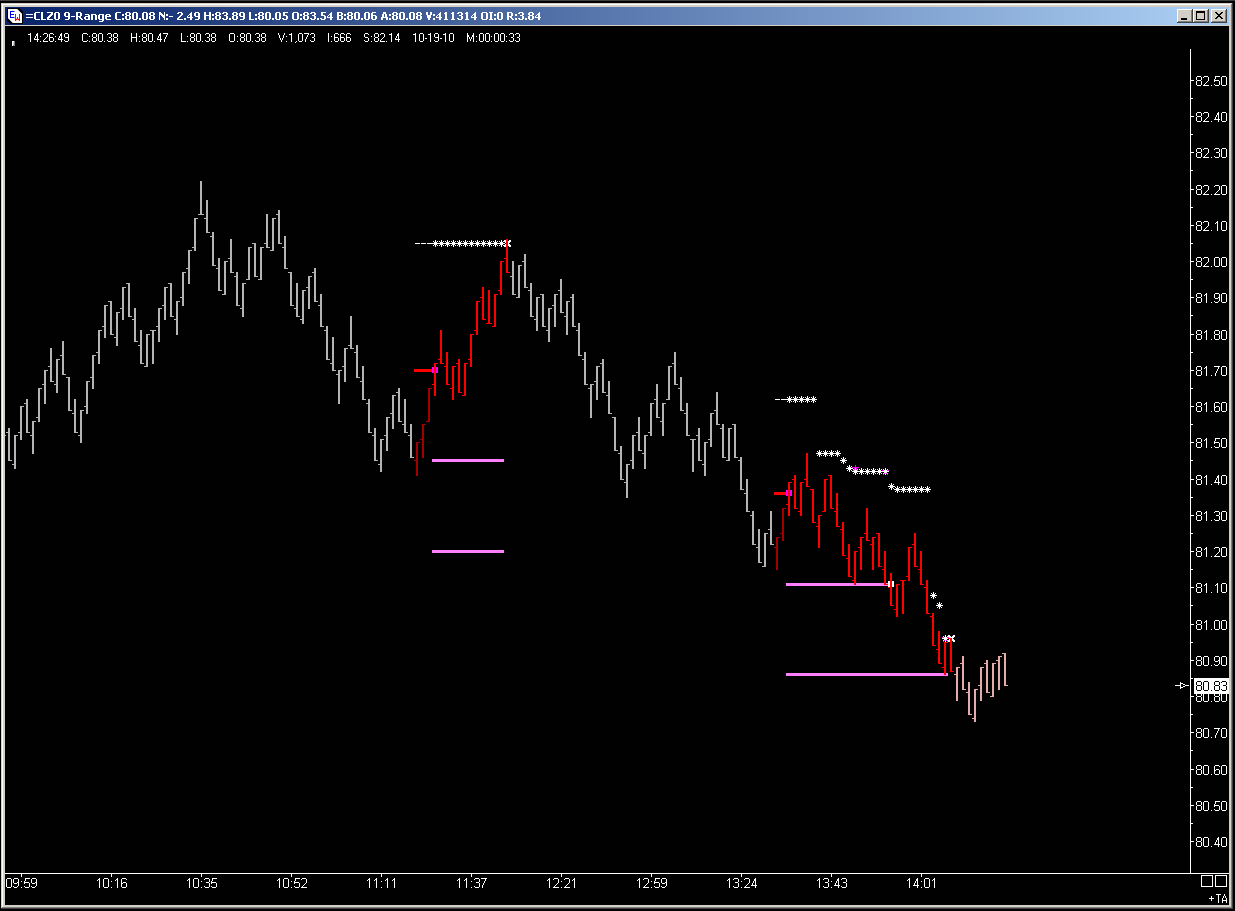 Day's summary
CL
Impulse system: 3 win (+5/+5/+50
ticks
) / 1 loss (-27
ticks
) / 1 no-fill
The first trade (short) gave me a fill on the 1st touch of entry
LMT
... then price bounced & made a local
DB
after moving more than 15-t, I decided to move stop at BE+5-t to ensure a little gain (entry was still active). If I had not, it would have been stopped at initial reduced stop + slippage. The system entry just after that was quite interesting ... price spiked beyond the initial stop level & did fall back before the system had a chance to actually set the reduced initial stop, so the trade did survive, and I manually closed it with +5-t after price reversed at +10-t.
The next trade (Long at 10:01 EST) was very lucky to survive the Petroleum Status report.
The following setup was canceled seconds before entry level would be hit (market no longer impulsing), but as one can see the entry level was pretty good though.
Last trade (Long at 13:26 EST) entry level was mis-calculated by the system, the correct entry level would also have been stopped - 2
ticks
before the 14:08 low.
Click image for original size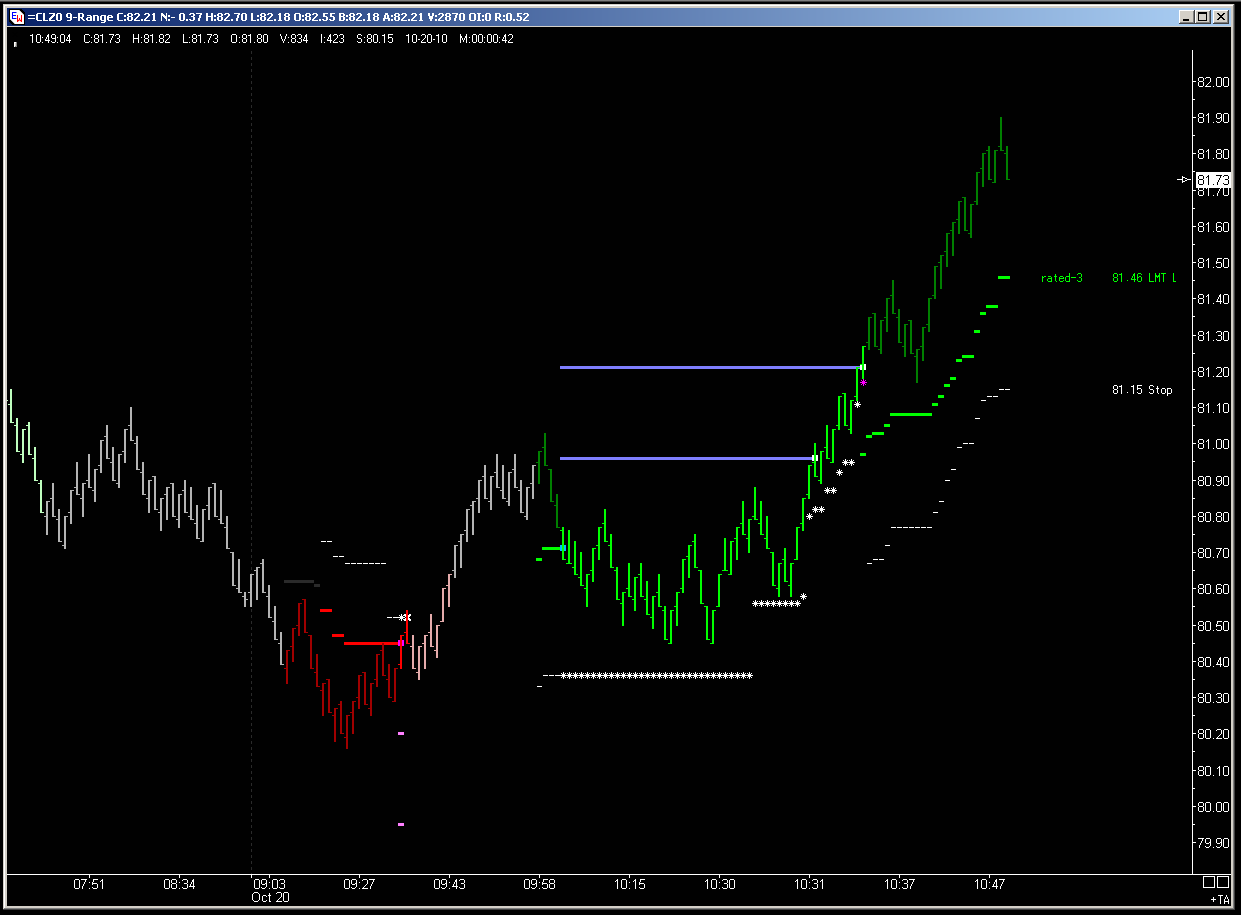 Click image for original size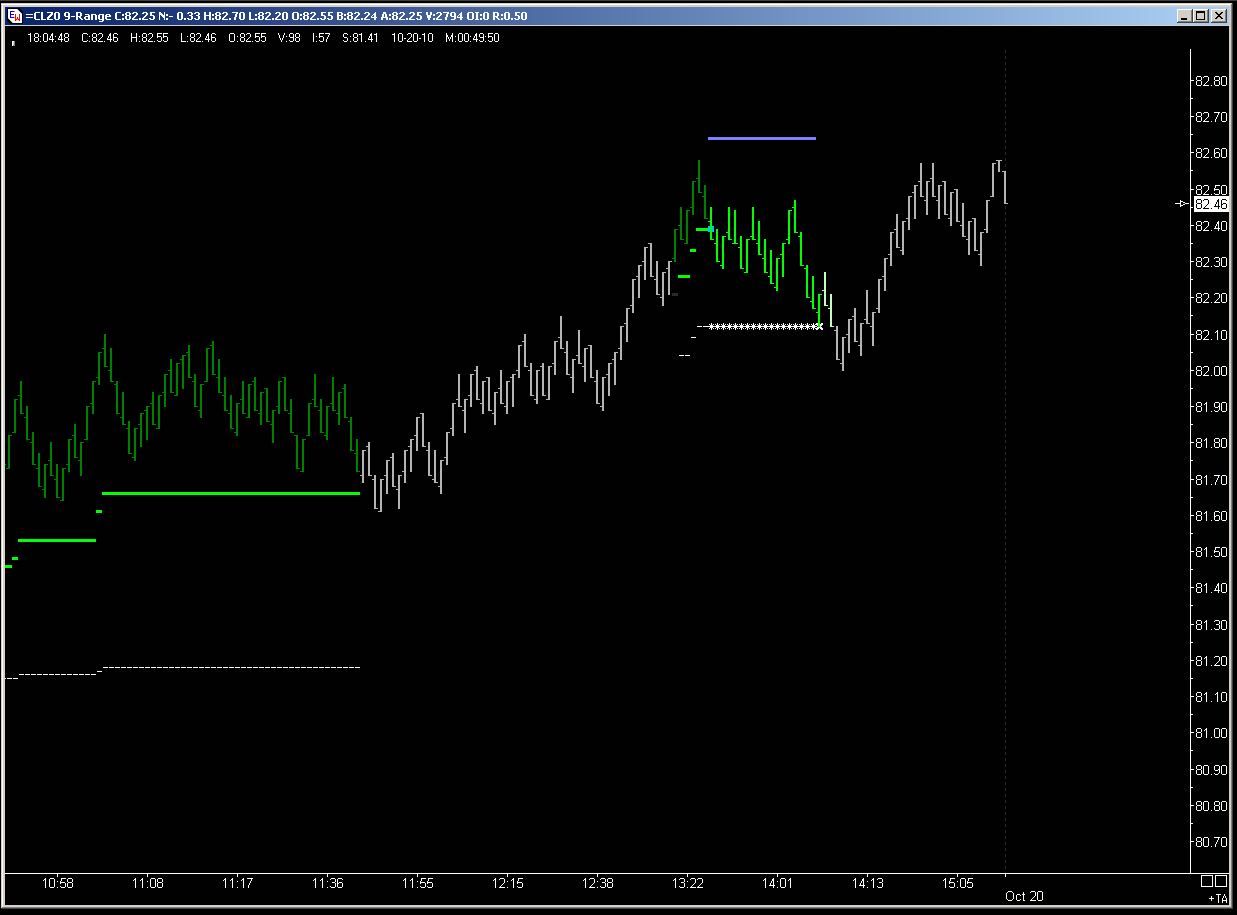 Day's summary
CL
Impulse system : 1 win (+23-
ticks
)
Too bad this got prematurely stopped ... there was no other trade for the remainder of the day, as the system only takes ONE trade per Impulse.
Click image for original size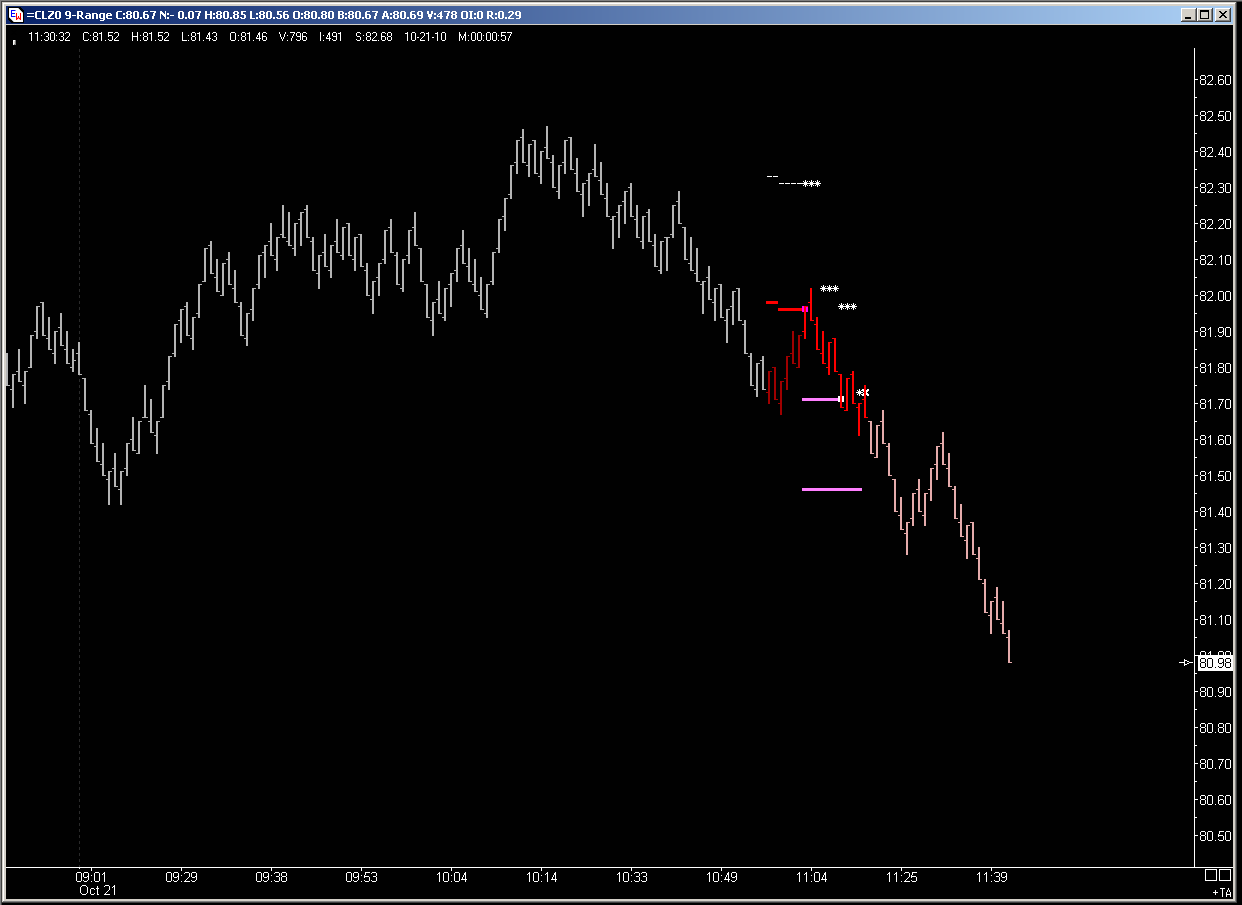 Day's summary:
CL
Impulse system: 1 BE (-1-t)
1st setup of the day was filtered (10:09 EST), no regrets, 2nd setup turned out to be a little frustrating ... a good week nonetheless (actually, the best week - P&L standpoint - since I started trading the system in August.
Click image for original size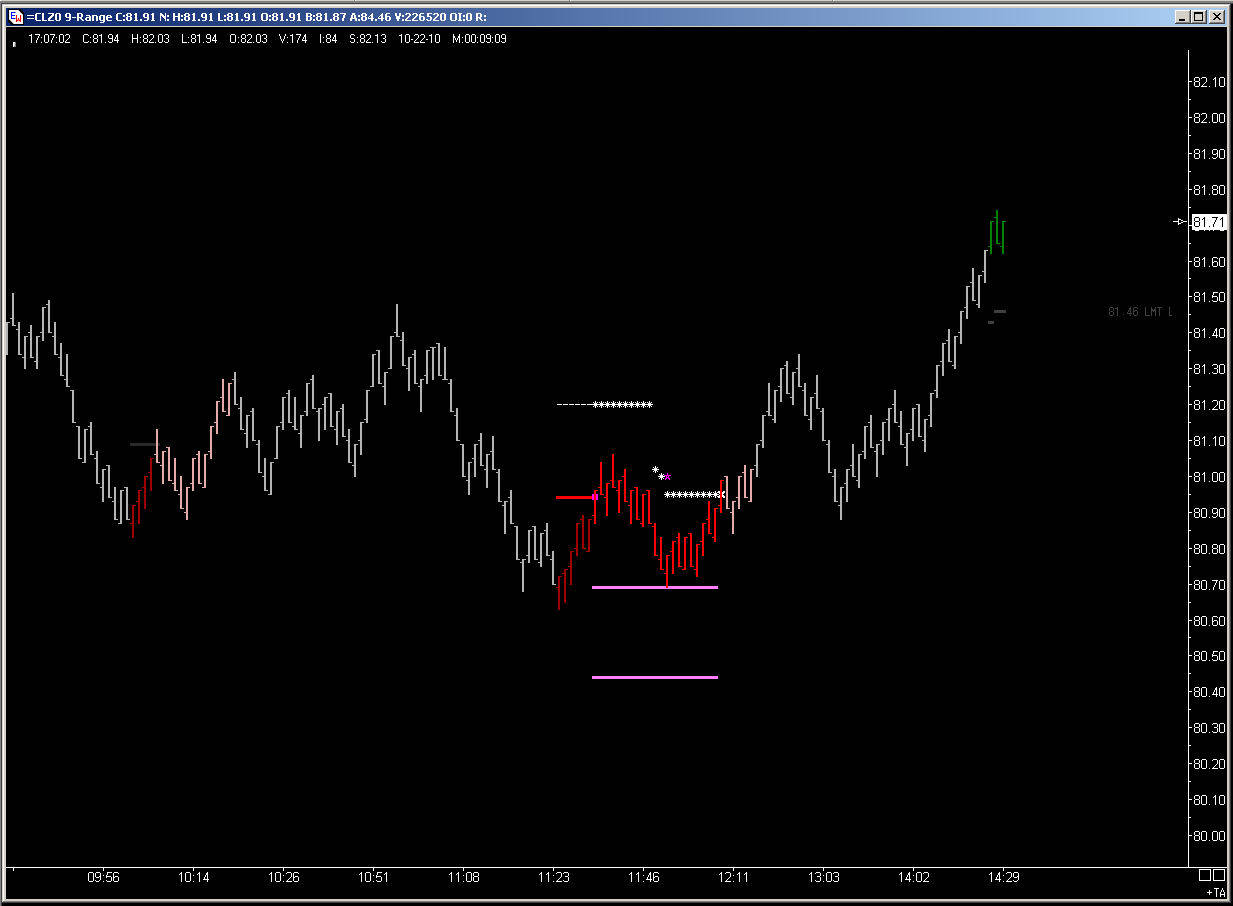 Dom that equity curve looks too good to be true so I'd be scared but hope it trades like that in real time....what became of your trading contest...? how did Chuck Huges do ? He wants me to spend almost 4 k on options recomendations