Dom's notes
Despite having been hammered for posting my sincere feedback re. ATW in the appropriate thread (or may-be, because of ...) I am starting this thread for the benefit of all waanabee traders.
I have no intent of sharing my exact trade setups, however I will share as much as I can - the good, the bad & the ugly, and if someone learn something from this then it won't have been a waste of my time.
I have been a student of the market for over 4 years now. I actually started my education with Investools PhD program (which was a lot of money for not much outcome in my case), trading stocks then options, then started to focus on the SPX (directional Calls/Puts then credit spreads), at some point I discovered the futures /
ES
in particular and that was a "revelation" ... 1/4pt spread vs 2pt spread for the SPX options, I was sold in no-time.
I purchased Todd Mitchell's system (TradingConcepts), which was a lot less money than Investools but no more outcome in my case, at least it triggered my interest in Fibs (back then, retracements only) and I did a lot of research / backtesting using Fibs - but at the end of the day, the real challenge resides in figuring out which fib level will "hold", and to this day I have to admit I have not solved it.
Anyway, I then spent a lot of time in a couple of "free" trading rooms
learning pure
price action
, the person that was offering his time teaching
PA
free for several months later offered a paying program, which I took, but I still couldn't make money live. I took another mentor, recommended on a free forum, and despite he being a nice guy (and why wouldn't he be when students are paying), this also was a failure.
I was about to throw the towel when I found ATW, started with the 101A education, added 3 weeks later the mentorship education, and have been studying / backtesting a lot for now a full year. I reached a point where I can "consistently" make fake-money on sim, however the transition to live trading is a real challenge for me, because of fear I pass on many trade setups and I deviate from my trade management rules.
So, that's the background. I trade
CL
(Crude Oil "big" contract) which is very liquid, has 1
tick
spread throughout the European & US session, and is nicely volatile (day range is on average 250-350
ticks
, some days even more - like today : 450
ticks
). I find
CL
to have a lot of momentum, it shows very repetitive "patterns" (at least, for the fib user that I am).
I don't use any indicator, I trade
price action
using a lot of price projection techniques (best book
IMO
on this topic is Robert C. Miner "Dynamic Trading").
If I have one advice for new traders, it is look for another way of making a living ... but if you are truly in love with the markets, then I believe it is a must to 1) find an excellent education (this is way more than just reading books, and frankly, there is probably no one-stop education shop) and 2) find a mentor to accelerate your learning curve.
Now that this is out of the way, a brief summary of my week :
Tuesday - tried 1 trade early morning, entry hit no fill, that made me mentally sick for the rest of the day, I passed on 2 setups (both wins), the last setup I tried but my entry wasn't even close to be hit.
Wednesday - 2 setups no-fill, then 1 small winner (got out at 1/2 of my target for pseudo-good reasons - really, lack of discipline), and I passed on the last one (another wouldabe winner :( )
Thursday - passed on 5 setups (4 wins / 1 loss), took 1 small winner (1/2 target again, same lack of discipline), and missed the best setup of the day by being away for 5min
Friday - passed on 1 setup (win), no fill on next 2 setups, then I couldn't focus & called it a day.
Bottom-line - only 2 trades this week, I made ~10% of what I should have made if I had the discipline to follow my plan.
Day's summary
CL
Impulse system : 1 loser (-11-t)
The system didn't get faked by the false DT+
LL
after the open, but the breakout move above 76.10 wasn't strong enough to generate a setup either ... so it missed the perfect entry on retest of the breakout level, and instead got caught in chop for a minor loss.
This officially ends the winning streak with 11 wins in a row (including 2 BE for me which would be target-1 wins if I traded 2 contracts).
Click image for original size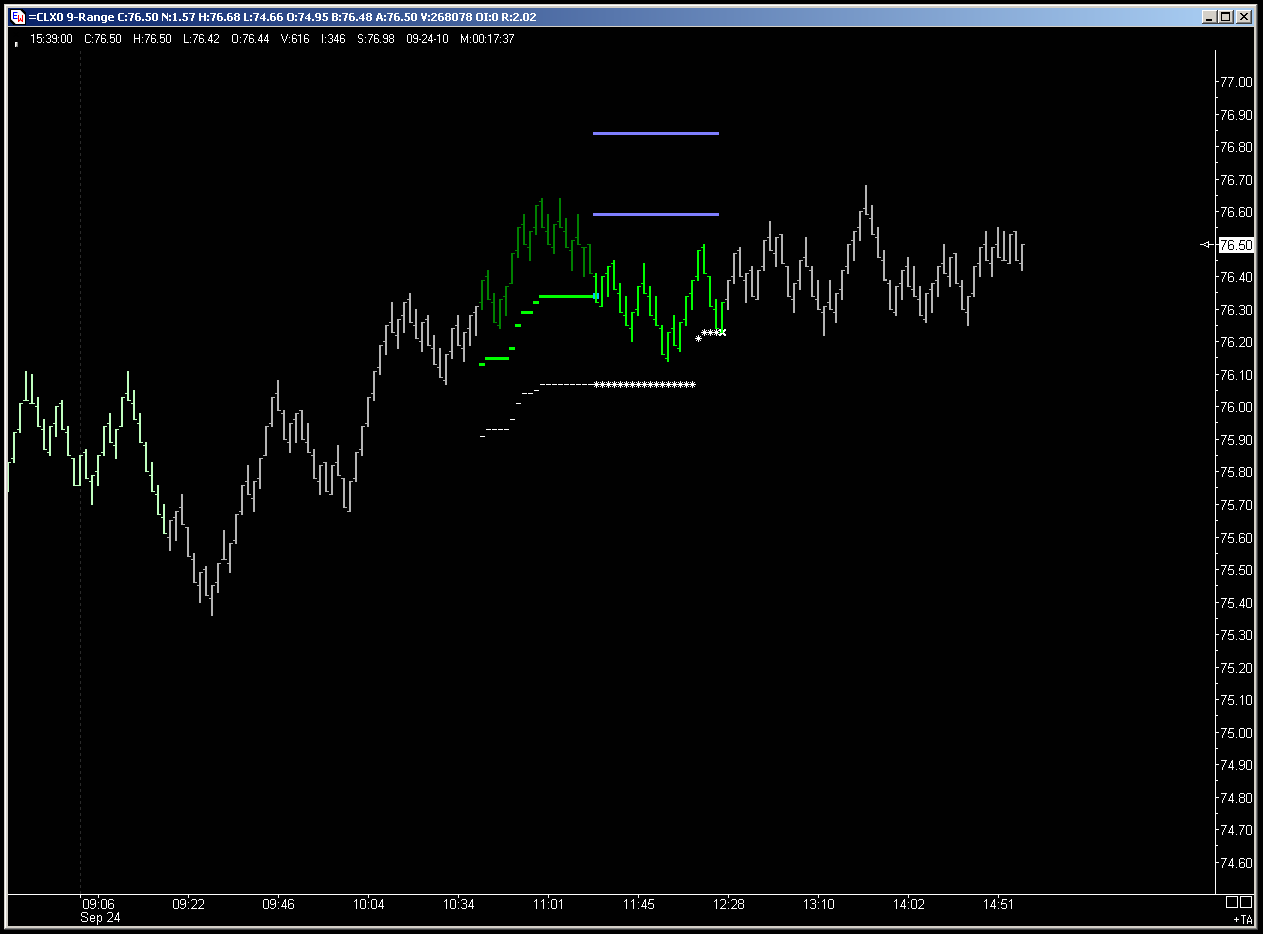 Day's summary
CL
Impulse system : 1 win (+50-t) / 1 BE (-1-t)
Interestingly, the pullback on the 1st short was big enough to reset the system, and the push into target-2 was strong enough to trigger another short setup. Too bad there was not enough follow-through on the 2nd short, the target-1 would be barely hit - likely no fill.
Click image for original size
Day's summary
CL
Impulse system : 1 win (+13-t)
There were 3 setups today, but only the 2nd one did qualify for the variant that I trade. The other 2 did qualify for the "any-2" variant, which would have had a much better day (especially when trading 2 contracts)
Click image for original size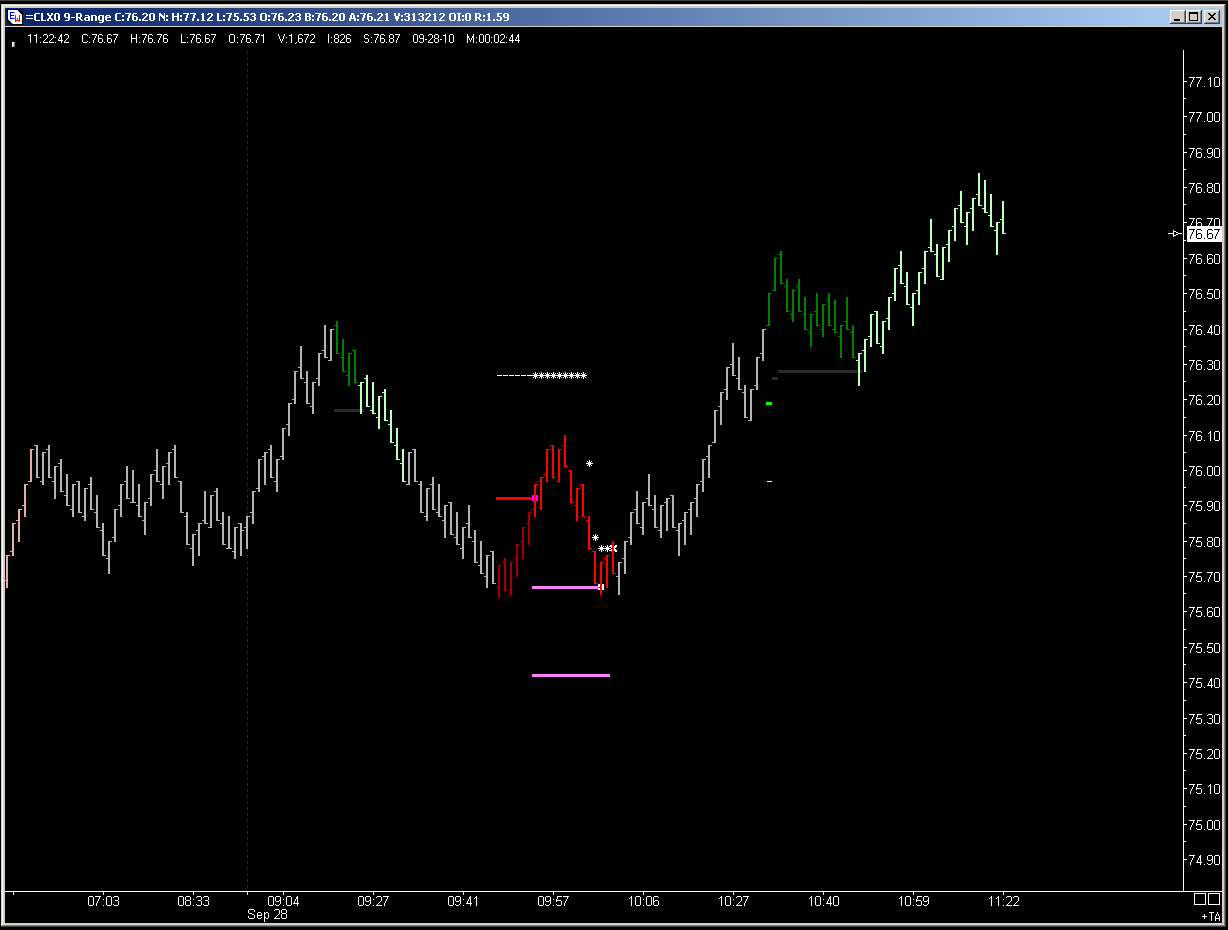 Day's summary
CL
Impulse system : 1 loss (-29-t)
Disappointed that the 2nd long setup was missed by 2
ticks
... but that's (trading) life
Click image for original size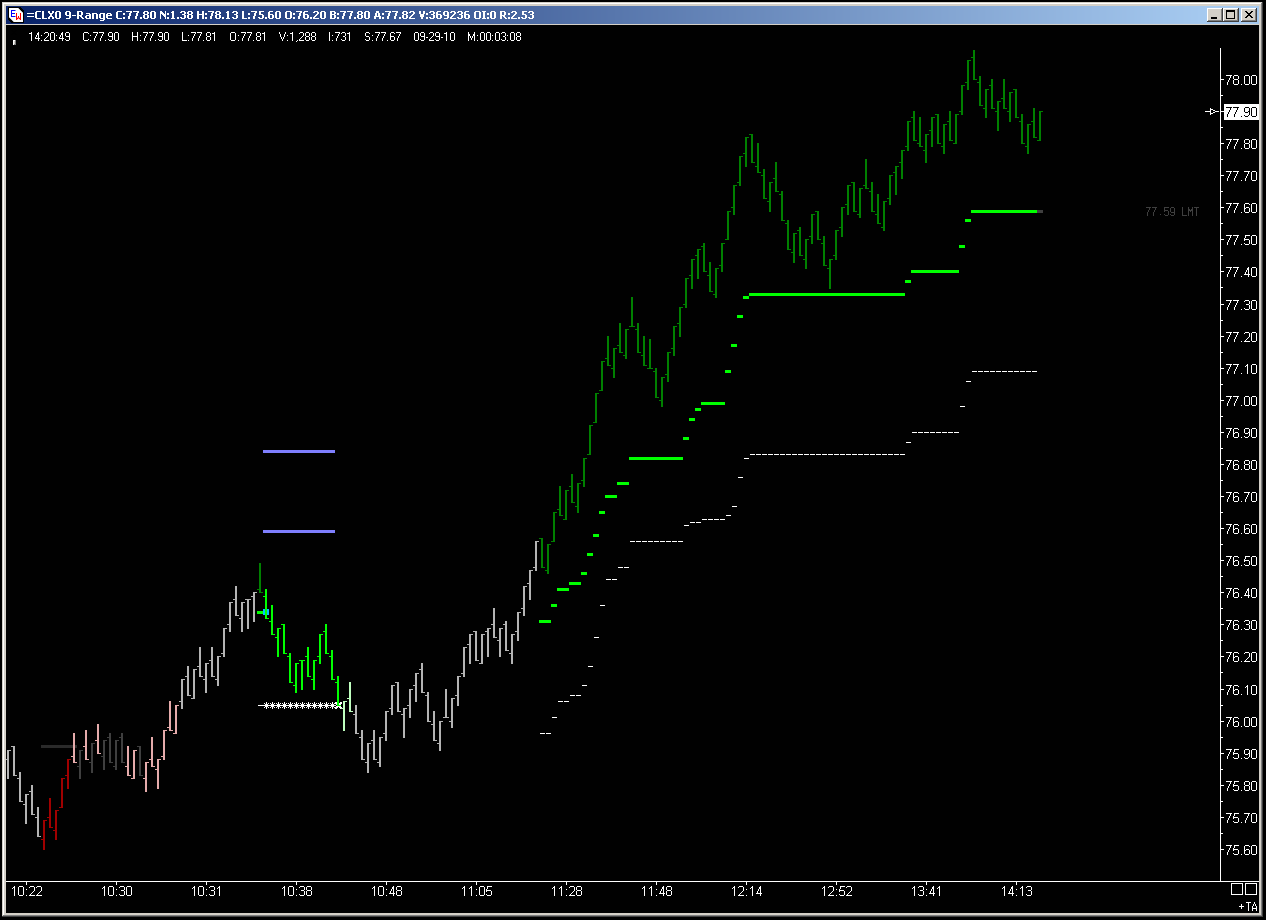 To be honest, the system should never have taken this shallow entry on the 1st Long ... the "correct" entry would be a full win (although, coming 2-t of getting stopped). Addressing the root cause of this "error" is on my to-do list, but fairly low at the moment ... May-be this will push-it higher...
Day's summary
CL
Impulse system : no trade today.
There was 1 setup short this morning, filtered by the IniStop filter so no trade for me ... but the "any-2 filters" variant got this one, for a nice +43-t total for 2 contract.
I have resisted so far switching to that model because I wanted my live trading to be consistent over time (I defined that model few weeks after I started trading live this system using the "IniStop" filter), but I think I will probably switch to the "any-2 filters" variant once the current contract expires.
Day's summary
CL
Impulse system : 2 losers (-6t & -24t)
The system resisted very-well the 2 fake-out moves starting at 9:55 EST (Consumer Confidence report), then got a small loss shorting the pullback after a marginal
LL
(I wouldn't do it in discretionary trading, but this is automated trading) and later got stopped out of a Long by 3-t. I was disciplined here as well, letting the system trade despite reversing on a marginal HH (same comment here).
I am very proud of the progress I have made on the psychological front ... I took 37 (out of 38) trades since Aug-9, and I did not override even once the trade management rules. Beyond that, my heartbeat stays pretty stable while in these trades - which is still not the case in discretionary trading.
Click image for original size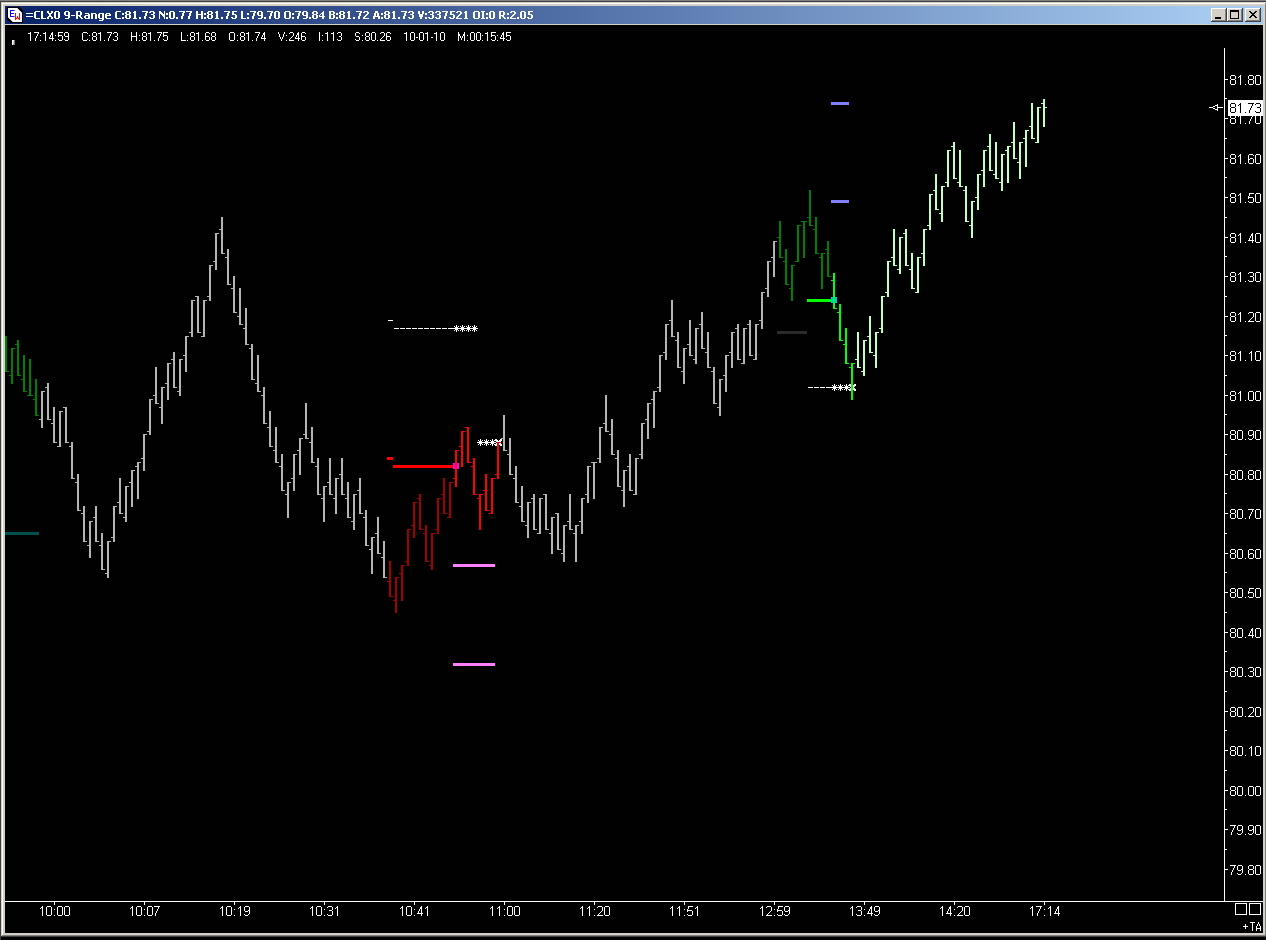 Day's summary
CL
Impulse system : 1 win (+18-t) : 1 be (0-t)
That consolidation day at the top of last week's rally was really choppy ... The system had a reasonable Long (win) after the open, then resisted much of the chop throughout the day, finally coming within seconds of taking what would have been a losing trade at 2:20pm.
I actually got a "lucky" fill (fill on price touch) at 2:19:48pm on this one, but when the system disabled the official entry at 2:20pm I manually moved the stop to BE, not wanting to be in a trade that is not "truly" a system trade (especially considering coming of a failed test of the 11:40am high (which itself was already a failed test of
HoD
). I will enhance my software to do that automatically moving forward (CR#86).
Click image for original size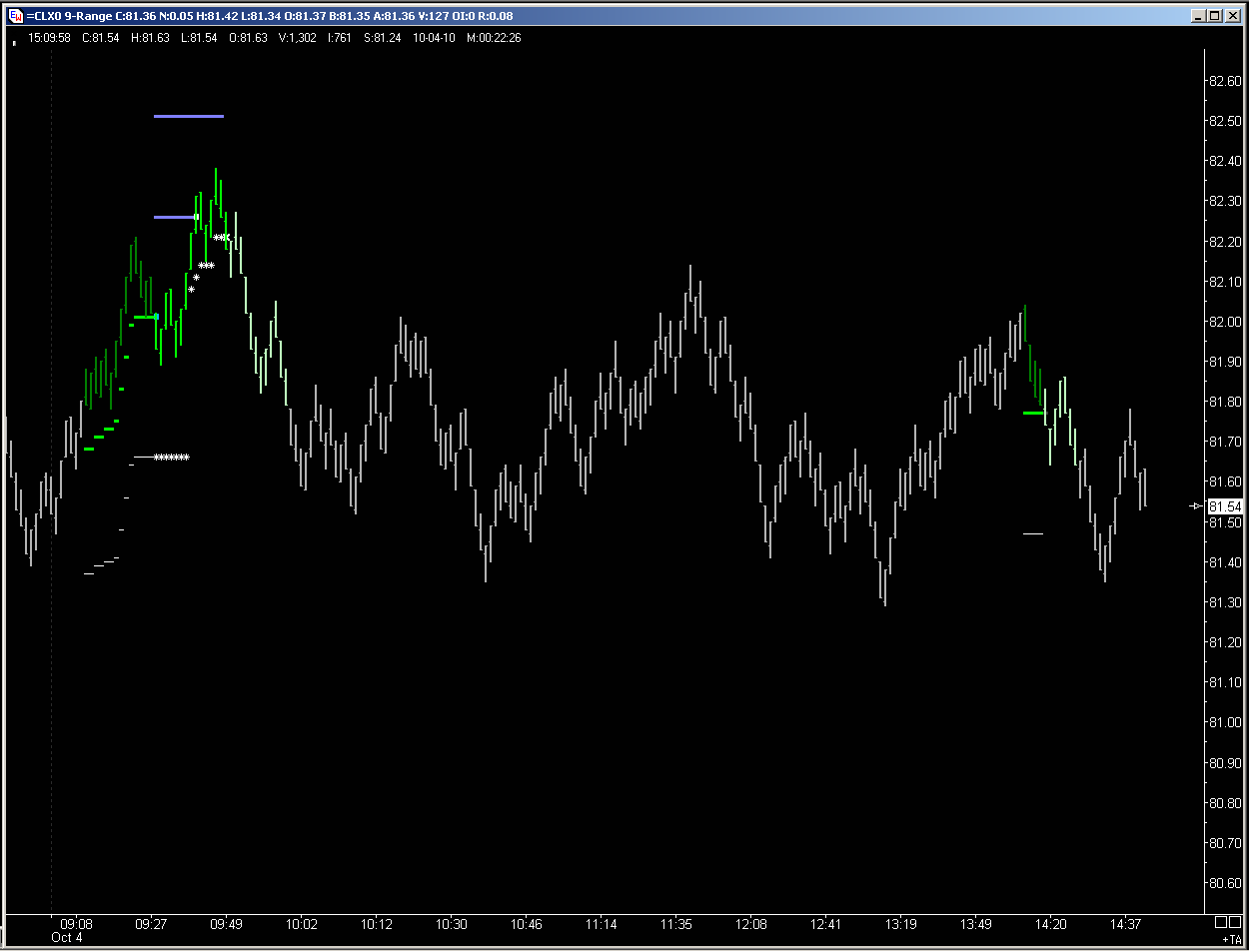 Day's summary
CL
Impulse system : 1 no-fill / 1 BE
I was a bit frustrated by the 1st Long setup ... missed by 1-t, I guess that entry level was too obvious ... 2nd Long setup in the close of the day-session surely didn't look good on a 1min chart, but I was disciplined and took the trade. I decided to take the trade off at 3:25pm EST, as price had made a 1h narrow range 82.75-82.82.87 and was now starting to come under.
Click image for original size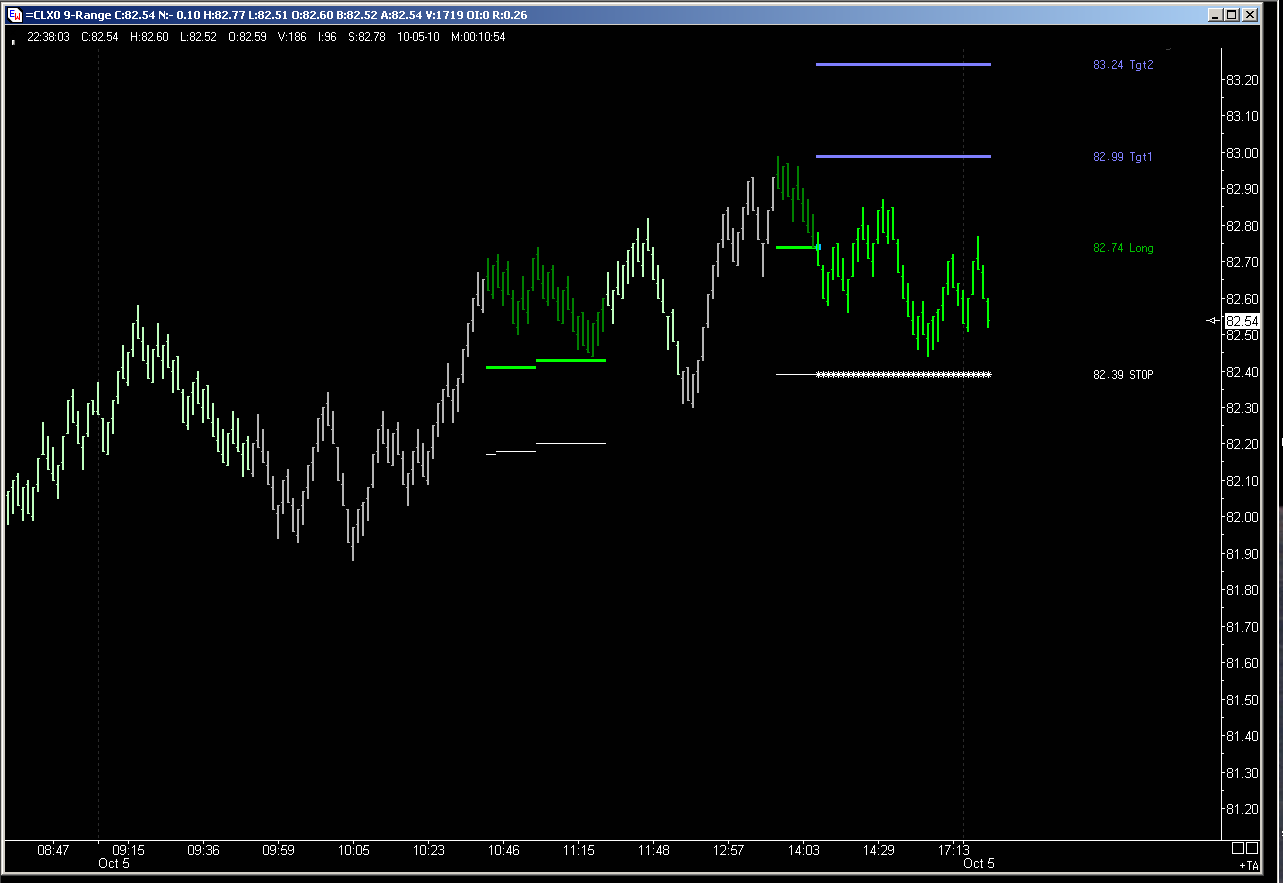 Day's summary
CL
Impulse system : 1 be (-1-t) / 1 max loss (-50-t)
That Long entry level should have been calculated differently ... remember last Wednesday ??? similar situation here :(
To
add
insult to injury, the Short ended-up BE for me, as I am still only trading 1 contract @ target-2.
Click image for original size
Day's summary
CL
Impulse system : 2 losers (-31-t / -25-t)
What a poor day for this system ! 1st loser came 1-t from triggering the "loose" trailing stop, which would have made it a very affordable loser :(
Then the system missed short entries until after what turned out to be the
LoD
, and on the retest that "loose" trailing stop got moved only to 25-t away from the entry :(
All in all, very poor performance in a market that was essentially impulsing down all day long.
I only tried 1 discretionary setup, asking 83.19 for a Short in the 10am pullback ... that price level got hit / no-fill, that really makes it a miserable day !
Click image for original size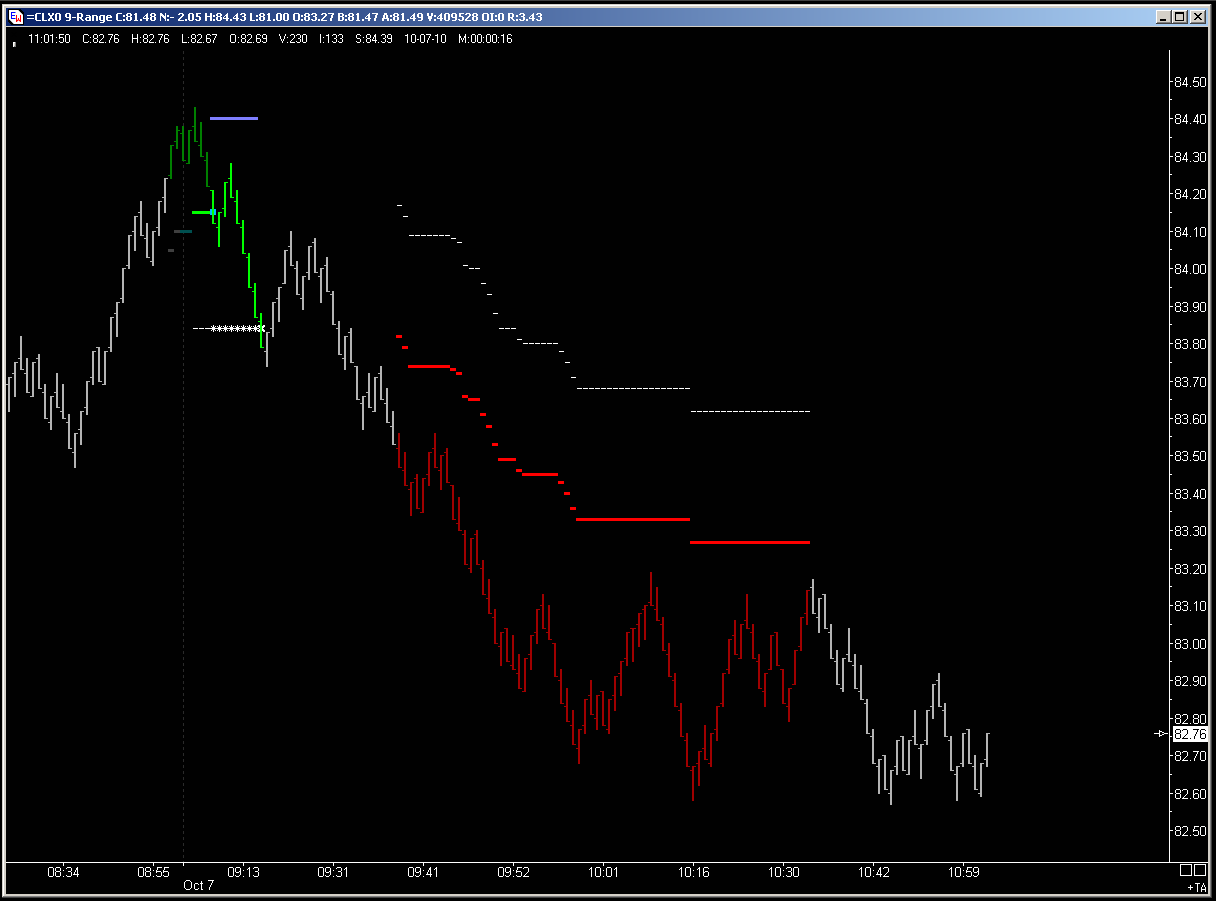 Click image for original size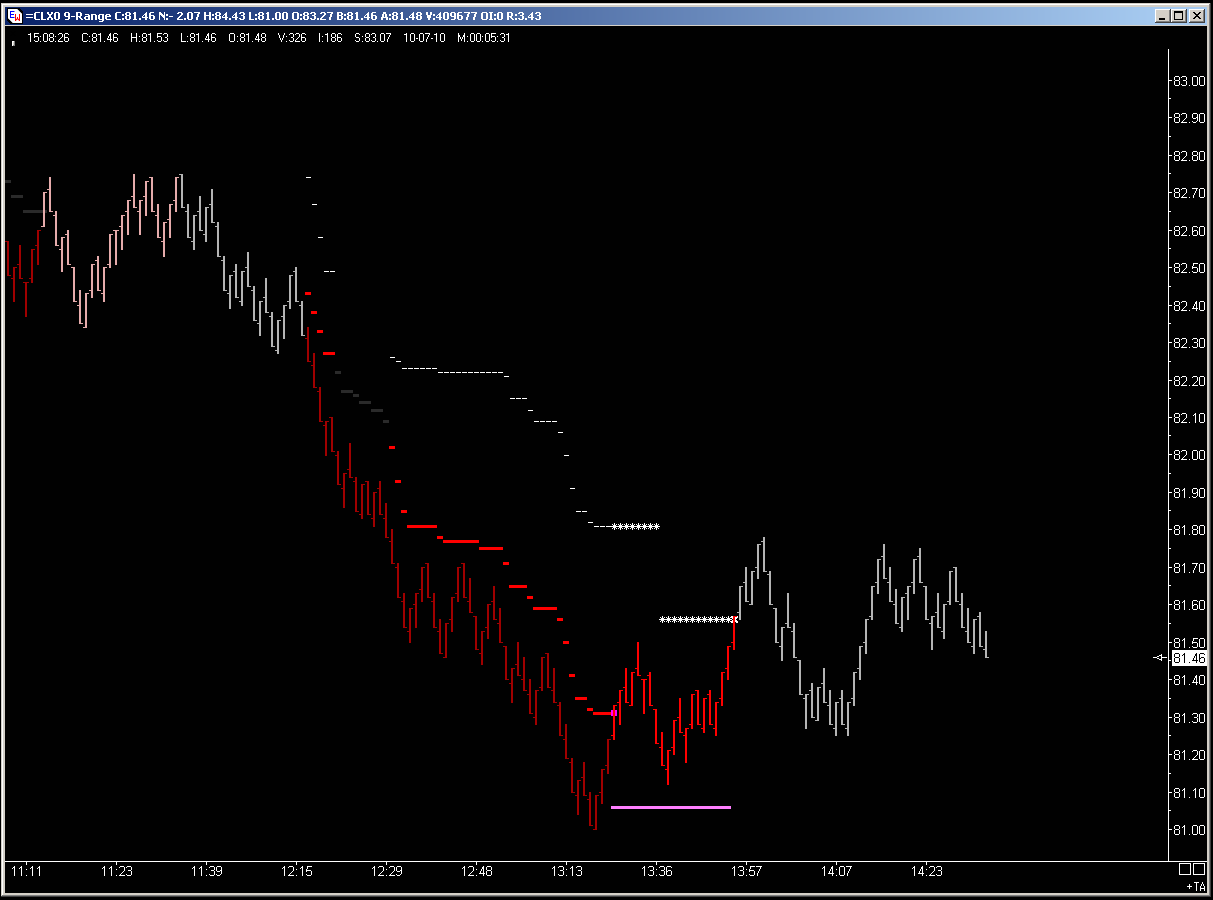 Dom that equity curve looks too good to be true so I'd be scared but hope it trades like that in real time....what became of your trading contest...? how did Chuck Huges do ? He wants me to spend almost 4 k on options recomendations