ES Short Term Trading 6-7-10
ES Short Term Trading 6-7-10
Here's my charts with
Price Action
S/R
levles ... significant ones in Red and semi-significant in Magenta. The Cyan dashed lines are the Weekly Pivot levels.
First is the Daily
ES
chart:
Click image for original size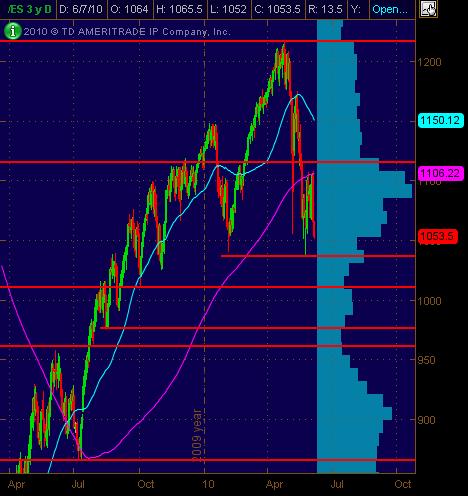 And the 30-minute bar chart of 20 days:
Click image for original size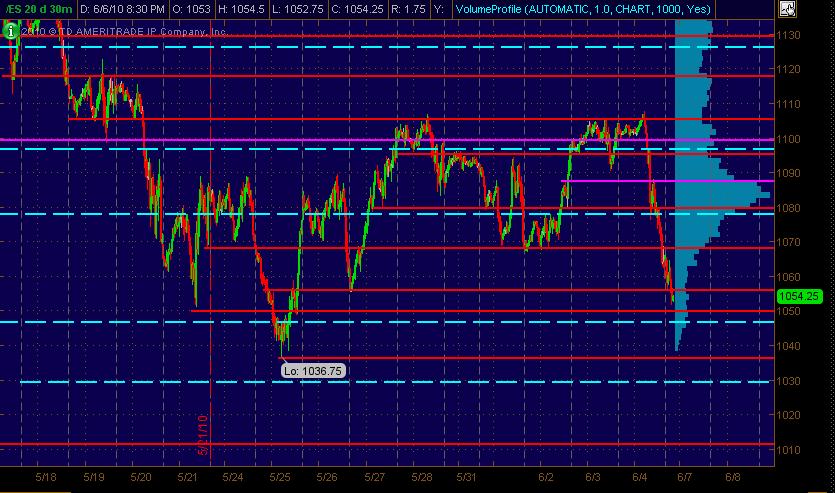 not expecting a trend day down so I'd prefer to find buys below 56.....
triples
up in 61 area...they should get taken out...find a way to get long and use them as a target..even if 56 doesn't print...volume in the center so far so an additional magnet to help pull up market and take
trips
out
1077 not so unreal, KoolBlue...
today, 5 day average of H versus Open comes in at 76.75.
it's just an average.
5 day average of L versus Open comes in today at 53.75
Phileo,
One thing I think important to realize, regardless of whether Miller's ideal
gap
down occurred or not, today is still
MATD
(Morning After Trend Day), and the markets tend to oscillate.
something different might unfold early afternoon (anytime after noon, more likely 1:00 to 1:30, but right now this is still
MATD
.
This might be last comment for day, I suffer migraines occassionally and right now have a whopper.
well, im not really sure how to play this scalp.. 1.618= 1062.00 already hit and the 2.618 is around 1064.75, but i doubt ill hold that long.. My gut says the 1062 should be taken out however as were very oversold short term down here.
so AK1 at a bare minimum you would be long on the FEB ppattern and inside bar to get hose
trips
.......we had the up close, then the down inside bar close....so if yoiu don't just buy or sell you would have been the buyer on the break of that down insdie bars high to get
trips
and hopefully get above 62.50
RAT
On a "z" day you will usually see at least two 30 minute bars trade through the open print...hopefully that helps the
MATD
plan..and the trades
OK.. JUST WUSSED OUT
AT
1061.75... what the heck, a win is a win... looking to re-enter lower
Originally posted by BruceM

a bad close below that spike bars low leads me to believe that the 38 - 37.50 will be tested soon...

probably overnight eh?