ES Short Term Trading 6-7-10
ES Short Term Trading 6-7-10
Here's my charts with
Price Action
S/R
levles ... significant ones in Red and semi-significant in Magenta. The Cyan dashed lines are the Weekly Pivot levels.
First is the Daily
ES
chart:
Click image for original size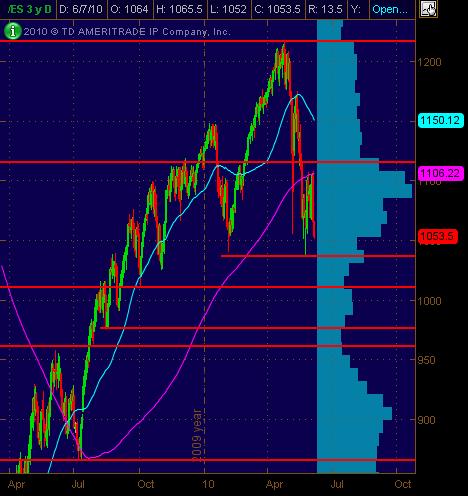 And the 30-minute bar chart of 20 days:
Click image for original size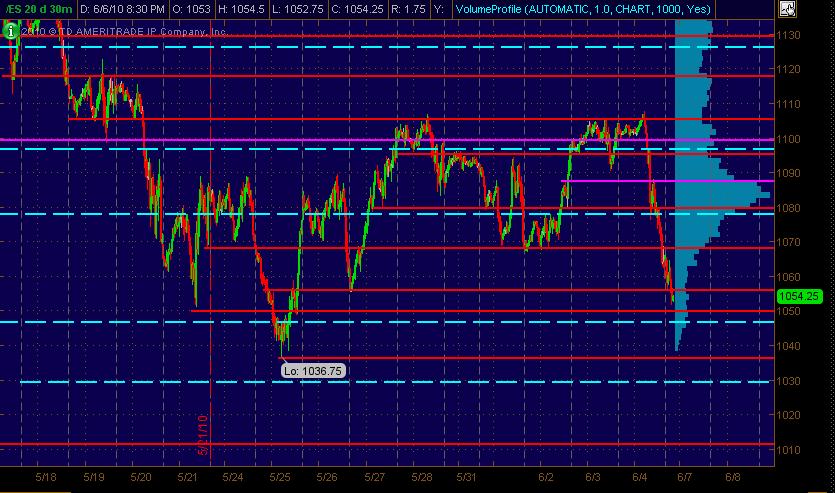 they will test a previous 30 minute bars high...( but from where).if only we could get a good signal off the 56.25
RAT
!!
woohoo! LONG
AT
1056.50,
split
the diff between Bruces
ratchet
and my 1067.00... covering one at 1068.50.. stop to be and runner near 59.50
The details are in the thread My Trading Plan. However, to save you time, I'll give you a brief here. Basically using BruceM's ratchet levels, i saw that right before open the market had tested 68.75 and dropped below it. Therefore, I decided that I was going to go short away from it towards 62.50 area.

This is in testing mode.

Thank you, appreciate your quick response. I will go through that thread now.
OUT HALF
AT
1058.50 FOR 2 EASY HANDLES.. STOP
AT
B.E. 1056.50,
NOW
I CAN RELAX... AND HOPE SHE WANTS HIGHER
PS: THE RED
AVG
O/N
THE 13 MIN IS
AT
1062.50, ANOTHER REASON I THINK THEY PUSH IT UP THERE,, ALSO THEY'
LL
TRY TO REGAIN FRIDAYS CLOSE ... KUDOS BRUCE
O/N
YOUR 56.25 NUMBER/!
Nice trade Kool and great to have ya back...I took the long off the double inside bars...was hoping to get 62.50 and then a trade above that 30 minute bar but I think I'm gonna get runners stopped .If we fail at this 56 it could get ugly quick....at least down to 50 - 51 I think .. I will not try another
fade
The challeng down here is that TIME seems to have validated these lower prices....nobody is finding todays prices such a bargain to get a rally going....and that 60.50 is the spike bar low so the longer we stay below there then that increases odds to just tank down..

Hate to be so negative...just calling it as I see it...just stopped out...
Originally posted by BruceM

a bad close below that spike bars low leads me to believe that the 38 - 37.50 will be tested soon...

probably overnight eh?