Current MP Charts
Here is a follow up to a chart I posted. I just don't remember where I posted it..Anyway this shows the Breakout on Monday 6-14 of the composite profile at 1101 and the fact that they held above the big composite node of 1079 - 1080 . Then we went up two more days on 6-15 and 6-16 and today was the first time we had lower price highs and lower Value ( solid green line to the left of the letters). The last three days all have overlapping Value. So we are coiled up and ready to trade for breakouts on Friday.
I also made note of the "bunching " together of the letters in my previous post thinking that a high was in. So I was wrong on that along with all the other cycle folks and market gurus. If this breakout starts to fail then we need to keep a close eye on the breakout point 1101 and of course that
high volume node
of 1079- 1180. The breakout point was tested today on Thursday and closed just off it's highs. These longer term profiles and my analysis is a work in progress so hopefully this journey will point out some good clues over time. Many are noticing the weakness in Volume and market internals since the breakout of 1101 so that needs to be factored in as we want to know "just how well" we are trending higher. So far I'd have to say not very well!!
Click image for original size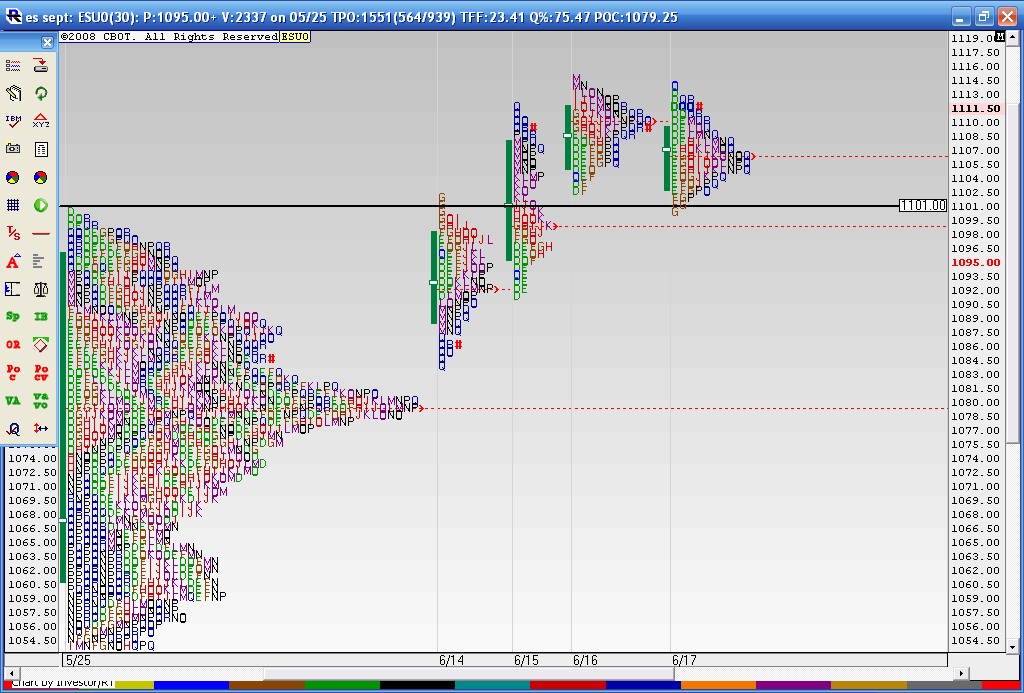 I am pretty amazed at the Low today (so far) of 1113.25, that was the one
tick
takeout I mentioned last week. (Post is still in this thread.)
sorry I haven't been around lately, but last week's supposed vacation week didn't really materialize so I'm trying to take it easy this week.
here is the merged Monday thru Wednesday profile up against the breakout from last weeks HV node of 1110....Lots of time and volume building above last weeks key high of 1117.75. Reports on Friday.
Last 3 days we have consolidated. It will be interesting to see if we consolidate again on Thursday or if some bigger players step up in an attempt to get a lead on Fridays reports
Click image for original size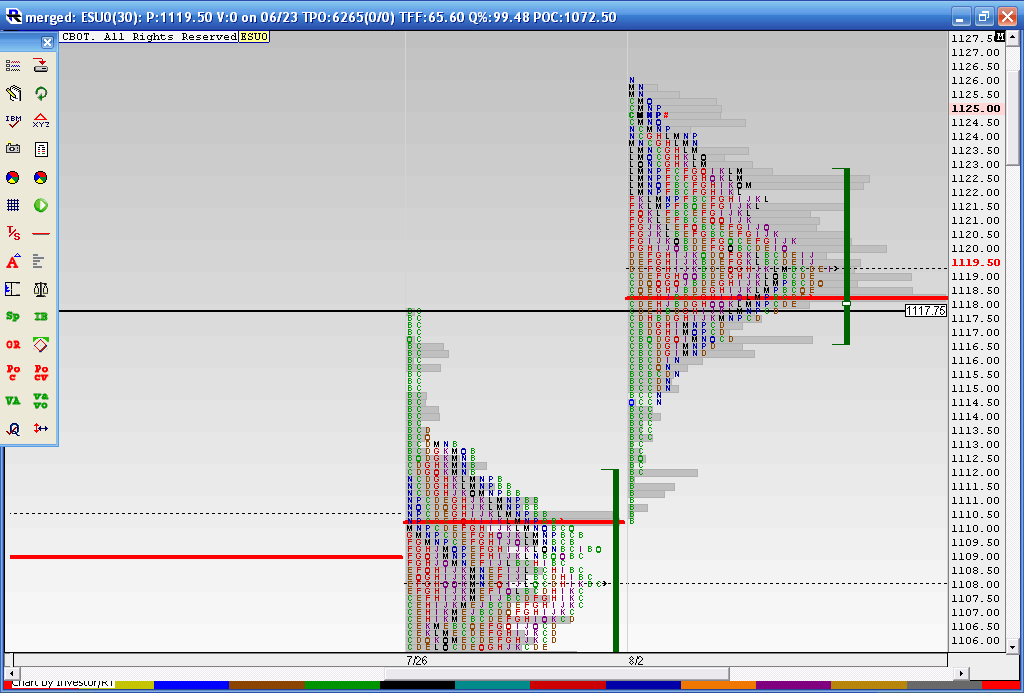 and here are just the last 3 days seperated out..
Click image for original size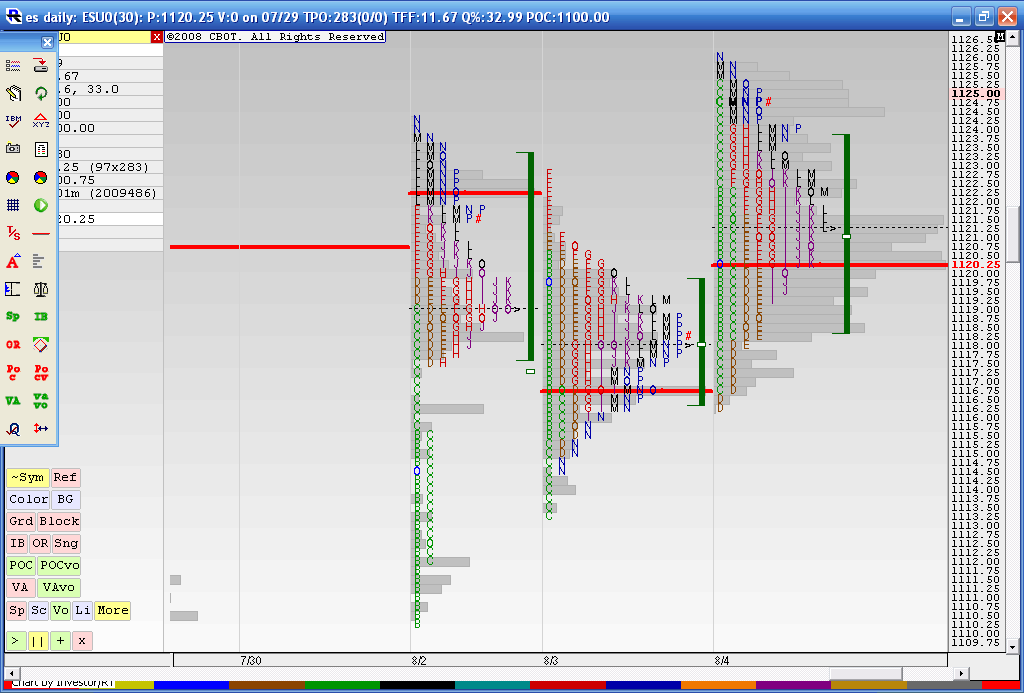 Haven't posted in a while just creeping as I got the
Mind over Markets
book an been reading that. That book is great and added a new dimension of perspective to the markets for me. I'm just reading it once over real quick then I'll go back a second time and take notes. But I can see myself always reading this book to keep the ideas fresh in my head, theirs so much info. Thanks for recommending that book guys!
I had an idea pop into my head that I wanted to share in regards to long term and short term
MP
charts. I think that we should be using the Long term
MP
charts to see who is in control. If we believe the buyer is in control and value is established higher then maybe we should be looking at the short term
MP
charts for long plays only, even if the seller appears in control for a certain day - as this could lead to getting blindsided.
- I am only halfway through
MOM
so maybe this idea is premature but hopefully it can stimulate other ideas.
a look at what is trying to hold us back as we travel higher...this is the merged profile from 8-02 thru 8-10
Click image for original size