ES short term trading 7-6-10
ES short term trading 7-6-10
Thought I'd toss out my
S/R
price action
levels that I have for Tuesday's trading map. The 30-min bar chart has Red as potential significant
S/R levels
with Magenta as semi-significant. The dashed Cyan lines are the Wkly Pvts from mypivots site. The light blue bars on the right legend of the chart are Volume at Price for the past 20 trading days on a 30-min bar basis.
Hope this is helpful and can be combined with whatever analysis any trader brings to the market to increase the odds of a decent, high probability trade. A bit late, so don't have any stock setups or internals to post (long weekend - worn out).
If the market opens inside of the 1010-1030 range of the past 2+ trading sessions (after probing down near 1000), then I'm looking at more range type trading ... with the expectation of another strong directional move as it cycles out of big to small and back to big(ger) range. Have been playing some non-directional (
delta
neutral) straddle and strangle strategeries lately for a decent profit ... even with the jacked up volatility. Just sharing my cent and a half. Here's my map for trading equities and the
ES
/
SPY
:
Click image for original size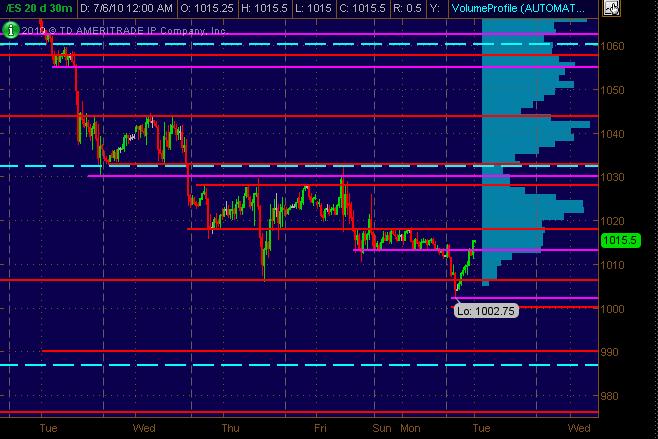 To post numbers and walk it down with coinciding
S/R
ZONES with "confluence" (for lack of a better, overused word) ... here's what I've got (
PASR
=
Price Action
Support/Resistance
):
1033
PASR
Level and weekly Mid Pivot
1028
PASR
Level and R1 Daily Pivot
1022-1024 High Volume at Price Zone
1018
PASR
and Median Daily Pivot @ 1019
1006
PASR
and S1 Daily Pivot
Looking for a retest of 25 in
RTH
...hopefully after a higher trade up above 30....
1033 has lots of numbers there...the ideal trade would see a breakout above there that fails going back to 1025..
Overnight key breakout area is 1017 - 1018.50
so we have lots of the same areas
MM
...!! lets break the bank open today!!
new peak volume is
O/N
is 29 so that 25 number is secondary volume now..
short small at 28.75...we may need to
add
in
RTh
above 30 but otherwise 25.75 should test
Two weeks ago, we had a huge
gap
up (+16pts) resulting in a bearis engulfing candlestick to kick off this vicious 10 days of intense selling.
Now, we are about to have a similar huge
gap
up (+14pts as of 550am PST) and a potential bullish engulfing candlestick if
ES
closes above 1032 today.
Do we all agree that a +24pt run-up in the
O/N
globex
session is "unusual"? This could mark the relief rally that everyone is looking for.
Last week's range was 73pts.
3WAR
= 58pts.
3DAR
= 22pts.
Today's range is already +25pts. On Friday, we saw some responsive selling starting at 1025.5, but we are now above that level. I also remember several times last week each attempt to probe 1026 level was rejected. Now priced is potentially gapping up above that level to trap some sellers. Potential fuel for a rally. For those who might doubt a rally, I refer you to Tues 6/29, when we gapped down -16pts, and sold off another 20pts.
Every currency that I am watching has rallied overnight, with the Aussie leading the way with a +190pip gain. Bonds have sold off overnight, and will soon be approaching a key support level (127.03).
For these reasons, My bias for the session today is up. As such, I will look for pullbacks to go long.
Click image for original size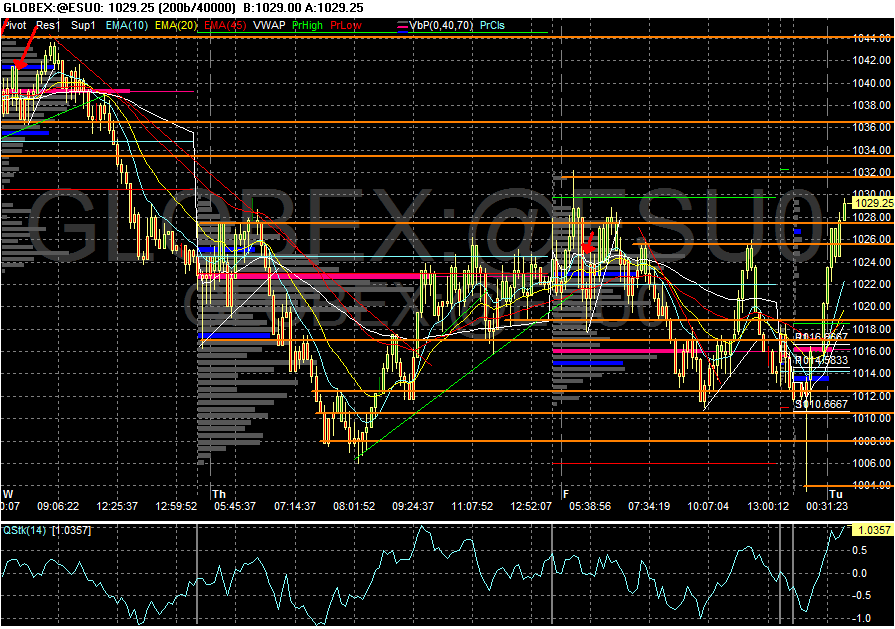 Potential Areas of support:
1025.5-26.5: opening price for last Thurs + Fri + starting pt of two selloffs on Fri. + afternoon pullbacks on Thurs.
1017-1018: key inflection point on Thurs. + acted initially as support on Fri.
Potential Resistance zones:
1029:
RTH
for both last week Thurs + Fri.
1030.5: last Tues.
RTH
low.
1032 - 33:
NFP
PreMkt high, Feb5 lo + May 25 Lo + last Wed.
O/N
lo
1035-36: last week former support level + former
VAL
will look for new sells above 33 now.....would like to see
$ticks
higher still...harder
fade
as 29 already tested and held....so far!!
on the 33.75 now.....as I type...yikes
Gapguy says Up
gaps
fp;;pwong 3 day weekend less lkely to fill.
My own measures based on Steenbarger sayu open above .4* 5day average
ATR
added to previous close historically fills
opening gap
only about 40% of the time. Today opened at 31.25, .4 * 5 day
atr
etc came in today at 1031.08, hmmmmm
5 day average of H versus Open calcs to day to 1035.15
5 day average of L versus Open calcs to 1015.10
this 32-33 area has a few numbers bunched weekly
PP
33 Friday's R1 32.50 (my pivots based on
RTH
only)
Bruce, would you be looking for a volume spike
OVB
and then an inside bar in this area?
Here's another view of the same chart that BruceM posted above. I've stretched it out vertically to make the
air pockets
clearer.
Click image for original size