ES Short Term Trading 02-10-2011
ES Short Term Trading 02-10-2011
Here we are again. Like deja vu from yesterday. Notice the weekly profile still sporting the bell curve shaped profile. As Bruce said yesterday, it was a neutral day. That curve proves it, even with the wild up down moves in price. And I also think this shows true trending action happens even less then 20% of the time as Bruce and others have mentioned. I recall the great Paul Tudor Jones in
Market Wizards
stating trending action happens less then 15% of the time so he always wanted to
fade
new highs and lows.
Click image for original size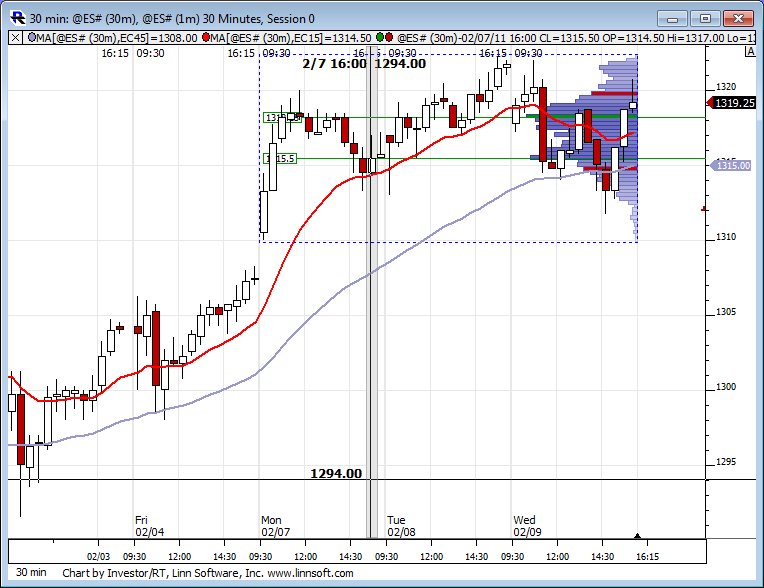 Originally posted by koolblue

Short from 1318.50...

Im just looking for a small re trace hereto 1314.50-1316 area... longs are preferred today...
13.75 is a ledge in
MP
world...will monitor that hour high if we can get back to it...I'm keeping in mind that some will think this failed down auction will lead to a retest of the other side....which would be up at the 1322 - 1323 area...
$ticks
are fairly stable favoring buyers up here.. a half hour close above 21.50 will cause me to exit or a poor close at 12:30.....I entered as
gap
filled and at that time was prepared to
add
on at 21.50....but will not
add
on now..
NQ
took off like a rocket and may need to find out what is above YD highs in that market
took one off at 1316.75, plus 1.75 in the bank and holding the runner.
we are in synch Koolio..I took two off at hour high test......a new high will stop me and really want to see a good down close now...holding three
2 more off at 17.50 as we are not gonna get the close I want...holding last one with stop at 19.50....I've seen this many times where they drop down to test the
IB
high and then run it back up but want to try to hold last one for that ledge just in case with an exit at 1314.25 ...in front of the ledge...
Looking out a little longer term, i showed my calendar some time back showing a Kools tools turning point on the 8th.. That was the current high of 1322.25. Im looking for much higher prices, but i had that 1309 as the minimum expected target. Thats why it was such an important zone.A good , i dont know , maybe 50 handle retrace is still possible from the 1329-1333 area,we'll have to see. I know the seasonals peak for the month around the 15th or 16th and then Feb is usually a crappy finish!...Time will tell!
I was really hoping those hour high players would just step aside and let my short do it's job...
HA
!!
I still think it might! I just want to try a long around that 1313.25-1314.75 zone! Probably exit my runner around 1315.50 if lucky..... The one min
prc
lower band is now srouns 1314.75 and i have a little cycle turn coming at about 1:10 and another possible around 1:30
Hey Joe, can you pop up some charts for us when u have time..? I'd like to see those....thanks
Originally posted by CharterJoe



Originally posted by sij

may iask > that prc bands on kool's graphs are these the same as cog?





No there not the same I personally like starc bands better 15/144/2.618 on a 1min time frame....