ES Day Trading 5-23-2011
Volume Profile
for last weeks
RTH
action. Not much volume relatively speaking at the bottom of the range.
Click image for original size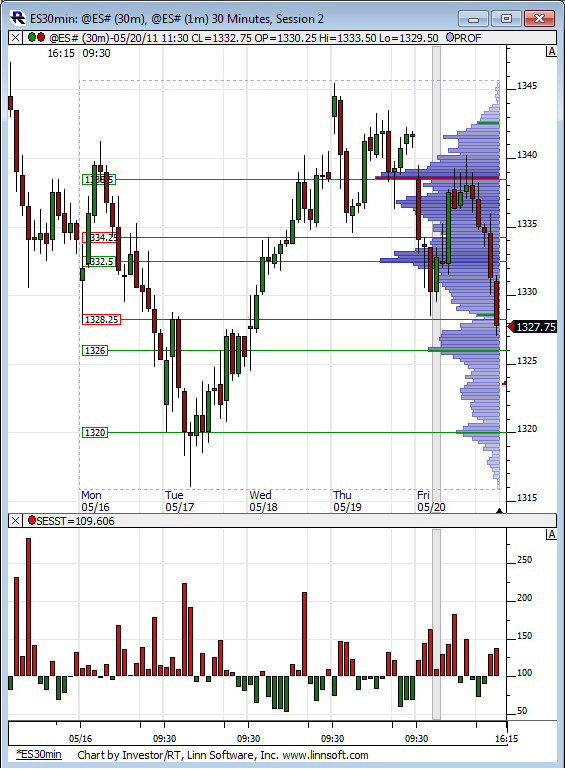 What is your take on the 1320 area? I'm watching live right now 2350 hrs EST.

I've got a nice profit locked on a short at 1332.75. Not sure if I'll hold as I can just see a nice fake move here at 1320, i.e. let's let everyone think we'll break 1316 and turn around and hit new highs from here.
1312.50 is a key
RAT
.....remember those ? LOng from there...
15.50 like lorn shows and the 19 - 20 breakdown point are keys
ON low needs to hold this drop
we know they like to run out an
O/N
hgh or low....early research seems to point that we can use the HV node of
O/N
to help point the way some days..
along with the open print...not perfect but that is basic idea...just another filter to
add
to the mix
my runners want open print to hold now and get above that big volumne node
damn runners stopped at 15.75...was hoping that would just keep running up
funny how the mind works.....while in that trade I wanted it to trend and keep going higher....normally I expect trade to chop around in those HV areas like that....and NOT trend

point is that I wasn't objective enough while in that trade...will try longs once more...
I'm busy doing other things, but I'll take the time to make 2 comments
1)
NQ
is no where near as strong as the
ES
(I don't like that)
2) Price in the
RTH
has printed at 618 down of last Monday's range, odds near 8 in 10 that full extension of monday's range down can print = 1308.25
there is an unfilled
gap
Close of 4-19 was 1308.50, price is pretty close.
I don't trade violent mondays
good luck to all
If prior swing low holds (or undercut by only a
tick
or two, that is sign of support.
"
Thanks Paul..I'm in my third long trade and runners going now where today.....now we have the hour range completing and stuck in the middle...the 15 area is still the attractor...we need some volume to come in and make a choice of direction....
I'm not fading initial break of either 60 minute range early on
$ticks
still showing more clusters above zero so long is still my prefered direction
respectable
DB
in the
NQ
and
ES
could not undercut previous swing low.
20 seems natural for the
ES
.
move to new
RTH
H might unlock buy stops
this is a box, 12.25 to 18, diff = 5.75 added to 18 = 23.75 possible.
subtracted from 12.25 = 1306.50 possible
I'm falling behind in my other project,
thanks....we closed one tic off the midpoint.....neutral days..!