ES 6-7-11
Most important today will be the 89 - 90 area...that is the April swing low point we mentioned yesterday. It is also the afternoon swing high point from yesterday and the
VA low
.
Best thing for bulls will be to hold that and avoid any
gap
fill from the higher open. We are currently at 90.50 in the
O/N session
and the close of yesterday is down at 85.
On the upside we have the current
O/N
high, the open from Monday, last weeks lows and the
POC
all at the 94 - 96 area....key resistance for early trade. I still have my eyes on that 1302 - 1304 area as a price that needs to be tested and soon. Hopefully today.
I was hoping yesterday would have been the rally day and was wrong. We have had 4 down days now and the
$tick
closes are now oversold so a bounce or consolidation is in order. Still lots of work on the upside and the areas mentioned in YD posts are still valid .
Here is a screen shot of the
tick
closes. Yesterday we had the lowest close since mid March and we are in a place where we see some snap back. Odds have increased for the up day I think. We need to watch to see if they attempt to fill the
gap
and then come back up through the open. They tried to come back through the open multiple times yesterday and failed.
Click image for original size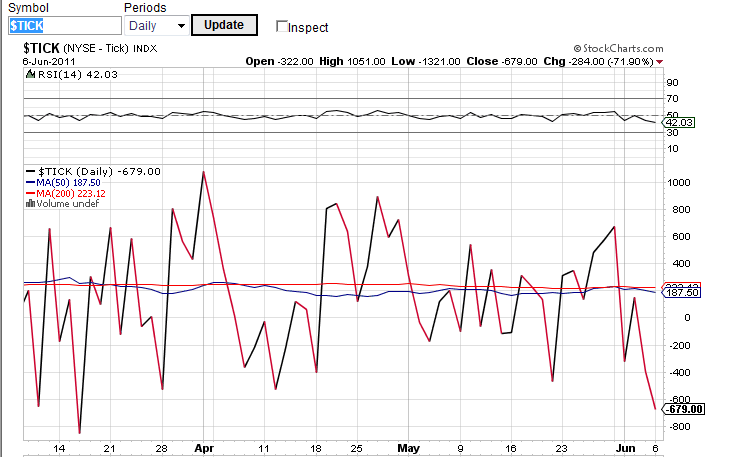 On the downside we have a swing low at 79.50 from 3-23 and yesterdays lows at 83.25....so that will be first support IF we happen to trade lower today....I'm not expecting that to hit but as usual anything is possible
A bearish note, but it is
O/N
data, I'm tracking
O/N
volume spikes coming in at 1292 and the largest so far at 1293.5 zone, which is the
O/N
high so far.
Still an hour to go.
it should be mentioned that the closing
$tick
concept comes from our good friend KoolBlue here at the forum.
The
POC
just flipped from 1285.25 up to 1291.50 for the
O/N session
. Lots of space between the two.
there are those out there who like to trade for the volume ( like me)so if we define the volume above and below we get the following as targets

1303
1295.50

1291.50

1285

so we can trade for the volume retests since price gets attracted back to volume

simple truths we use everyday here in the forum
Nice how that
O/N
high respected that..double top now between that
O/N
high and day session high......I was planning to short above the
O/N
high and the plus 2.5 but it looks like they front ran the numbers...
will need to be more selective when we break that double top
Hopefully some saw how we hit the minus 2.5 into our key support zone
Lorns volume chart should not be taken lightly...that was a perfcet bell curve at the upper distribution of
O/N
data
hehe...you liked that?
Originally posted by BruceM

that was a bit greedy on your part LORN !!!