ES 6-7-11
Most important today will be the 89 - 90 area...that is the April swing low point we mentioned yesterday. It is also the afternoon swing high point from yesterday and the
VA low
.
Best thing for bulls will be to hold that and avoid any
gap
fill from the higher open. We are currently at 90.50 in the
O/N session
and the close of yesterday is down at 85.
On the upside we have the current
O/N
high, the open from Monday, last weeks lows and the
POC
all at the 94 - 96 area....key resistance for early trade. I still have my eyes on that 1302 - 1304 area as a price that needs to be tested and soon. Hopefully today.
I was hoping yesterday would have been the rally day and was wrong. We have had 4 down days now and the
$tick
closes are now oversold so a bounce or consolidation is in order. Still lots of work on the upside and the areas mentioned in YD posts are still valid .
Here is a screen shot of the
tick
closes. Yesterday we had the lowest close since mid March and we are in a place where we see some snap back. Odds have increased for the up day I think. We need to watch to see if they attempt to fill the
gap
and then come back up through the open. They tried to come back through the open multiple times yesterday and failed.
Click image for original size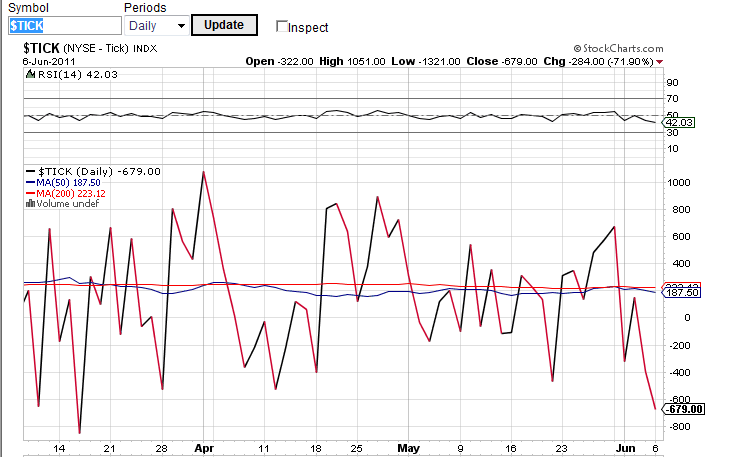 as much as I'd like to have bragging rights about the up day and blah, blah, blah...we cannot deny that we are speding lots of time under the
POC
from Monday and building value under there...that is really not something you would want to see if you were long...
in fact all of volume is almost contained within the
VA low
and the
POC
...I'd prefer to see the volume contained in the UPPER half of yesterday if my long prediction was to come true not the lower part
we may just work on the
inside day
today... stuck inside the 60 minute range is no mans land and when that is also inside the previous days range then it is best to sit back and do something else.
lo vol drift up continues to 1295-97 sell area
These kinds of days are tricky with all that back and forth across the
POC
at the 91.25 area.....it has us thinking that we will go back and forth across it all day and that perhaps we can just keep buying below and selling above with trade targets back to the center.....a classic neutral day.
The thing that has kept me on the side is that we are consolidating in the lower part of Value from yesterday BUT we are still holding above the key 89 - 90 zone. So I have conflicting opinions and cannot trade under these circumstances. It seems that eventually one side will give up today and we will have a real move that catches everyone by surprise. My guess is to the upside but all bets are off if we get back below that 89 - 90 area again. A good day to work on other ideas and research.
we have aleady broken the overnight high in the
YM
and the
ES
John..r u refering to the
NQ
perhaps ?
Bruce, sorry I didn't figure out.
Originally posted by BruceM

we have aleady broken the overnight high in the YM and the ES John..r u refering to the NQ perhaps ?

I shorted 1295.25 20cars for 1.75 pts.
I have my stop loss @1297.00
Nice profit and good approach on my bias. I believe I should leave for the day.
Nice trade Johnpr. Thanks for posting your chart earlier this morning.
hehe...you liked that?
Originally posted by BruceM

that was a bit greedy on your part LORN !!!