ES 6-7-11
Most important today will be the 89 - 90 area...that is the April swing low point we mentioned yesterday. It is also the afternoon swing high point from yesterday and the
VA low
.
Best thing for bulls will be to hold that and avoid any
gap
fill from the higher open. We are currently at 90.50 in the
O/N session
and the close of yesterday is down at 85.
On the upside we have the current
O/N
high, the open from Monday, last weeks lows and the
POC
all at the 94 - 96 area....key resistance for early trade. I still have my eyes on that 1302 - 1304 area as a price that needs to be tested and soon. Hopefully today.
I was hoping yesterday would have been the rally day and was wrong. We have had 4 down days now and the
$tick
closes are now oversold so a bounce or consolidation is in order. Still lots of work on the upside and the areas mentioned in YD posts are still valid .
Here is a screen shot of the
tick
closes. Yesterday we had the lowest close since mid March and we are in a place where we see some snap back. Odds have increased for the up day I think. We need to watch to see if they attempt to fill the
gap
and then come back up through the open. They tried to come back through the open multiple times yesterday and failed.
Click image for original size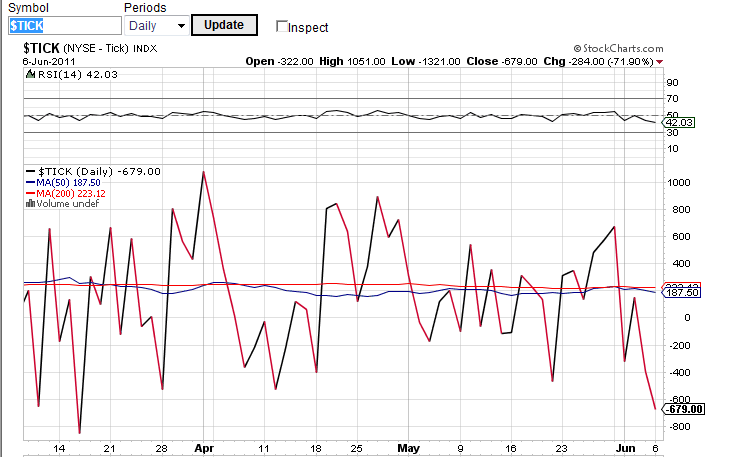 dropping like rock in water
that was a bit greedy on your part LORN !!! I think I've reached my maximum forum threshold today...thanks John..INSYTE I was looking for reasons ...not just numbers....but have it your way !!!
hehe...you liked that?
Originally posted by BruceM

that was a bit greedy on your part LORN !!!