ES Wed 8-3-11
The
ES
left 2
single prints
above the market on Tuesday at 1272.75 and 1256 even. There's also a
single print
at 1291.25 from Monday.
VAL
for today (Wednesday) is 1256.50 which is 2
ticks
above the second
single print
and obviously a place to watch depending on overnight action.
Click image for original size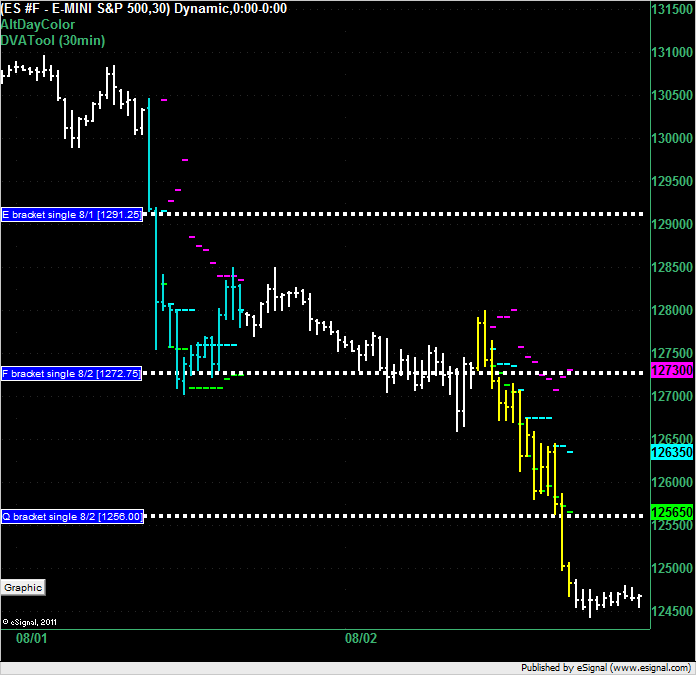 200k e-minis sold in the last 10 min
I'm convinced this is all manufactured. Heavyweights Apple, Microsoft,
IBM
, Google,
BP
, Chevron, Royal Dutch/Shell, Schlumberger and Halliburton, American Express, Wells Fargo and US Bancorp were all holding above their June lows as of close yesterday. I haven't checked all of them this a.m., but, the techs seem to be still trading above the June lows.
Oh well...
Leaders will be the last to plunge. Internals are in a vacuum. BKX losing 46.
AAPL
double top. etc...
1241 area the 138% extension
1231.50 the 150%
1222 the 161% and 1219 a deviation level
1237 a 50% level
this is the possible downside of a huge
H&S
pattern
sub 1270 area,there is no hope
looking for a low but need a higher low that holds
otherwise downtrend remains
just have to see how they work it
true...but what is happening now is 100% related to "fear of the unknown" and there is a lot of fear mongering going on right now. Even if technical analysis dictates that the heavyweights follow suite the fundamentals are not all that bad. With that said, the unemployment reports on Thur. Fri should make things interesting. I'm gonna stay on the sidelines until the dust settles :-)
the week was full of hope and lower highs so far. looking for a correction
47.25-62%
44-50%
57.75-30.25
Will be looking to go long @yearly low if given a chance after 11:00
Originally posted by Big Mike

Will be looking to go long @yearly low if given a chance after 11:00

that was quick!
not arguing the points you make, just sharing my take from pure
TA
and what I watch in the internals and the way bear markets promote hope in a decline,. hope it helps someone
39.25 and 44 the levels to break and hold for higher
I have multiple fib levels at 1244 and using it as main level intraday today
I use patterns and they can morph
levels remain the same
Originally posted by GunwallsArchie

true...but what is happening now is 100% related to "fear of the unknown" and there is a lot of fear mongering going on right now. Even if technical analysis dictates that the heavyweights follow suite the fundamentals are not all that bad. With that said, the unemployment reports on Thur. Fri should make things interesting. I'm gonna stay on the sidelines until the dust settles :-)

no worries! it's all good! I'd give your comments a thumbs up but I can't yet :-)
58.50 was a single nack on the 3rd i am going to watch thhatfor tomorrow
Originally posted by Lisa P

single prints to 1256



Click image for original size