ES Thu 8-11-11
This is the
ES
at 8:30pm
ET
on Wednesday. On yesterday's
ES
topic I called a buy at 1148 or 1148.5 based on the
single print
and
VAH
but that call was nullified because we opened in the
value area
and the
Initial Balance
(
IB
) was formed inside the
value area
.
Market Profile
theory looks for a day to be contained inside the
value area
when the
IB
is formed inside the
value area
. The market followed the theory and traded mostly inside in the
value area
and you will notice that the
value area
for today's trading is now, as a result, inside the previous day's
value area
.
Even though the market traded off the value areas it was, in my opinion, a truly scary market to trade off those lines with such fast markets and such a large range.
Have a look at the 5, 10, 20 and 40 day average ranges on this page:
http://www.mypivots.com/dailynotes/symbol/445/-1/e-mini-sp500-september-2011
We don't often see 70+ average ranges over 5 trading days.
Had you shorted the 1148
VAH
on Wednesday you would have suffered through a 9 point
draw down
(or been stopped out) however the
VAL
target was only 1.5 points above the low of the day so you couldn't have wanted for a better target down there.
Click image for original size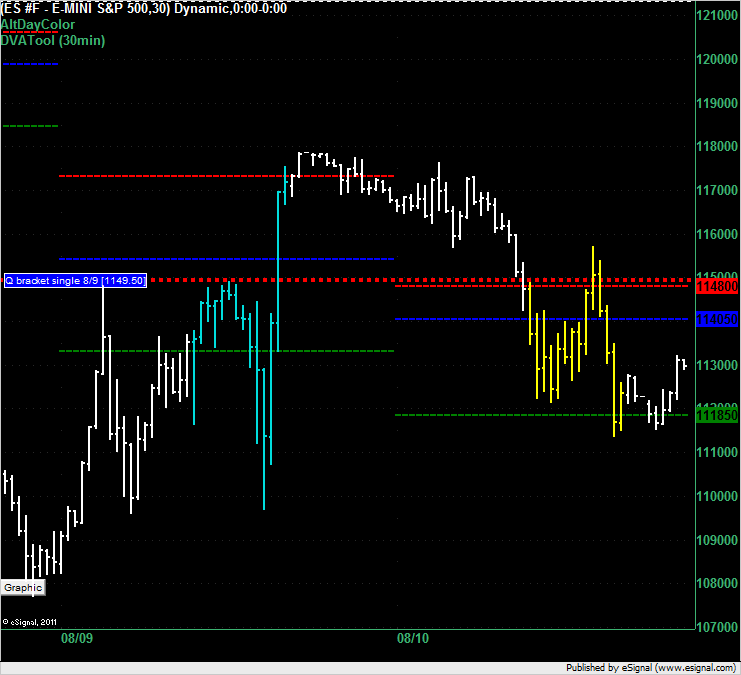 I saw low vol areas today at 34.25 did you see that???
I'm expecting the
low volume
at 24 - 25 to be messed with early on...that is also
Va low
.
will also be wathcing 17.50 and 37.50 as per
low volume
from day and overnight...above
va high
of 42.50 we have 49.50..
We are clearly in down trend market when we see Value Areas and
Point of Control
shifting down on daily basis, I am assuming on the opening, it will be a good entry point to go short at the
VAL
(1124.00) with a 1.5 stop right?
With bars on my charts 3-5 points long a 1.5 point stop won't work very well in this environ..IMHO
shorting into the 39 area....expecting 37 retest first...report coming in 8 minutes
correct...1.5 is too tight unless u take many tries at key areas
What you recommend as a stop, and usually target approaching the
value area
?.......
with 12 plus points of range in the first 14 minutes this is not for the faint hearted....stops??????? 5-7 points may be in the ballpark assuming you are going in the correct direction.....in this market the machines are in control lots of the time and they can seemingly blow through any stops at will..trade at your own peril....
Nice trade bruce off of 39.00 back to that 25.00area
80 is my last key number.....too late for me though