ES Thu 8-11-11
This is the
ES
at 8:30pm
ET
on Wednesday. On yesterday's
ES
topic I called a buy at 1148 or 1148.5 based on the
single print
and
VAH
but that call was nullified because we opened in the
value area
and the
Initial Balance
(
IB
) was formed inside the
value area
.
Market Profile
theory looks for a day to be contained inside the
value area
when the
IB
is formed inside the
value area
. The market followed the theory and traded mostly inside in the
value area
and you will notice that the
value area
for today's trading is now, as a result, inside the previous day's
value area
.
Even though the market traded off the value areas it was, in my opinion, a truly scary market to trade off those lines with such fast markets and such a large range.
Have a look at the 5, 10, 20 and 40 day average ranges on this page:
http://www.mypivots.com/dailynotes/symbol/445/-1/e-mini-sp500-september-2011
We don't often see 70+ average ranges over 5 trading days.
Had you shorted the 1148
VAH
on Wednesday you would have suffered through a 9 point
draw down
(or been stopped out) however the
VAL
target was only 1.5 points above the low of the day so you couldn't have wanted for a better target down there.
Click image for original size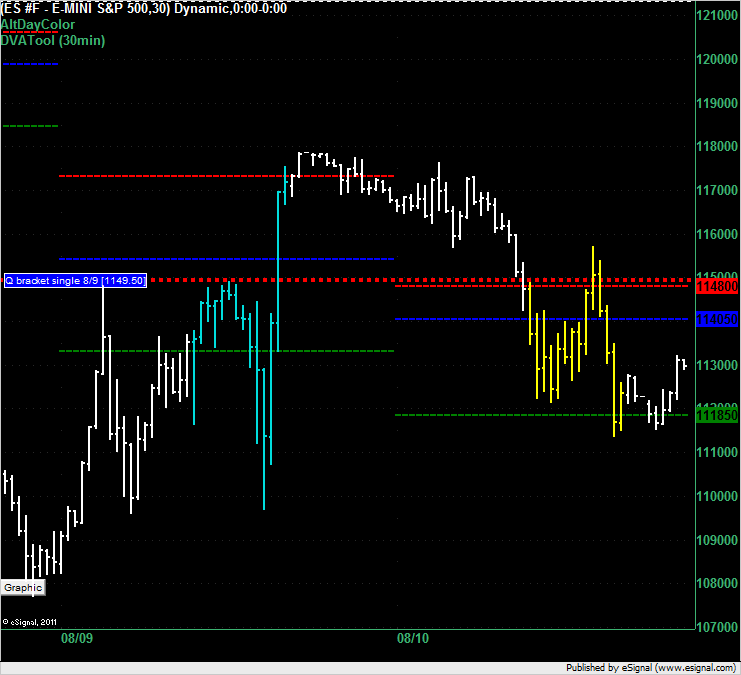 this may look like a mess to some but noticce the distinct bell shape distributions...beautiful structure today
Click image for original size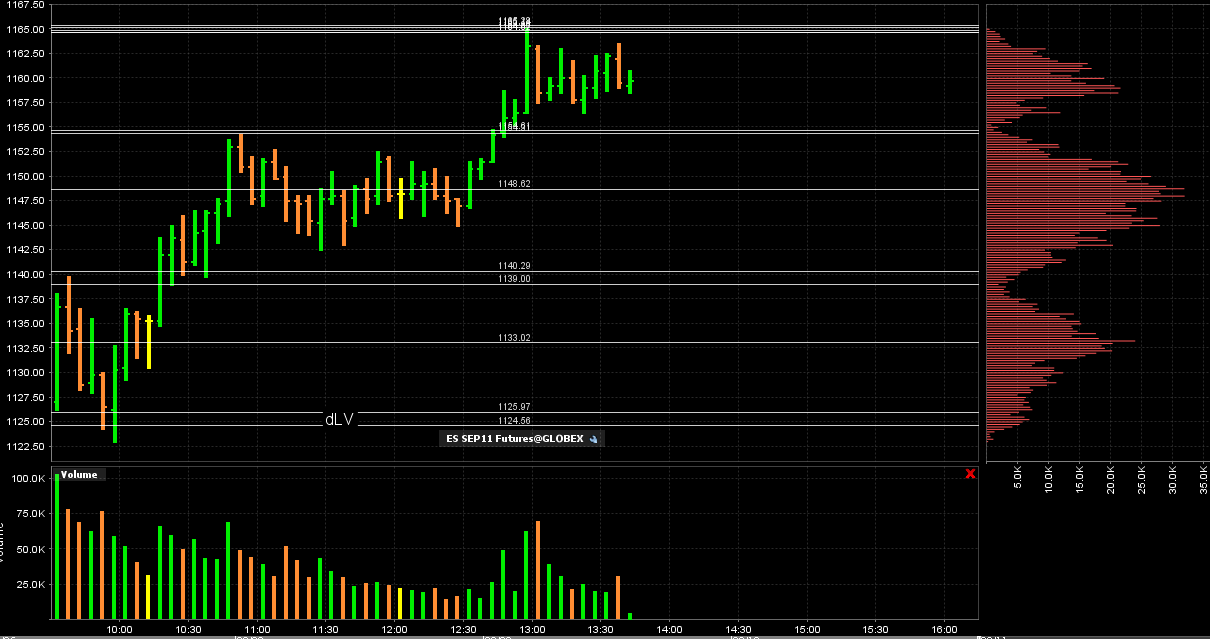 ah ok, if it is not too much trouble i would love to see a chart whenever you have a moment of what you were looking at (
cum delta
wise) when you entered that short around the 65 area
needless to say there is no rush at all
Originally posted by BruceM

I use cum delta but not just for divergences...I like the pure flips in regular delta at key prices...

Nick,
Look at the run into the
KEY
number of 1165...we get less green pure
delta
into that number ( green histogram not as big) and
CD
has a nice tail....in fact the pure
delta
is barely viewable because it was so small into that high..hopefully more later
Click image for original size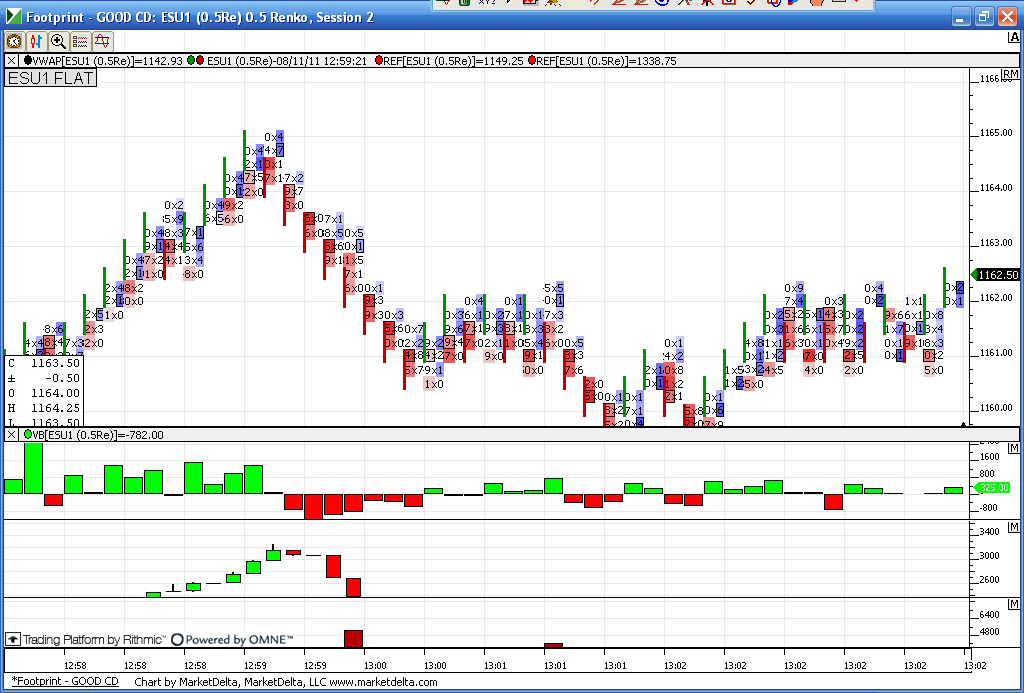 It took me two tries to buy under the key 55 area but note the
divergence
in the pure
delta
...I donot take signals in a vacuum ..u must have a key area...for me it is
low volume
This is the same chart but not broken out with the footprint data...just a plain renko to help filter out noise
Click image for original size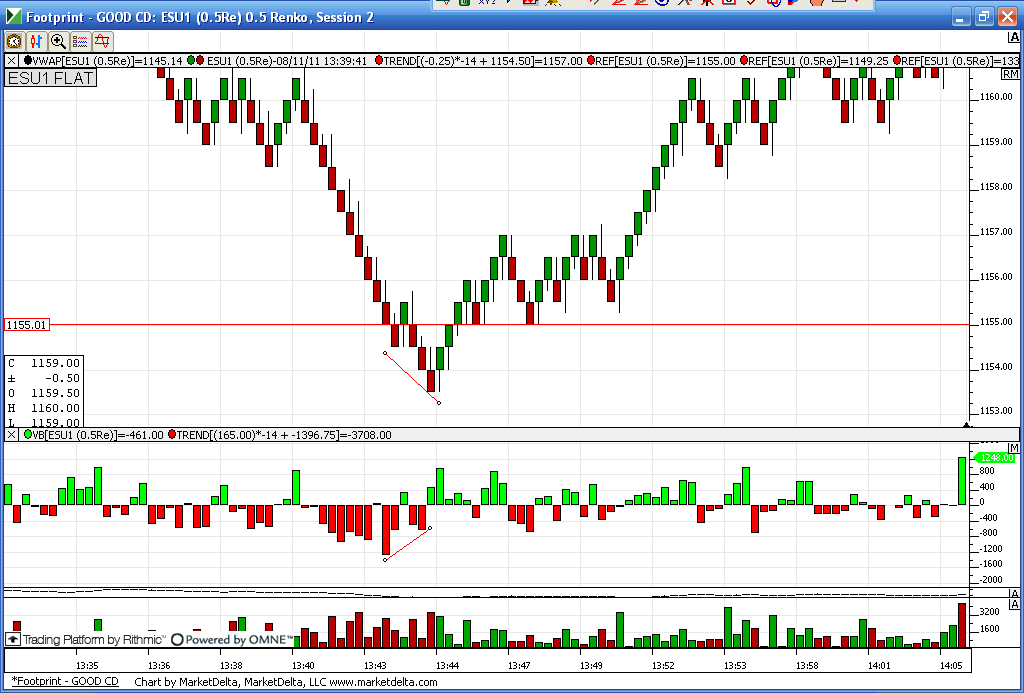 This morning I had a
low volume
area at 24 - 25. That also corresponded to the
Va low
and the previous close. How many tries would you take at your key areas before you get one to really take off ?
You can see the small loss or slight profit I had and you potentially would have before getting the good signal.....So you can trade in this volatility with tighter stops if you aren't afraid to take a loss and try again. I am not averaging in during these market days
here is the chart..I also marked off an exit I took up near
vwap
..
remember this: we want to put trades on in
low volume
in order to get back into high volume areas and distributions!!
Click image for original size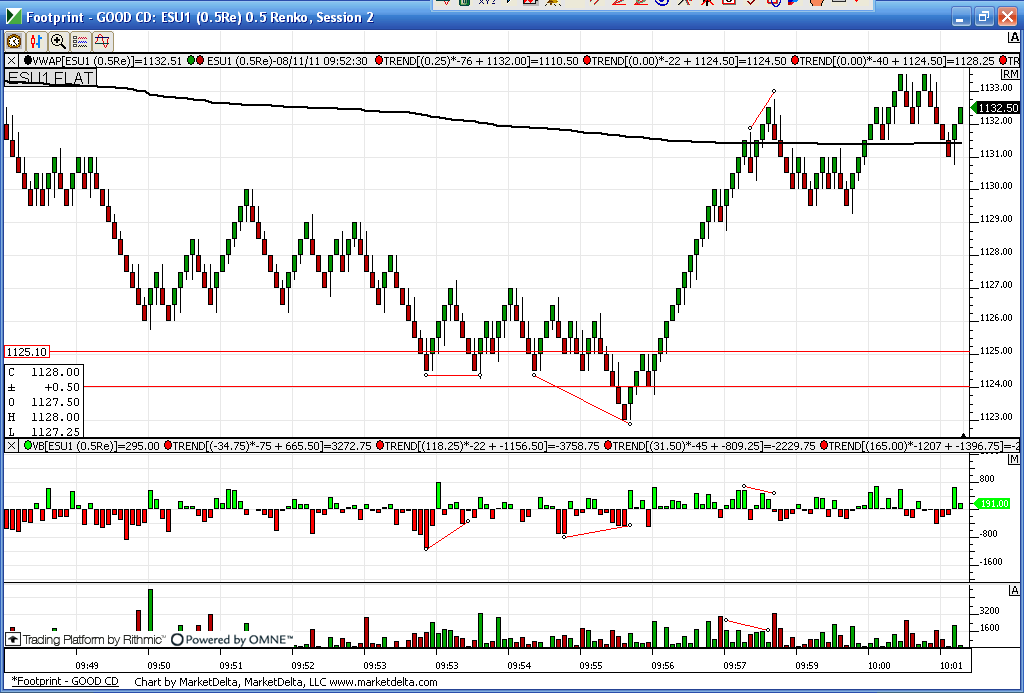 thanks for the multiple charts Bruce

i really appreciate it !
Guys es moving up and is vol driing up?
not seeing alot up here
80 is my last key number.....too late for me though