ES Friday 9-16-11
ES
finally moved above 1198 and in it's way to 1250.
The numbers posted last night worked well today, with the
ES
closing in the 1202 objective area.
For tomorrow, Friday, Sep. 16, I have the following:
Buy above 1208.75
with 1212 / 1218 / 1224 / 1229 / 1235
as outside objectives.
Sell below 1203.00
with 1198 / 1191 / 1181
as downside objectives.
Will see how the above numbers works out in the night and day session.
I usually keep my protecting stop between 1 and 3 pts, (Your call)
The above numbers work best from S/Rs and Fibs.
Will see, in due time the market will show us the way.
Good luck and good trading
One for me too.. have a good trip
delta
with euro ministers announcement pending
might not get but a shot without retraces
AAPL
flirting with
hod
(has not touched 400 yet, 7 cents off, and markups act like that, current 399.79
1203 the line and previous levels stated above for me
1193.50 below that
Careful with 1200&1198 as support.. under that we have
POC
/Pivot/Previous low as a good target
There's alot of strong support underneath.. 1202, 1200, 1198, 1197.50, 1196, 1195.50, 1194.50, 1193.50, 1192.50 all strong support levels..I'd be wary to the short side..

On the long side, it has to clear 1207%1208.75 and HOLD above there, then we're probably off to the races above, BUT its Friday with some potential scary news out there for the market.. hmmmmmm

Maybe I should just call it a day...

Oops! I'm long at 1208.25 @ 14:56 E.T.. Protecting stop at 1206.25.
ES
now trading 1208.00 @ 14:58
Will see, in due time the market will show us the way.
it needs to clear 8.75 to have a good chance to the upside.. I have an order @1207 for 3 cars and I will take one off the
[email protected]
I'll move the other 2 stops to 6.75 and let the other 2 ride and HOPE!! to break 8.75... I'm in as we speak..
Low Volume node
at 1203.25
Click image for original size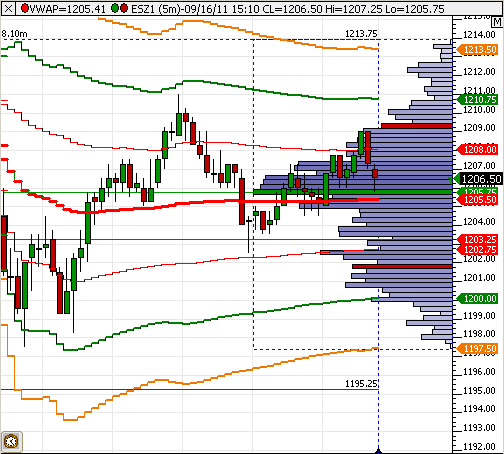 Y, 3.25 is a good buy if it will get there... I like 2.25-2.50 for stop purposes &
VAH
@1.50 where the stop should be below..
Stop out with 2.00 pts loss.
ES
now trading 1205.75 @ 15:10 right at a support trend line in the 10 minute chart. Will probably bounce back from here LOL.
Ok. this is it for me. Will see what we have for Monday!
Thanx to everyone for your participation and sharing!
I wish you all a high quality weekend
Market Profile
Single Prints
summary for today for
ES
Z1. There was a
single print
from 9/1 at 1205.75 which would have been a short price if we had opened below it. Because we opened above it was considered filled.
The market created a
single print
in the F bracket today at 1205.25 which would have triggered a short when the market moved back up to this price which would have been stopped out for a 4 point loss.