ES Monday 10-3-11
Here is how I have Fridays chart marked off...I have it on the one minute so some can see the
price action
at these points. A few things to keep in mind:
1) On friday the 47 - 48
low volume
zone from Thursday held prices down. So even though I only have the 45.50 - 46 area marked off we still need to be aware of that entire zone from 45,50 - 48.75 as it is all really
low volume
.
2)Even though I have the 29.25 - 30.25 marked off we really have
low volume
up to 32.50 and then the histogram starts getting wider and volume starts to buldge
The traditional
Market profile
has the
VA low
at 35 and our secondary high volume number is 36.50 so that will be a point that I will not trade from due to that high volume.
The
Va high
comes in at 45 and we begin our
low volume
zone there so that will be a good number to trade from. The ideal trade up there would see them push through the 45
low volume
zone and then find a short that will attempt to come back to fill in not only the 45 but come back down to the high volume magnet near 1143...!! Again using the high volume as targets instead of entry points.
Will forumulate a better trading plan once we see how the overnight does.
Click image for original size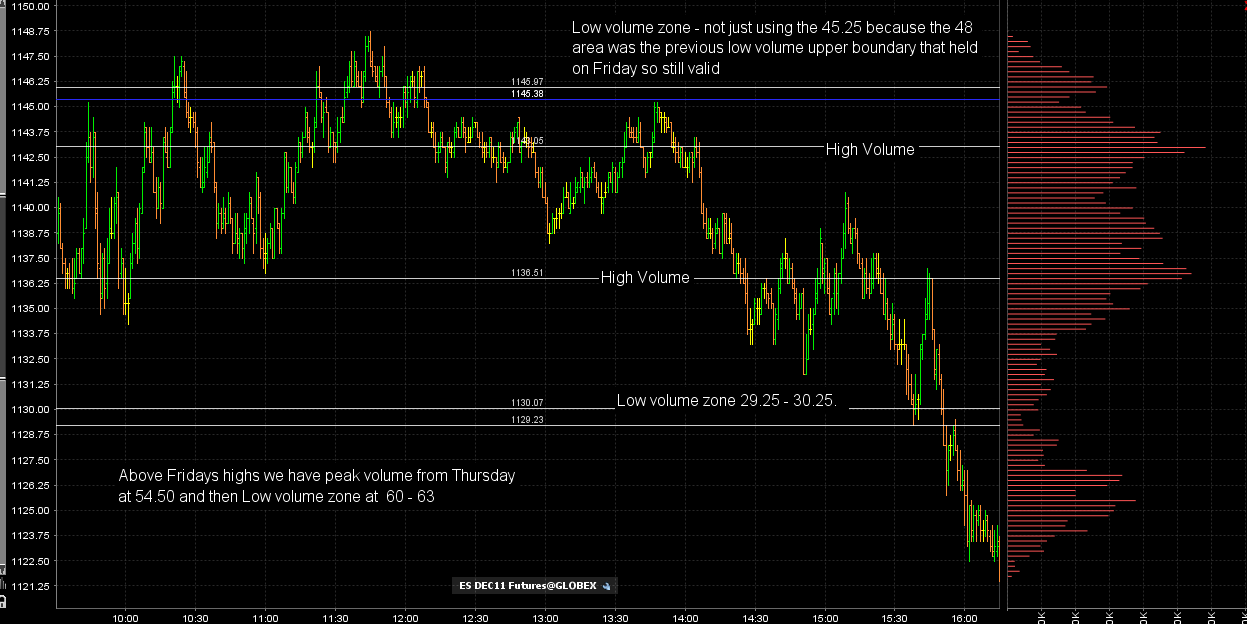 Here's what I've got for my
ES
MAP going into Monday's trading looking at a 30m chart. Some overlap with Bruce's numbers in an area or two above Friday's
RTH
close:
1149-50
is 1) Friday's
RTH
High 2) a Daily Pivot 3) 20 day Low Vol area on Vol Profile
1143
area is 1) 20 day High Vol spike as per Vol Profile 2) Weekly Pivot 3) a .382 Fib Retracement 4) DeMark Daily R1 pvt
1134-35
is 1) potential significant
PASR
level 2) Thursday's
RTH
Low and Friday's
RTH
morning Low 3) Daily Pivot 4) a minor 20 day Vol Profile spike in volume
BELOW Friday's
RTH
close I've got potentially significant
PASR
levels of:
1115
area and then
1107
area
Here's the 30m
ES
chart with Red lines as potentially signif
PASR
levels and Magenta lines as potentially "semi"-significant
PASR
levels. The White Dashed lines are Wkly Pvts. The Light Blue "profile" on the right vertical axis is a 20 day
Volume Profile
. Hope this is useful as a MAP for folks.
(fyi, the grayed out background is overnight trading on this All Trading Hours chart)
Click image for original size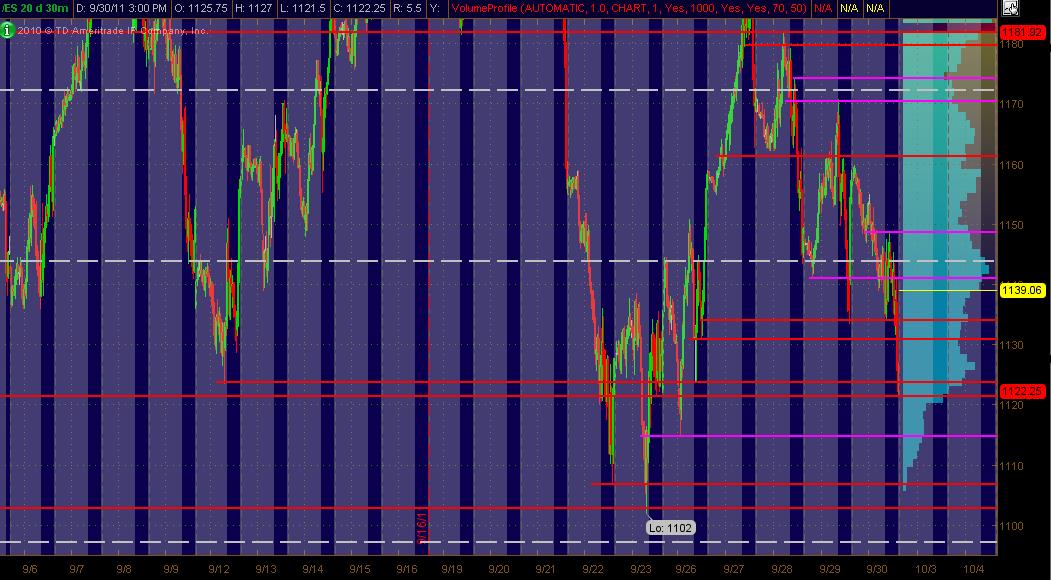 Thanks Bruce and
MM
, I'm feeling good as it confirms my areas that I laid out Friday night.
I can only
add
, we have a
single print
Friday at 1131.50, correct?
Good trading to all come Monday.
Here's a 60 minute chart with the objective for tomorrow
AM
.
Looks like a long shot, but what do I know?
Will see. The market always has the last word and in due time will show us the way.
I
see for you
the same I see for my self:
Having
the
best of luck,
fun, and awesome profitable trading day!!
Click image for original size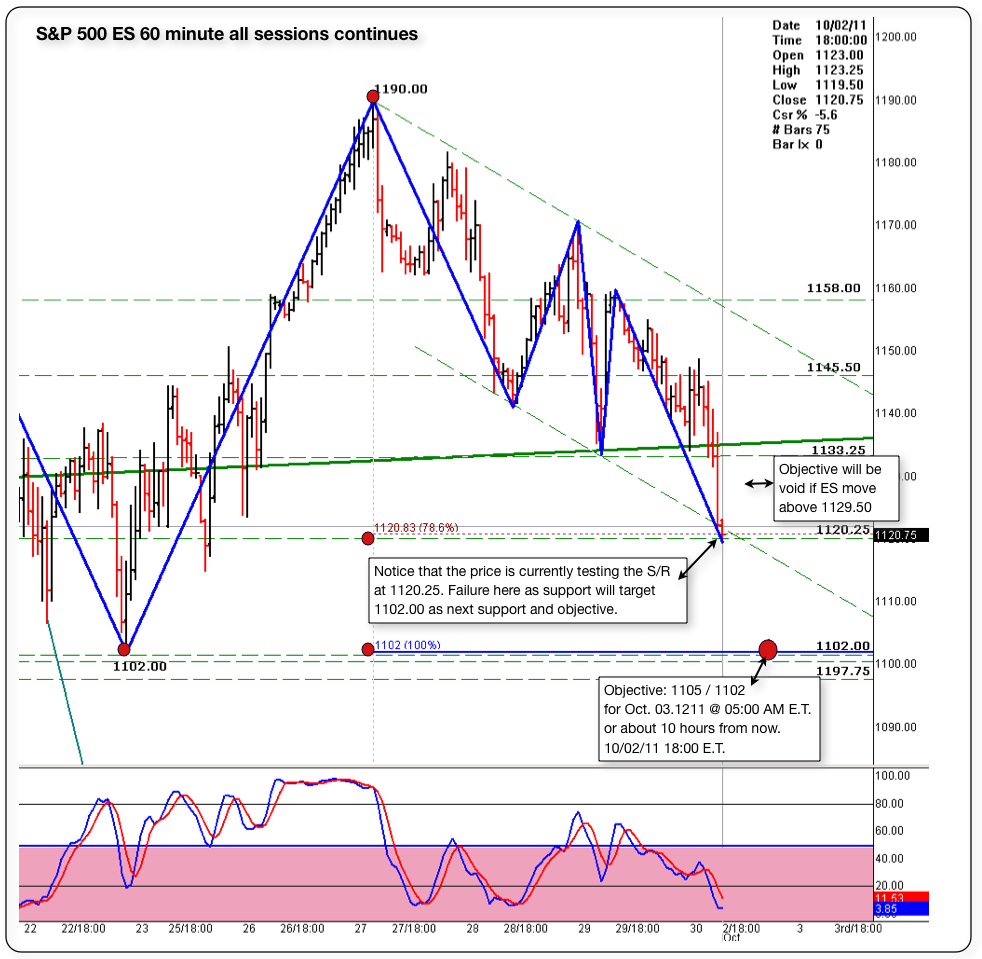 same here...sorry for the delay
For any other stock traders out there ... here's a potential LONG play IF the overall market indices move up during the
RTH
. High risk but worth watching for Monday and the next few days UNLESS it breaks down below support that you'll see on the daily chart (which may make for a good tight small initial stop loss)
HANS
(funky mkt. and funky stock movement ... and the big cap stocks will track the index ... but this 'un may offer upside potential ... and don't slag me if it drops 10 points)
MM
Great posts guys!! I have:
- 1135 as a bias area for me.. it has
VAL
/PIV/3day rolling pivot low within
ticks
from each other.. Bruce mentioned HVL is just
[email protected]
so be careful initiating position there with a stop @ the HVL..
- 1131 is the Fisher daily pivot range low.. If the market stays under 31 shows confirmed weakness, and we may be gunning for Friday's lows..
Happy Trading all!!
TZ
My trade plan:
Overnight market is balanced with high volume coming in at the 18.75 and 22.75 areas...they are trying to make that a bell curve so as I type there is a "low" spot in between those numbers. Neither matters too much to the plan and here is why.
1)I will buy if we open in
RTH
and drop down First to the 3 a.m Sunday open and lower below 15.75. Other attemtpt at longs will be below the
O/N
lows at 1112.50 ( I had a low voume number there from a previous
RTH
session). Target on the Long entry will be the 1118.75 high volume. Either long will need a signal from the
delta
.
2)Since the current overnight high stopped only 2 tics below our key
low volume
zone then the plan will be to sell that zone especially on any attempt to trade up there first. Trading there will take out the Overnight highs and fall into the 29 - 30 area already identified. Target will be the high volume at 22.75 ultimately.
The general theme I am looking at early on is that they still want to fill in the low spots between the areas on the Overnight session.
here is a picture..the low spot is also last weeks
RTH
low !!!! a critical price anyway.
Click image for original size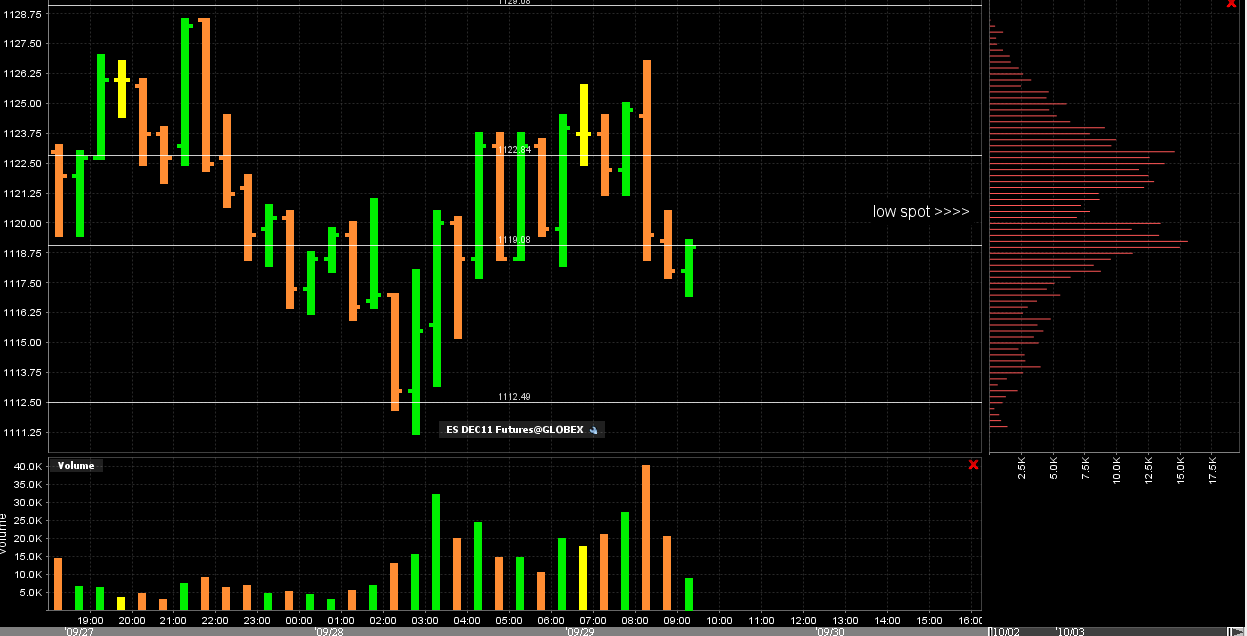 for those who don't know this already you can click on a chart to make it bigger or scroll it to the left to see the whole thing...

Lets all trade well today and follow your rules and plan. Patience !!!! I have it taped on my computer!!
Be aware the September low is at 1106.75. This is a major reference point as is the August low just below it.
Here's the 60 minute follow up chart. The chart is self explanatory, showing how I used and see s/rs.
The time and price objectives shown in this chart is about the same as the previous time and price chart posted some time ago, where the price hits the objective before the time and moves lower, but, returns to the price objective at or near the time cycle.
I hope this charts help in some way.
Click image for original size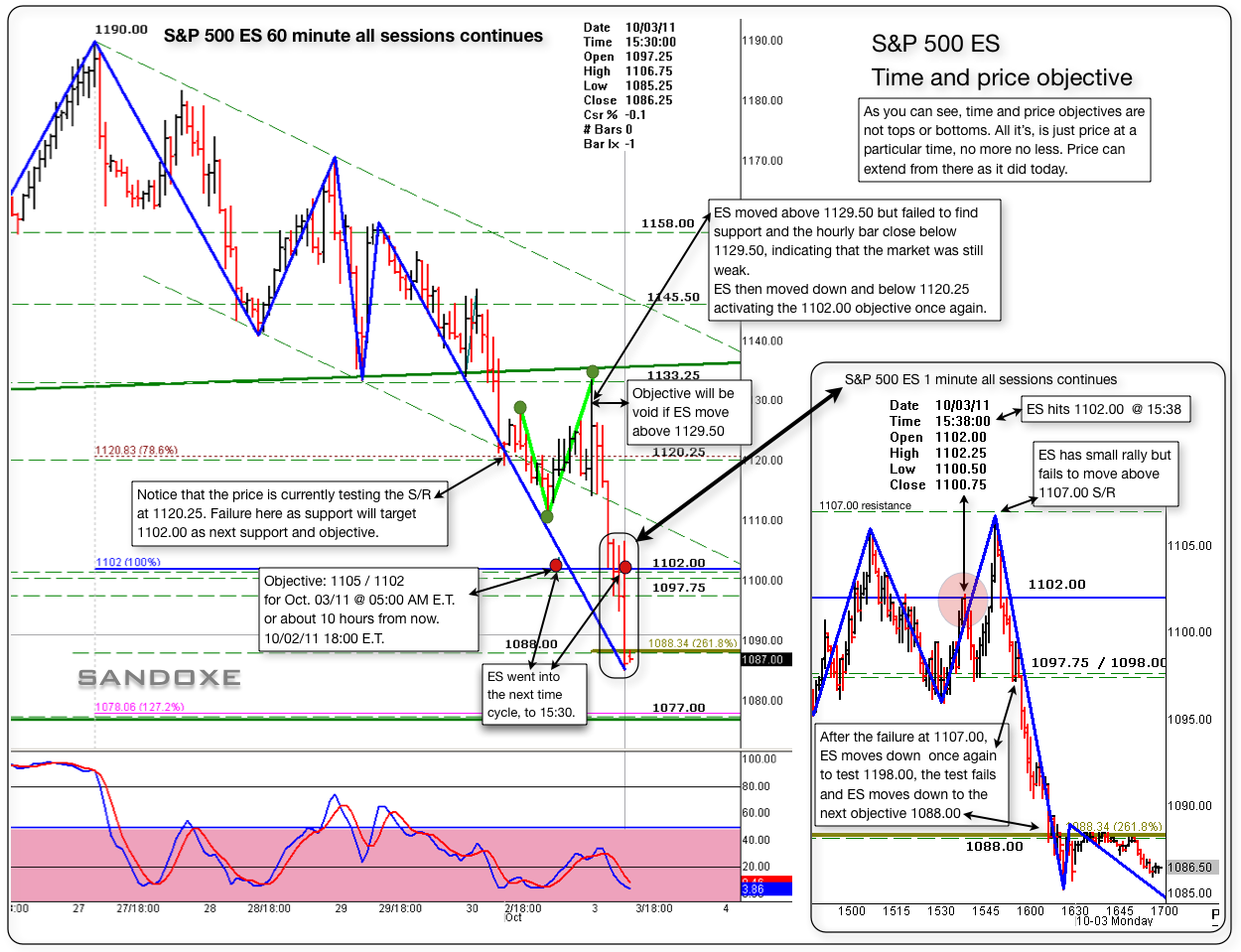 Originally posted by sandoxe

ES moved down to 1098 s/r and found support. I think for the rest of the session the ES will try to base here between 1102/1098 then late session or tomorrow AM a small rally.
bellow 1098 will open the door for 1088. --

Gals and guys I'm using the numbers as reference, don't get stack on my words. Go by what you see in your charts. If you find that some of your s/rs and M/P model is congruent with some of the numbers posted by other people, maybe you got something to work from, a potential trade may unfold from that area.



Originally posted by sandoxe

ES hit 1102.50 objective at 13:18. Now some bouncing and testing, Notice that the price did zig-zag a bit in the 1107/8 area. (seeing in the 1M chart) That area is now a small s/r. I think MM had that S/R too.

Below 1102 will target 1088.00 with some support at 1098.00 s/r.
Will see what happens between now and closing.

ES now trading 1104.00 @ 13:26




Originally posted by sandoxe

Will follow up on the 60 minute chart tonight.

Interesting moves today. Is like it's fighting to move above 1120 but fails to do so. The pivot to change the down trend, is at 1129.50 (short term). Other than that? 1102.00 here we come, soon or latter. -- The price has all the time in the world to make it there. Next cycle time to 1102.00 is at 15:30 E.T.

ES now trading 1115.00 @ 12:33 E.T.

Will see, in due time the market will show us the way.





Originally posted by sandoxe

Here's a 60 minute chart with the objective for tomorrow AM.

Looks like a long shot, but what do I know?

Will see. The market always has the last word and in due time will show us the way.

I see for you the same I see for my self: Having the best of luck, fun, and awesome profitable trading day!!





Click image for original size