ES Friday 10-7-11
Here is the
low volume
I have marked off from Thursdays trade. The main bell curve will be that 45 - 55 area. There are a few other minor ones ....we still have
low volume
in the 60 - 63 area. Lets see what the overnight and the 8:30 reports bring.
Click image for original size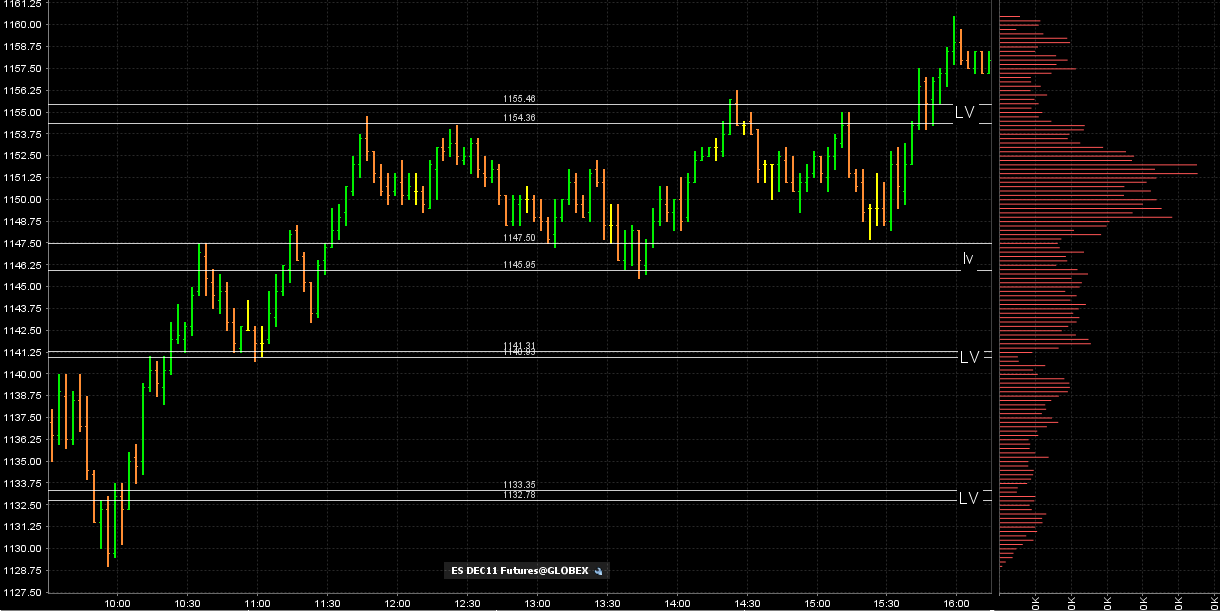 Wow. This market is gonna have to work very hard to get out of the negative fractal created today. Lots of zig-zags of 20 or more points to get out of it.
The other way, will be to go down to 1143.00 or 1129.00, gather some momo and back up to break 1170.00, few days in this area.
If 1129 does not hold? --Back to test 1068.00....
JMO.-.-..


Paul, I,m trying to recreate this chart on my system, (
Interactive Brokers
charts) but havent quite managed it yet. can you steer me in the right direction please.
Originally posted by palmer

lunch cost me some profit- I missed that one prest


I missed it too. When we broke below 1154 I knew something else was up as it negated upside projections off the full jobs number move. Then I looked at the full move on the retrace to get a clue and by then I missed the possible initial projection area entry point.
Sorry, the chart i was referring to was the one Bruce initially posted at the start of todays thread.
Test to 1151.00 daily support trend line failed and now will try as resistance. It's at that test where I will look to go short. If does not test it as resistance again? Then I missed it to 1143.00 Will see.
ES
now trading 1147.75 @ 13:03 E.T.
Originally posted by sandoxe

LOL back down to 1153.00 I don't like this today. This is getting bearish by the minute. I will wait for the test at 1151.00 daily support trend line.

Originally posted by Lisa P

WTF was that? SandOxe, was it you exiting your trade...lol?




Originally posted by palmer

prest next one I have is 1144.75 area- off the 15 min

Great call - Bingo.