ES Friday 10-7-11
Here is the
low volume
I have marked off from Thursdays trade. The main bell curve will be that 45 - 55 area. There are a few other minor ones ....we still have
low volume
in the 60 - 63 area. Lets see what the overnight and the 8:30 reports bring.
Click image for original size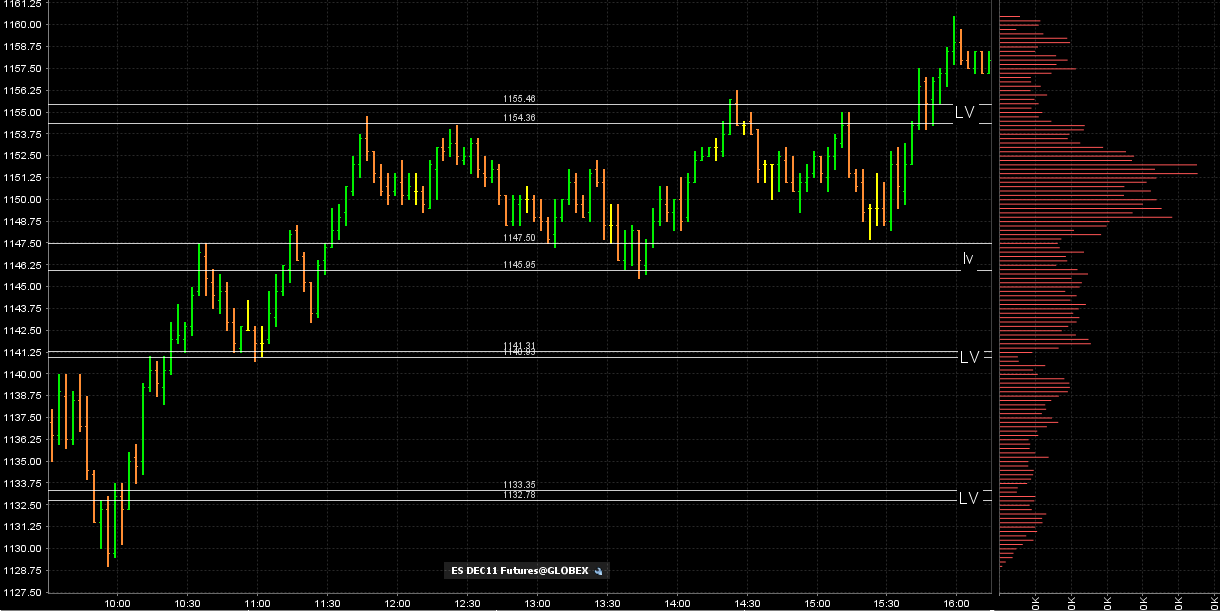 My levels for Friday are:

1170
1160
1154.50
1148
1145.50
1140.50
1129
I'm going to try to do my best to hold the trades from level to level
Bruce,
please, believe me, I am certainly not telling wehat to do, but I do have a suggestion.
I think it would be clearer/easier to utilize your chart of volume at price if you moved the price scale from the left axis to the right. Then it would be easier to see
ES
price swing levels versus the
volume profile
.
Just a suggestion,
In
IB
I did it by going to
Chart Parameters
upper right hand corner, click on Global Configuration,
and then in the LAYOUT section (2nd down from top)
first choice is "Price axis on," I chose Right from the dropdown menu.
it puts the prices right in between the hard right edge of the chart and the
volume profile
.
I have a
low volume
zone at 72.50 - 75....and will use it in Overnight now...for shorts!!! and soon !!!
fyi ... 1171-74 have
PASR
Resistance, a Weekly Pivot,
low volume
on 20day VP and 50day
SMA
on continuous contract.
if u are in this we need to watch that 68.75 as it was an old high volume spot that we ran right over....will it become support..? who really knows and that is why I hate the
high volume nodes
...
In the day session above the 72.50 - 75 the only spot I like the short is 79 - 80..
bruce, i had 66-67 as the hv node from the last time we were up here and i believe the chart you posted at the beginning of the 9/29 thread agrees with that...granted they are very close but how do you have 68.75 as the peak volume ? thanks
Originally posted by BruceM

I have a low volume zone at 72.50 - 75....and will use it in Overnight now...for shorts!!! and soon !!!

Nice Bruce!