ES Monday 10-31-11
Here's my 20 days worth of 30min chart action displaying All Trading Hours as a MAP of what I'm looking at coming into Monday. The Red lines are potential significant
PASR
levels with Magenta lines being semi-significant. The White dashed lines are the Wkly Pivots. The right vertical axis shows 20 days of
Volume Profile
in Light Blue. The background displays
RTH
in Blue with "after hours" in Gray. Hope this is helpful for some folks.
Click image for original size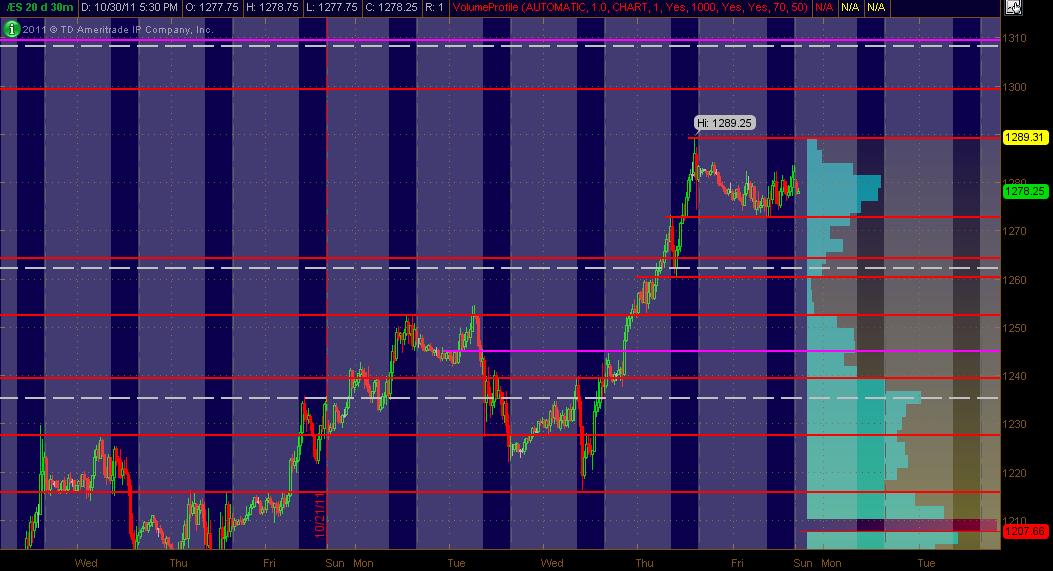 thanksa Lorn..still frozen here...interesting battle between that 66 and that 63 area......the hour range will tell us who wins today
odds don't favor them keeping that 67.50 intact..looking to find a way to get long near 65.50....to get those 67.50's to run out
long 64..not giving this too much below 63
first target is 65.75 and then try for that double top...r
runners stopped ..AGAIN...will try the long one more time as my
$Ticks
are now back and they are trying to trend UP..
long 64.25
taking something at 65.75 again....wow..they are making trading hard today...LOL!!
bruce looks like we are filling in that
LV
from thur but we still have
LV
69.50 to 73.00 qwestion is fill in today or stay below and close
gap
no doubt us longs need this to stay above the 63 - 64.50..I raised the level up because developing volume node is in there now