ES Monday 10-31-11
Here's my 20 days worth of 30min chart action displaying All Trading Hours as a MAP of what I'm looking at coming into Monday. The Red lines are potential significant
PASR
levels with Magenta lines being semi-significant. The White dashed lines are the Wkly Pivots. The right vertical axis shows 20 days of
Volume Profile
in Light Blue. The background displays
RTH
in Blue with "after hours" in Gray. Hope this is helpful for some folks.
Click image for original size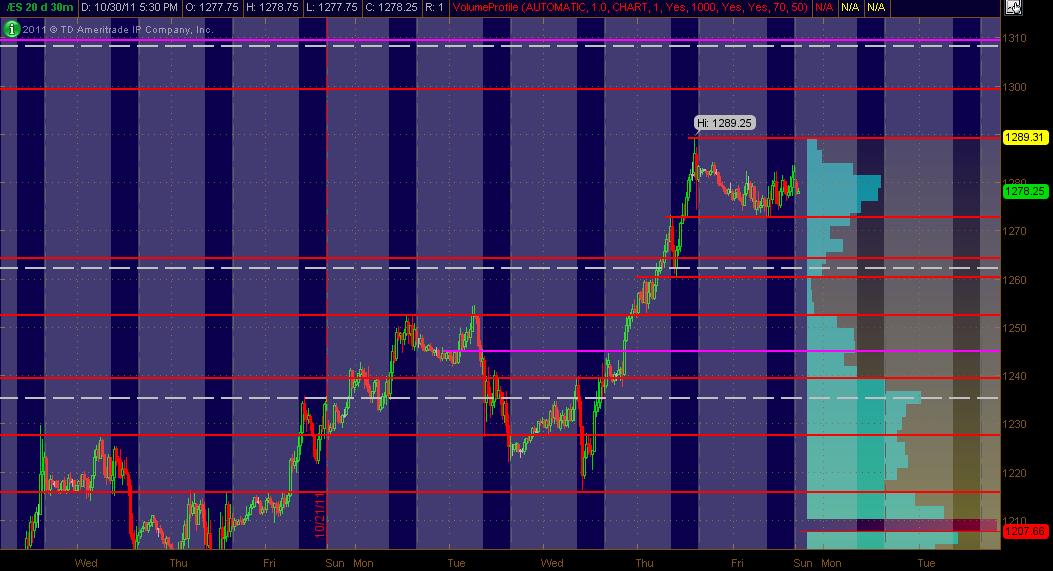 nice job trading a difficult day Bruce.... seems very difficult too me today any way... good resilience.
thanks Chris..considering we have only about 9 points range so far it went ok I guess...

it seems that everyone will try to position for the 71 area or the 51 area before we close.....that would require breakout types of trades and certainly not my specialty

the fact that we seem to have rejected those lows fairly quickly today(It's all relative but my best long came from that fast rejection) then my guess is going to be the 71 area ..especially with that dismal double high at 67.50
David...here is how the
$tick
trendlines are looking now...I don't normally snap them all over the place and it is usually fairly easy to just eyeball them without any lines at all......anyway this is what helped me cover my long from higher prices....we basically broke the trendline and then made lower highs...
getting below 61.50 without quick rejection up and seeing these
$tick
areas hold to the downside will not be good for longs!!
Click image for original size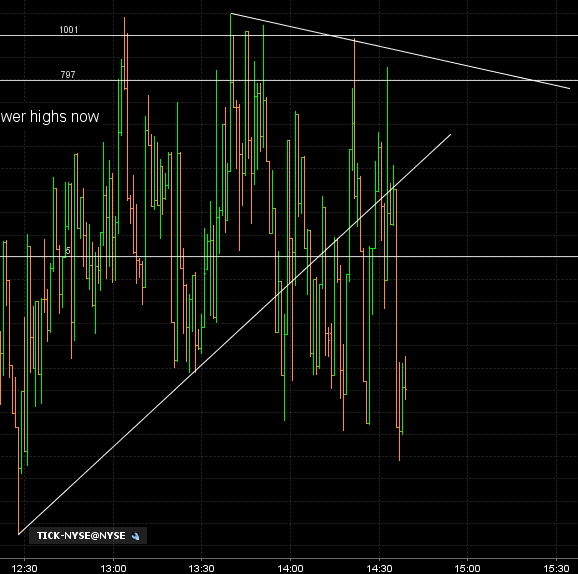 Thank you Bruce I really appreciate your explanation and patience this helps a lot
picking at longs down here now that 54 is on the boardt
flat at 57.75...out of ammo and done for the day...a good finish
oh yeah...trick or treat !! I gotta go get some candy with the kiddies......not sure which is worse...candy or red and water ??