ES Monday 10-31-11
Here's my 20 days worth of 30min chart action displaying All Trading Hours as a MAP of what I'm looking at coming into Monday. The Red lines are potential significant
PASR
levels with Magenta lines being semi-significant. The White dashed lines are the Wkly Pivots. The right vertical axis shows 20 days of
Volume Profile
in Light Blue. The background displays
RTH
in Blue with "after hours" in Gray. Hope this is helpful for some folks.
Click image for original size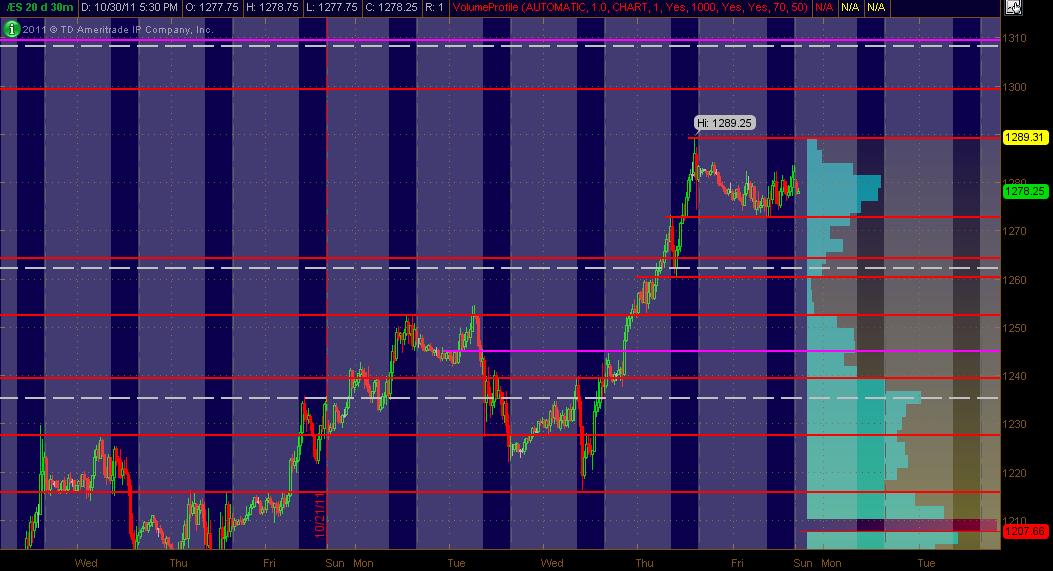 not sure della...just tryin to trade the areas without thinking too much as i trade...for me I stil am looking at that double top..
seems like they want to suck in longs and shorts before they make a bigger move..stuck inside the hour range..which is always a risky place to trade from...bias is still long but we can find clues to fit our bias today..still a ping pong match !!
withoiut question they are rejecting that buying spike from Last thursday..but what about that
LV
area from that day?
so many are confused...not only me..ha!!
big giant 6 point coil...we need to see explosions out of the top....
$tick
line still holding !! we'll see..."trust nobody"!!
getting a 30 minute close under 63 will change things for...possible ledge at 63.50...is it possible that they will run the ledge and the double top ?? sure is...something to think about
Watch the Euro guys...broken beneath resistance here, must recover quickly or everything will go down with it.
I want to see
air pockets
into our 59 - 60 number to buy
long 63.50..agressive,,excess on lows but not thehighs.....64.50 is a wall of volume
a failed breakdown of an hour range into support ( I missed that entry)will target the middle of that range and then the opposite end...especially on a small range day with a double top........that is the ideal scenario


not sure they are done with 64.50....

Took two off at 65.50 print...holding three...c'mon push this thing up!! we all know that double top is there...go clean it up...

damn u lorn!!
opening range low is 65.50....hence a few targets I took today
I enjoy making it difficult for you Bruce! :-)