ES Friday 11-4-11
Here's my updated Monkey Map of 20-days worth of 30min chart action displaying All Trading Hours as a for what I'm looking at coming into Friday. The Red lines are potential significant
PASR
levels with Magenta lines being semi-significant. The White dashed lines are the Wkly Pivots. The right vertical axis shows 20 days of
Volume Profile
in Light Blue. The background displays
RTH
in Blue with "after hours" in Gray. As always, I hope this is helpful for some folks.
Click image for original size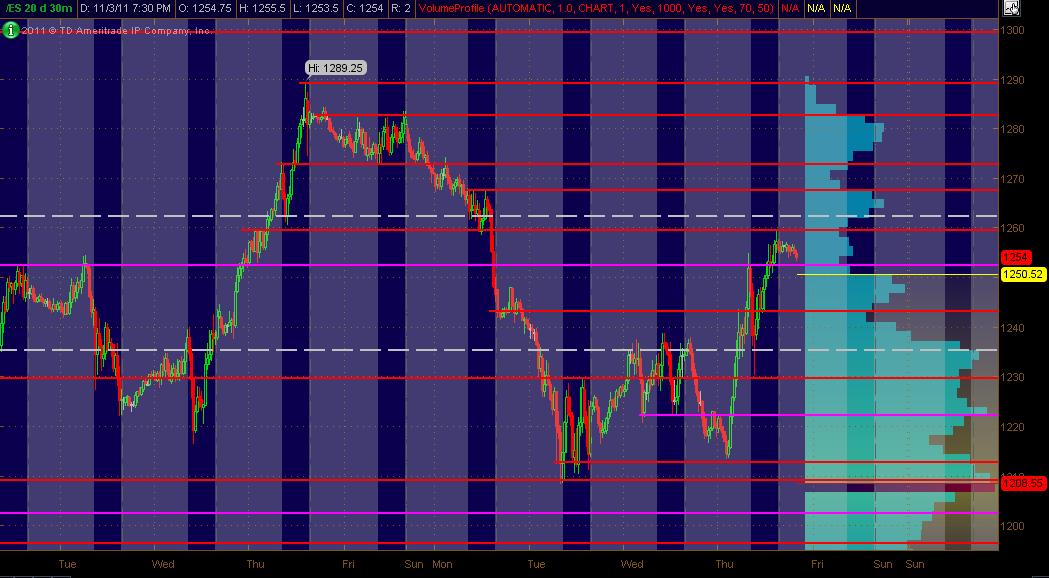 With the mkt being so news driven lately ... gotta take the levels/zones with a grain of salt and watch what
price action
is doing when it nears any ZONE.
Price action
along with the other data I mentioned told you 36 was a buy.. how far? not sure.. hope to get lucky...
we have created a
lvn
today exactly where we had one yesterday, in the 41-41.5 zone lorn mentioned earlier today...for now we just have scratched back at it from below and it has acted as resistance
bruce's spirit is still around so i guess he would still have runners aiming for that area being filled in a bit
Shallow retracement, bias still to the downside..
5m chart looks like we will build out a developing
value area
down here over lunch
if you are an elliot guy this probably a 4th wave in 3 wave s should fail at 44
or above 45 a low is in at this time
That single at 1242.25 is becoming annoying...
41.50 is good for a short but I like 45 better we are building vol above the 39 area tells me we may break the 41 are

Della,
Those are the Fisher ACD#'s as well.. I'm
[email protected]
and will try again @45.. Will try to hold for a bigger move but the market tested down successfully several times and has formed a bottom...
DX
has some support which helps the cause.. My stop is @ 2.50
Fisher ACD# what are these?

Those "past posting winning trades" you're referring to were hardly meant to show off if that's how you read into it though I don't see how... You want me to predict trades in advance before they set up but many factor cannot be predicted and most of us see the same
MP
levels so there is no need to repeat those.. Imagine if I called out a trade in advance and someone gets stopped out............