ES Friday 11-4-11
Here's my updated Monkey Map of 20-days worth of 30min chart action displaying All Trading Hours as a for what I'm looking at coming into Friday. The Red lines are potential significant
PASR
levels with Magenta lines being semi-significant. The White dashed lines are the Wkly Pivots. The right vertical axis shows 20 days of
Volume Profile
in Light Blue. The background displays
RTH
in Blue with "after hours" in Gray. As always, I hope this is helpful for some folks.
Click image for original size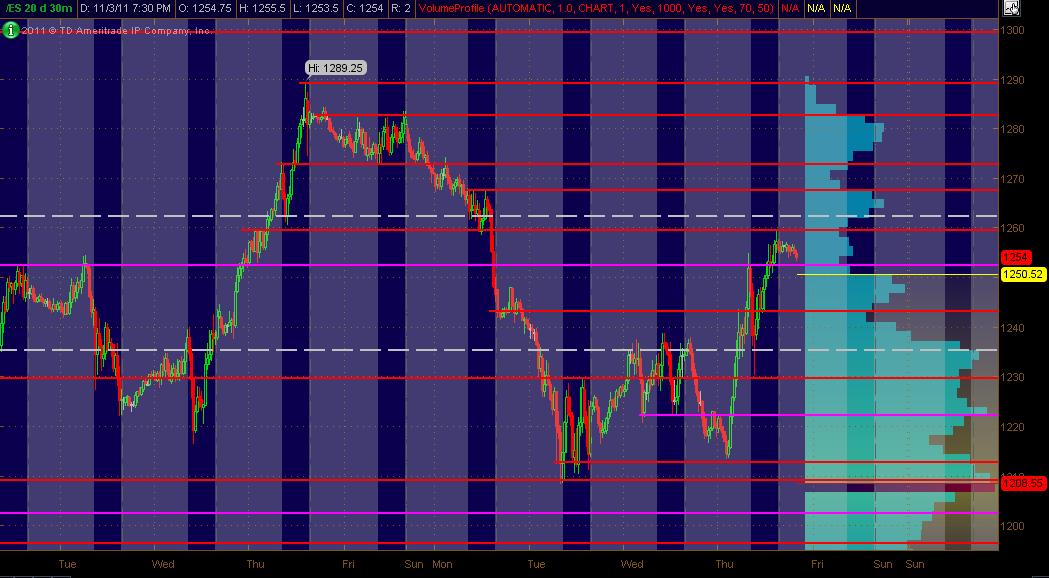 With the mkt being so news driven lately ... gotta take the levels/zones with a grain of salt and watch what
price action
is doing when it nears any ZONE.
Yesterday's
TPO
POC
sits right at 1245.25. Midpoint from yesterday is 1245. If prices open anywhere in this vicinity they are essentially right in the middle of yesterday's value range, which means bulls and bears are agreeing on price at the moment. Give it some time to develop. Opening under that 1248 zone makes it resistance.
market seems content to sit here and fill in that
low volume
zone on Lorn's chart
The market is always right...I'm usually just plain wrong.
Originally posted by della

lorn you are so rite tick 0 to -600 witch way are we going

Me to lorn if i like the jets bet the other team
1240 the 38% retrace
1243.50 current R level
1250 the mega fib level(62%)
1240 should be a buy signal??
or it needs to breakout of the short term range
GRPN
ipo
-can spike higher for the open of it
no mojo there as 1240 now R after the retrace and failure
1234 the 50% retrace level
1237 the mean between
fyi BKX
s/r
40
XLF
- 13.50
keep making new lows is not good
1232.50 the 50% level between 1215 and 1250
Those "past posting winning trades" you're referring to were hardly meant to show off if that's how you read into it though I don't see how... You want me to predict trades in advance before they set up but many factor cannot be predicted and most of us see the same
MP
levels so there is no need to repeat those.. Imagine if I called out a trade in advance and someone gets stopped out............