ES Thursday 11-7-13
numbers I am watching....I thing we need to watch that swing low from overnight near 68.75 - 69.50......that may be first possible support and more important that the 70.50 number......also we have 71.75 attracting all the overnight volume....above there is the 74.25 - 75.25......further up is 80.50... a weekly R2 number


below key area will be the bell edge at 66.50 and 64.25 as the center....


here is the video...

Originally posted by koolblue

i think 53 may come in to play..i bet a lot of people who were laughing at my chart last nite arnt laughing quite as loudly...lol...we are already over the average daily range so anything can happen.

Click image for original size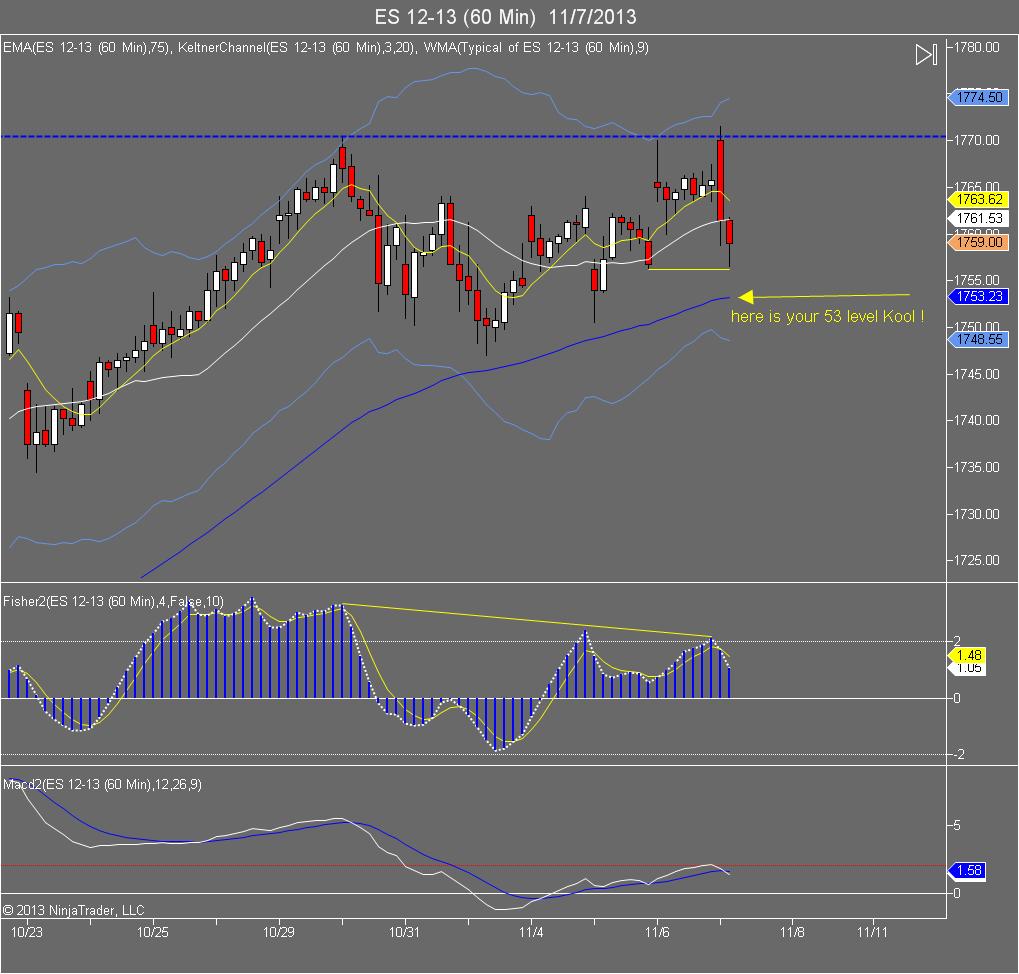 i actually expect mish mash the rest of the day since the avg daily range is fullfilled. im also moind ful of the fact that 1.618 of the entire 1774.50 to 1756.50 gives 1745!..the game now is they need to close below yesterdays close...that s because an expansion in range (like vol i suppose) on a neg day is bearish for tomorrow. (important to me since i want the bradley to be a low.. after all the turns have been good for a hundred handles!
The reason i mention the bigger picture is because i went to cash in my 401k weeks ago when the cash first hit 1775. im thinking that some others may also have longer term concerns.... by the way im long 2 from 1753.5
covering one here...at 1755.50
for the other i gotta watch for a while but i will put my stop at 1752.00, so at worst, ill have a tiny profit....
kinda looks like on a real short term basis 1757-7.50 is a minimum target, then higher later so i will sell my runner at 1757.00 if lucky
half off at 56.25, next at 59
just did some posts in the wrong thread..while looking at kools chart in FYI thread...LOL.bought into the key 53.50 - 54.50...with 56 as first target then 58.25...
see Nicks chart for the 53.50....
single prints
where forming above and now we have a bell that formed...center of that bell is 58.25