ES Tuesday 9-16-15
I have nothing great today but will be watching 72.50 - 75 as a magnet zone.....I don't plan to initiate trades in there and I'm hoping to use that area as a magnet depending on where we open...I will also be watching to see if we can build some time and volume above YD
VA highs
for a possible chance to run up into the 81 - 82 area....watch standard pivot numbers closely today as they should print at least two again....hopefully it won't take all day like yesterday.......
FOMC
on Wednesday so we may be in for more low trading range stuff...no reports at 10 today
I didn't get time to post about the overnight profiles so here is a screen shot...right side is On and the one before it is yesterdays day session...I think it will be best to let them push out under 71.75 (
va low
) in the day session before thinking about a long trade....note where the
POC
and
vpoc
's are from
O/N session
compared to YD's
va highs
and lows
Click image for original size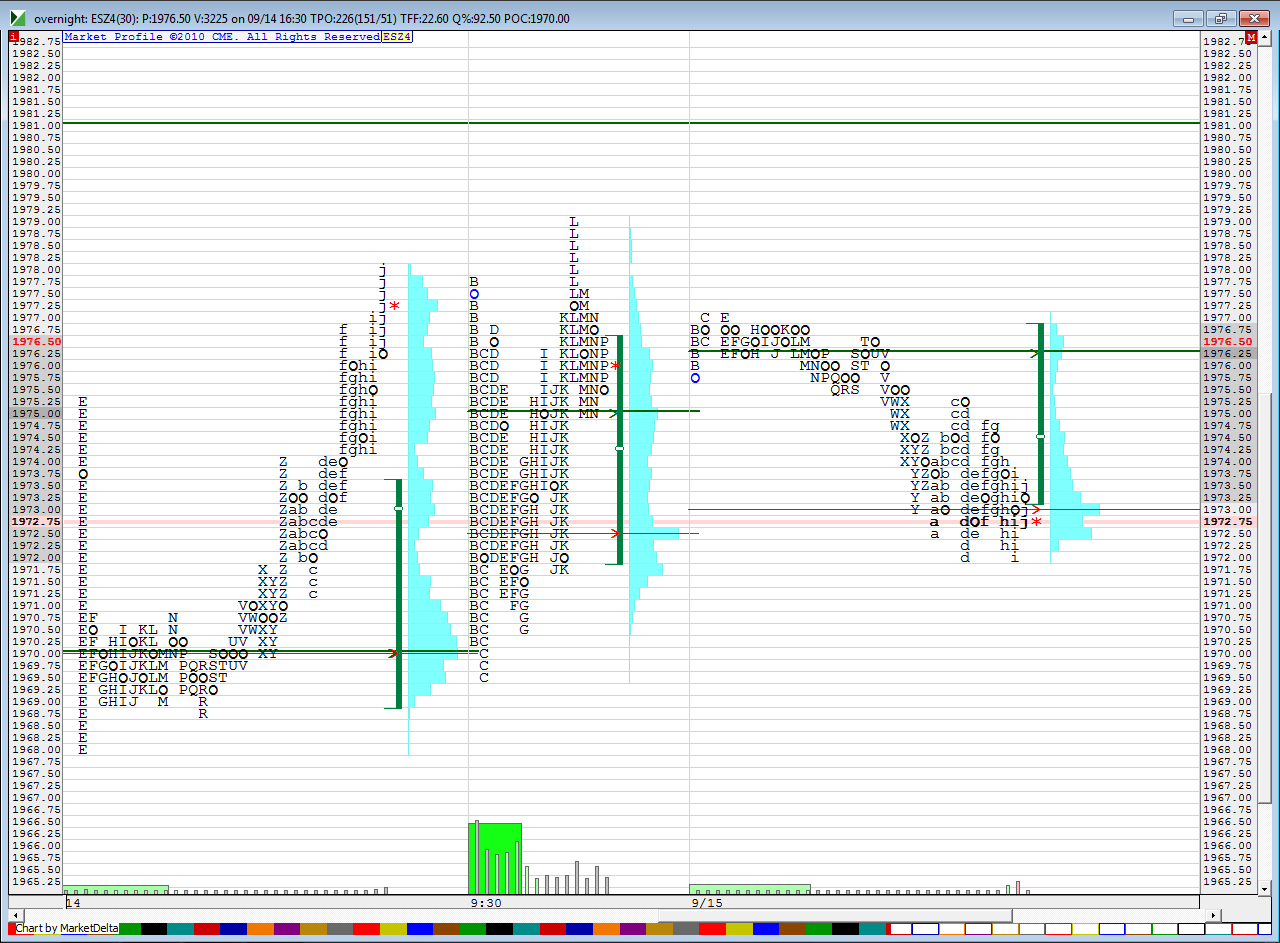 scaling heavy at the 92.25 print regardless of single below there..that is weekly R 1 and a line on my chart from
Stopped at BE for me hope it works for you Bruce.
ultimately they are suppose to go back to 89.75 and build up
VPOC
....so far they must have missed that memo !!!
perhaps the memo is going to read that 93 is gonna be the new
vpoc
......that might even be better for us shorts.....
i'll be surprised if they don't soon.....I would imagine that maybe all these longs want to get out now in front of tomorrow with spx cash around the 2000 mark again
Originally posted by sharks57

Was hoping for just the 91.75 fill on that LVN...

this two point box is interesting because a valid breakout higher goes right to that 96 - 97 area while a break out lower could tag that 89.75 or so
well I am done at 93.25...I can't hold this and way outta my league....I may try once more but I either need to see us print up into 96 - 97 or get a
vpoc
flip up here at the 93. area....otherwise that's it for me...i'm gonna have to let this one go and do something else..
We could trade over 2 mil today, if my data is correct that is. 1.915 coming into the frenzy