ES Tuesday 9-16-15
I have nothing great today but will be watching 72.50 - 75 as a magnet zone.....I don't plan to initiate trades in there and I'm hoping to use that area as a magnet depending on where we open...I will also be watching to see if we can build some time and volume above YD
VA highs
for a possible chance to run up into the 81 - 82 area....watch standard pivot numbers closely today as they should print at least two again....hopefully it won't take all day like yesterday.......
FOMC
on Wednesday so we may be in for more low trading range stuff...no reports at 10 today
I didn't get time to post about the overnight profiles so here is a screen shot...right side is On and the one before it is yesterdays day session...I think it will be best to let them push out under 71.75 (
va low
) in the day session before thinking about a long trade....note where the
POC
and
vpoc
's are from
O/N session
compared to YD's
va highs
and lows
Click image for original size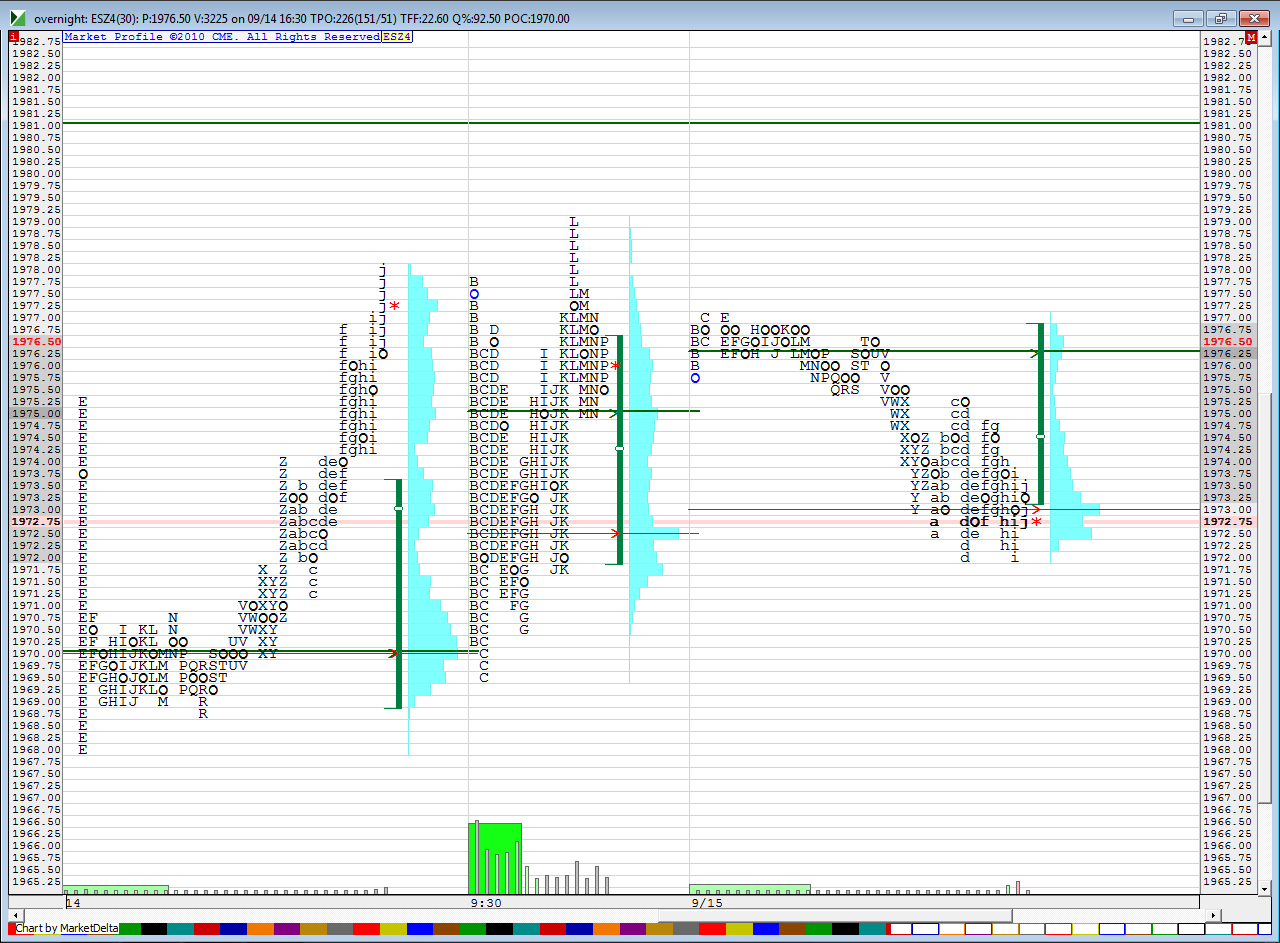 final for me is at market and 78 print.....even though I think they may want that
lvn
at 76 - 76.75......
IB
is in and I don't know from here..not willing to do battle anymore
Nice job as always Bruce, Appreciate the running commentary. I still don't know how you keep up with it. Just know it's appreciated.
single prints
on
ib
high is a no-no.....i wouldn't be surprised to see that filled in but the question is when...? lets see it do some work on 85 first otherwise we don't need to think about it....thanks for the support today !!
I'm taking small sells over 1990.....I haven't seen big volume up here yet so that is a concern.. 92.50 - 94 is my next key spot up here if these front runners keep pushing...otherwise you want then to get under 89.25 to go back for 86.25 - 87.50 and lower
going in at 91 short...weekly r1 is 92.25......so that 92- 94.50 is edge I am watching...just trying small stabs and will not
add
....this is trading outside my window...so I'll try three times up here but will not trade after 1:30 today on thses shorts
taking something at 89.....this is previous volume area and if support is coming this could be the place........
I think eventually
vpoc
will flip to 89.75 and we are above that now........so still favor sell side.....they all see that 92 area above that we are only a few tics away from now..so if you are taking shorts still at the 91 then be prepared they may flush up and use 89.75 as the magnet
the only way the 89.75 can become
vpoc
is if we come back down to it and create some volume....LOL....so we will need to come down...
ok this 92. 94.50 is our zone to work...not that we want to be stupid as we are trending in front of
FOMC
tomorrow....but lots lining up here....so anything above 92.50 is targeting the 91.50 breakout point...so the higher up the better to initiate.....if this zone fails us then they are pushing for 96 - 97 today....it's that simple...so work the zone....I'm starting at 93 and don't want to see 96 on this second
fade
up here...
We could trade over 2 mil today, if my data is correct that is. 1.915 coming into the frenzy