ES Monday 2-23-15
I am finally feeling well again so here are the bands for the day. Since now we are trading at all time highs, the volatility bands should hopefully guide us a bit more. On the upper side, the bigger focus in on the weekly 0.5 band at 2125 which goes nicely with the weekly R2 at 2126. I am not saying whether we get there or not, but if we do see any upside elongation, this area would be of interest. Since last Friday was an
outside day
encapsulating the entire week, Monday's daily pivot numbers are the same as the weekly pivots. Good luck to all.
Click image for original size

Friday we finally broke out of the 3 day (or 5 day, depending on how you look at it) balance forming an
outside day
.
Value area
was very wide covering almost the entire week's prior
VA
. On Monday we should see if we can sustain a move above 2100 or if we fall below it. That would set some direction for remainder of the week. I would expect a restest of the 2100 level but that would depend on how the overnight develops. If we do get below 2100, then the weekly
VPOC
at 2096 and Friday's
POC
at 93.25 (which is close to a greenie at 92.75) could come into play.
We will see how
O/N
develops and formulate a plan in the morning.
watching to see if strength from Friday can spill over early on monday.....My video goes over the areas whiich match up fairly tight with New kids...the debate for me is this 2103 and using it to get long in Overnight....filled at 2102.75.........I do NOT think it is the best trade location and it is a bit early...prefer to get trades on near 9 a.m .......basic idea is to use the 98 - 2101 as a big support zone.......in
RTH
if we drop down first..........we need rejection fast out of there otherwise we run the risk that Friday may have been nothing more that smoke and mirrors to suck in late longs
so if we are on the 03 then the 05.25 becomes first target.....
if you take the 2101 then use the 03 as first target......
if you take it under the 2101 ....like down near 98 edge then use the 2101 and then the 2103
Best trade I think will come on a drop down under those
single prints
that New kid mentioned and on video at 2101.....run out the On low and scare everyone....then bring it back up......I'm just not sure they will be so nice to acomodate us.....now where On midpoint ends up !
kind of messed up on the video and didn't snap a line at the 98 but you should have it snapped......hard to get these video right the first time...
here are the lines I am using for those who care not to hear me ramble...biggest question for me is what about that 2103....? so i am using the On to help qualify that line that I do NOT have snapped on the chart...all
O/N
inventory is short...so hope that bodes well for a correction up a bit....we don't need a lot......just some....small pieces
Click image for original size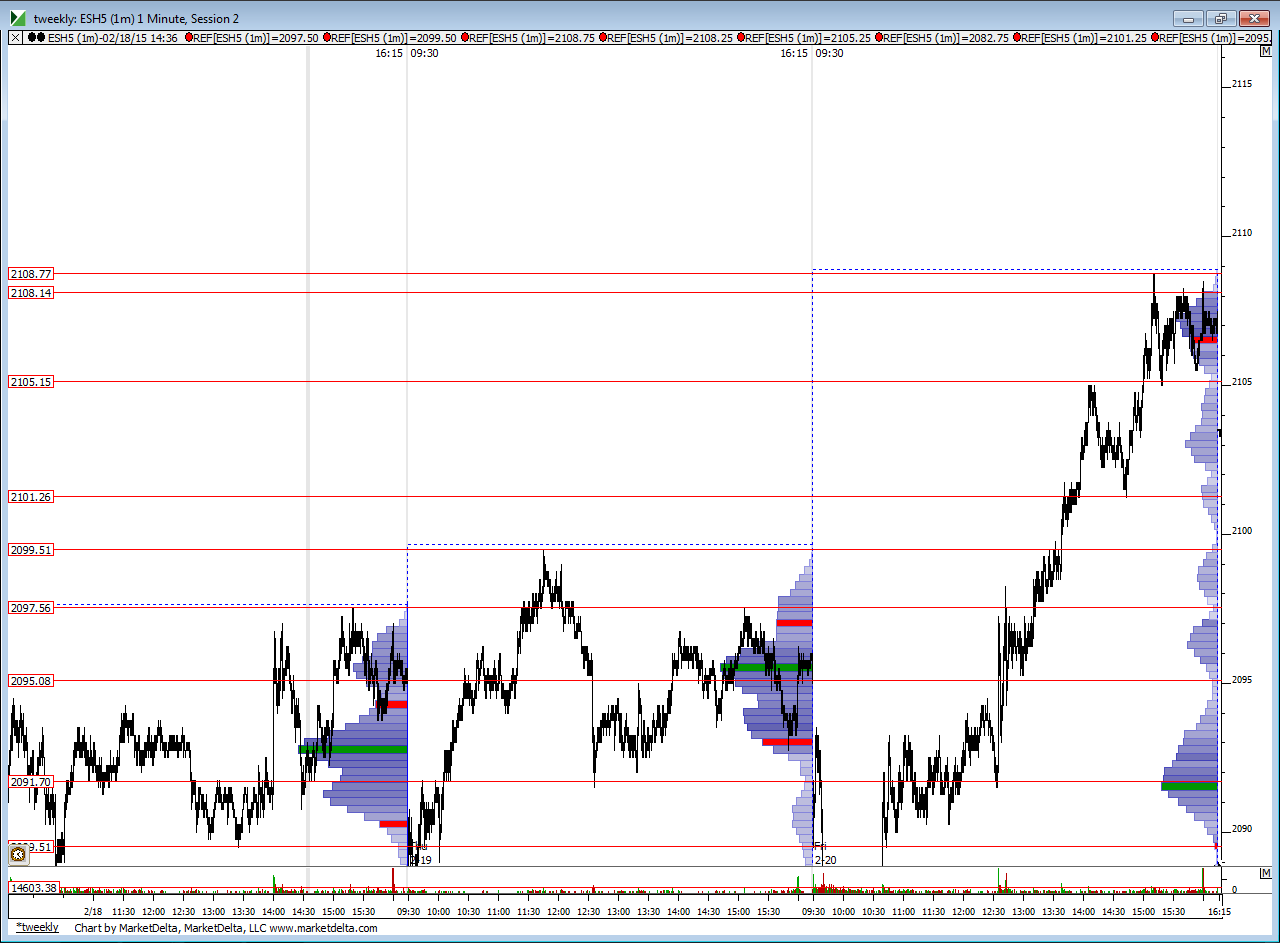 this thing is barely trading....so slow !!!!!
taking something at 03...don't truswt that number today.....causing me internal pressure....lol!
are they waiting for the existing home sales report? awfully slow....
newkids probability says that 95 % or more we will print a pivot number...closest one now is 99.5...so might be best to wait till that prints....as other one sits way up at 2116...or if u average in at 2101 then expecta a slight push lower
starting small at 2100.50......had two good longs today so this will all be tiny for me until after 10 a.m...gambling is what we do in front of reports and that is not trading...2103 is target if lucky
a lot fewer than most. Highs/lows open/close