ES Tuesday 3-3-2015
thanks for the explanation Joe
Anytime new kid. One more thing although I think this could be made into a system if A then B then short. I use it as a tool much like traders use
market profile
. Its just a way of understanding
price action
.
Thanks for posting, Charter Joe
agreed. the more i trade, the more i am learning that discretion is important and it is hard to have just a mechanical system (not impossible but just hard). I see you use it, Bruce uses it, Dalton use it. Context is king. Everything needs to be taken into account while entering a trade and all these are mere tools in our hands
as of now we have a selling tail but no buying tail either today or combined with YD. Very high chance that the low is taken out. Question is where would you enter the short? I am sitting this out
Good stuff newkid...here is what I did (between the two of us we really botched this trade :-)...you didn't take the proper set up...I took the opposite...twice)
I was hoping to get to
val
and the edge of those singles...the fact that it came down so hard/fast to that level confused me...wasn't sure what to do...felt like I had to trust the level...did..3 tic and 4 tic losers. Sadly couldn't take the bounce off 2103.
If the market had wandered down to that level instead of dropping fast...would that have made a difference?
I X'd out a trade on the pic, please ignore. The pic just shows the
single prints
.
Click image for original size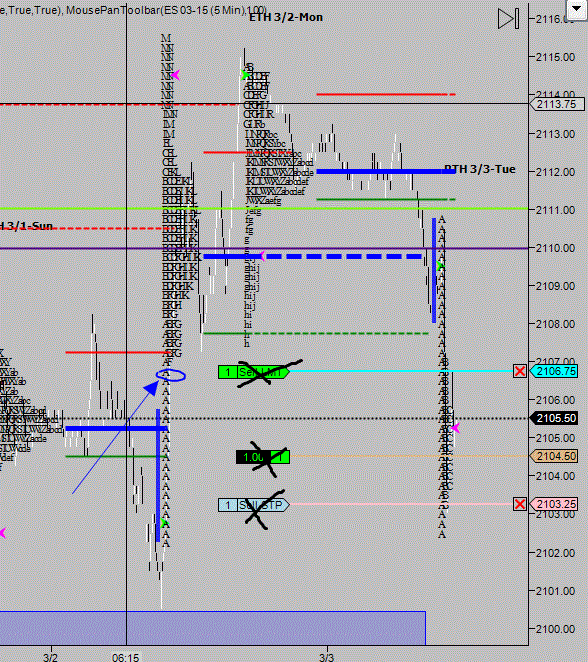 action seems sluggish. do we get back into YD range?
id say odds are good gonna try some longs at 103.50
my bad, i was referring to the range of yesterday coming in at 97.50. But the 150% extension for me came in at 95.5. ie 50% of yesterdays range, 6.5 below yesterdays low of 2102 comes in at 2095.50.