ES Thursday 3-5-15
Feb
VPOC
: 2091
Feb
POC
: 2091.25
Weekly
VPOC
: 2109
Weekly
POC
: 2110
Dec Hi: 2088.75
Last week's Low: 2099.75
All time high: 2117.75
Greenies:
2109.75/2110.75
2103.5/2105.5
2090/90.5
2094.75
2096.5
2085
2077.5
2073.75
starting shorts at 2100.75 in
On session
......anticipating that midpoint is in for
O/N
range and working on a video
how I see it so far...hoping midpoint is in and we don't make new highs in On from here......remember three days in a row of no On midpoint is very rare
and a still shot for those who don't want the ramble
Click image for original size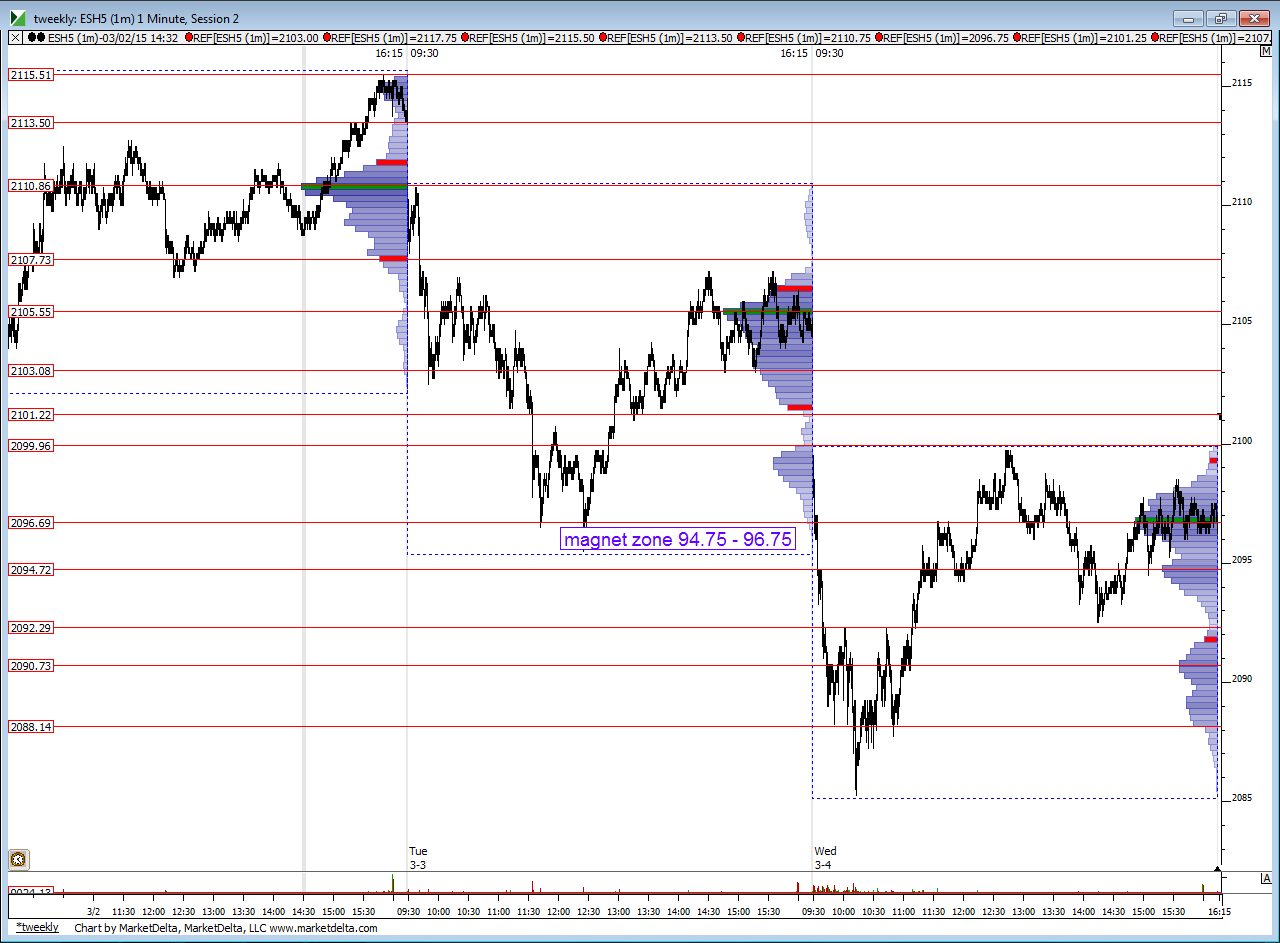 greenies magnets
Click image for original size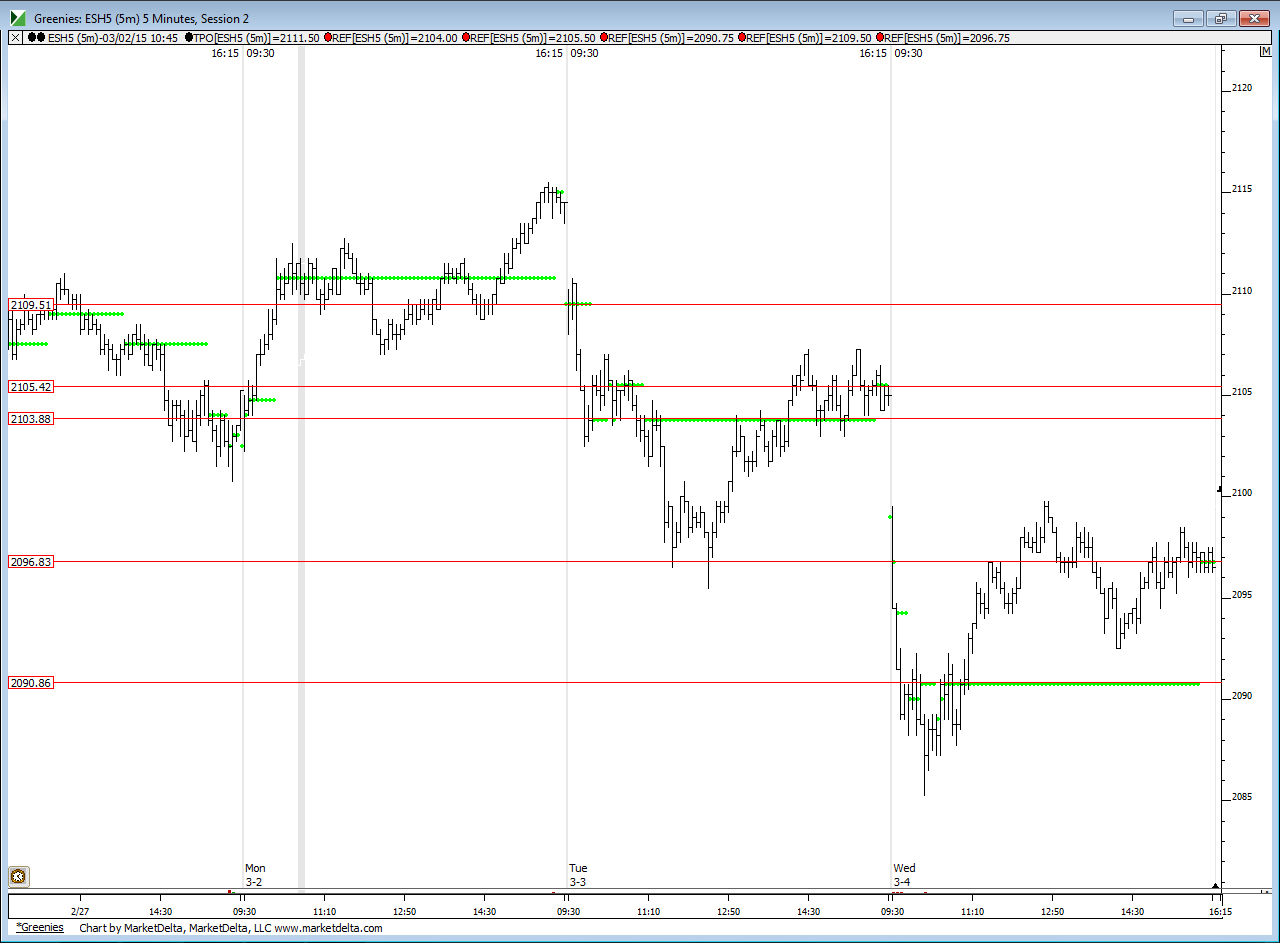 average price in for me in On is now 01.25....keeping it all relatively small though even if it is after 9 a.m...target is 99.50...hoping they don't make me work hard in day session to make up for this trade if it fails me
another reason I am being a bit more aggressive in On is often after two failures you
OPEN
right at the midpoint in
RTH
and u get no opportunity in
RTH
to trade for it
Any stats to go with that Bruce or is it anectdotal observational type of thing?

Good luck to all.
the two days and a row and then open at midpoint is just an observation......but 3 days of failures in a row is probably only about 3% or less of the time..
when possible I'd like to see how are using that to take trend trades today.........reason I ask is because I was disturbed by a comment you made late yesterday....not bothered by YOU specifically but by the concept of promoting trend trades off open......I know it's " different strokes for different folks" and all that but rarely do I find anyone who catches trends off the open........Dalton always points them out after the fact and our open and drive posters seem to disappear quickly on the forum.....
so when u have a chance if you can take us through the thinking process as close to when the trade is happening as possible........I'm not asking you to sacrifice your trades for our benefit but after the fact is always too easy.....I think that ends up frustrating many and they wonder why "They" can't catch the trend
nothing personal......
Originally posted by Big Mike

99.25 is also EURO IB Hi

starting new short campaign at 2101....one minute to open.....plan to sell higher if needed in
RTH
Joe, when you have a minute, can you explain again how you calculated those percentages and what does o.b mean (opening balance? 1-min, 5-min?)?
i know you said you used discretion on where the bar closes with respect its range but i did not quite understand the L1-80%, etc.. thanks
Originally posted by CharterJoe

I have done this for years by hand only real time this a.m. looked like this
9:30 LL
9:35 LL L1 -80%
9:40 LL L2-60%
9:45 LL L3 +100 o.b.
9:50 HH H1 +20%
9:55 ib inside bar
10:00 LL L1 strong close +90%